Writer in Residence · 10/30/2013
The Other Things We Do: Softball Has Been Very Good to Me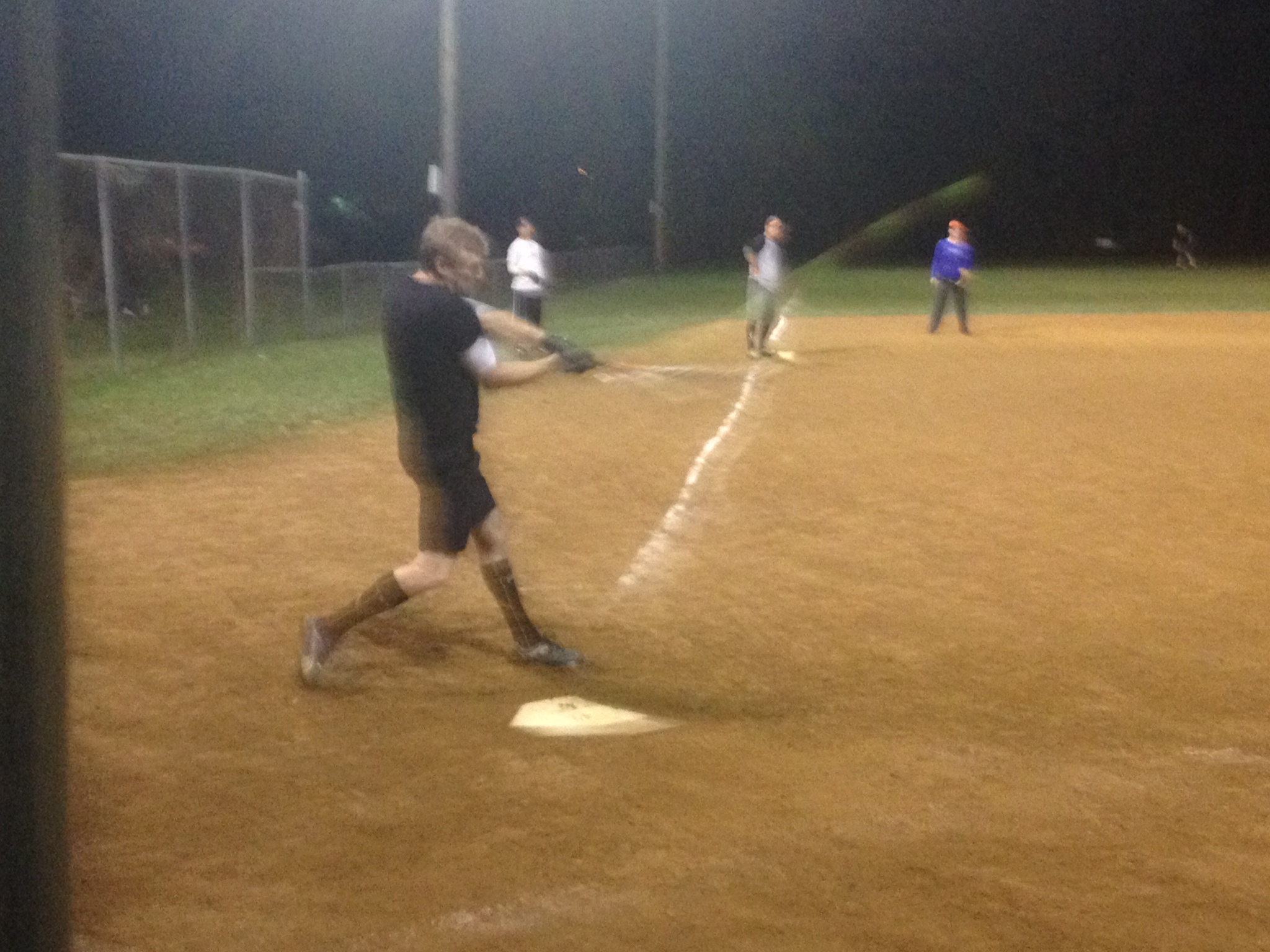 Michael Kimball hits a three-run homer over the right fielder's head.
(for Michael Bowen)
As a kid, I loved watching baseball on television, listening to it on the radio, and playing it anywhere that resembled a field. I could get completely lost in the game. It started when I was little and would hit those extra-large plastic baseballs with that fat-barreled red plastic bat. After that, it was t-ball at Sharp Park and Whiffle ball in my backyard. For almost a whole summer, my friend Steve and I played Whiffle ball every day that it didn't rain. We turned my rectangular backyard into a baseball field and adapted our play to the shape. The neighbor's chain link fence was the third base line and the barn-shaped shed stood as the first base line. Home plate was right in front of the patio and hitting the ball over the wood-plank fence at the back property line was a home run. We called the pine trees in centerfield the green monster and if you caught a ball that got hung up in the trees it was an out. Unfortunately, our Whiffle ball season ended after my father got disproportionately angry with us for making dirt holes in the lawn. After that, we moved to an abandoned lot on the next street over and started playing with a real baseball and any other neighborhood kids who showed up.
As soon as I was old enough, I played organized baseball on some parks and recreation team every summer. The first season I remember in detail, the coach had me playing in the outfield. In our second game, we were down 36-0 early and by the third inning every pitcher on the team was afraid to pitch to the other team. I came in from the outfield and took the mound even though the coach was skeptical about giving the ball to the littlest, skinniest kid on the team. Turns out, I could throw hard strikes, and I shut the other team down. We lost 36-18, but I became a pitcher after that. This was 1976 and everybody started calling me "The Bird" after Mark Fidrych. It's okay if you don't know that reference. The important thing is that I felt as if I were doing something great every time I took the mound. It was the first time I ever had that feeling and it was playing baseball that gave me that.
After that, when I wasn't the pitcher, I was the shortstop because I could make an accurate throw across the infield. One summer of Little League, I hit .853 and I still remember the few times I made an out. Unfortunately, Little League ends at 12 years old and the summer I was 13 years old we started playing on a diamond that was the size of a Major League baseball field. The baseball field had grown a lot bigger, and most of the other boys I played with had too, but I was still a skinny little kid. All of a sudden, I couldn't throw my pitches hard enough to get them over the plate without getting crushed and I couldn't make the throw from shortstop to first base on a rope anymore. Even all the bats were longer and heavier and had become difficult for me to swing. I played baseball one more summer, but I was moved to right field and the bottom of the batting order. The next spring, I ran track and never played baseball again. Baseball had become too big for me.
Thirty-one years later, Adam Robinson asked me if I wanted to play on a coed softball team he was putting together called, The Poet's Athletic Club. I hated the name of the team, but I agreed to play, in part because the idea seemed so ludicrous (the team would be made up of writers, artists, and musicians). We had our first practice in May and we were pretty terrible, but it was so much fun, and I felt like a kid again out there on the softball field. We practiced a few more times and then got destroyed in our first game. In fact, we lost most of our games by the mercy rule that first season (winning just one game by one run against a team that was unbelievably worse than us), but it was still a huge rush to play, and it felt good to play hard and get better and better as the season progressed, even if we did keep losing.
There was something else happening during that first softball season: my marriage was starting to fall apart. The softball field became the place where I absolutely lost myself and forgot about everything else that was going wrong in my life. Softball became a physical, psychological, and emotional release. And it became clear I was reclaiming an unfinished part of my childhood. I found an inordinate amount of satisfaction bringing my old baseball skills to softball—but with my adult body. I weigh almost a hundred pounds more than I did the last time I played baseball and it turns out I can absolutely crush a softball. I wish I could describe the satisfying excitement of hitting a softball with the sweet spot of the bat. And I don't just love to hit the softball for the sake of hitting. I love to hit the softball so I can run. I swing as hard as I can and run as fast as I can and it never stops feeling thrilling. I am always in a desperate kind of flight to get to first base and then I am looking to take as many bases as I can. I get up the line as quickly as I did when I was a kid, maybe even faster than that.
Besides playing the game itself, I love getting ready for a doubleheader. It is a kind of sanctuary that is separate from the rest of my life. When I arrive at the park, my daily mind shuts off and my softball-playing mind takes over. The first thing I do is put away my telephone, wallet, and car keys. Then I take my tennis shoes off and put my cleats on. I slip my batting gloves, one each, into my two back pockets. I pick up my glove and a softball and I see who wants to play catch. As I begin to warm up, I am released into a state of casual joy. As the game begins, there is a kind of sports high that kicks in as soon as I step into the batter's box or take the field and I am transported.
+
Michael Kimball
is the author of six books, including
Big Ray
,
Dear Everybody
,
Us
, and
Michael Kimball Writes Your Life Story (on a postcard)
. His work has been translated into a dozen languages, and featured on NPR's
All Things Considered
and in
Vice
, as well as in
The Guardian
,
Bomb
, and
New York Tyrant
. He next book is about the arcade game,
Galaga
(
Boss Fight Books
, 2014).
+++
posted by Sherrie Flick