Writer in Residence · 10/28/2013
The Other Things We Do: Drawing and Painting with Friends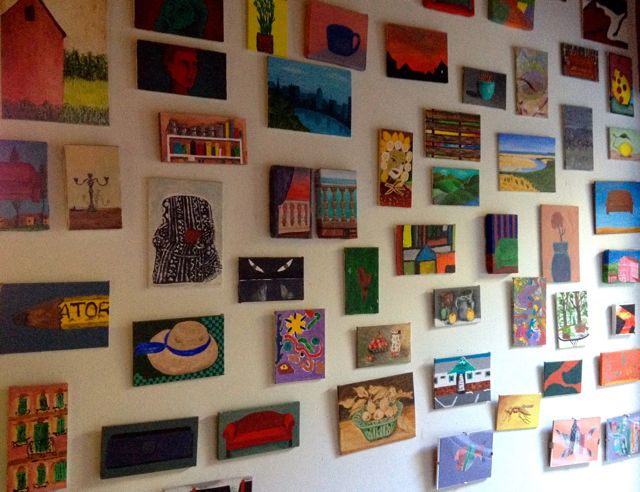 In the summer at my Cape house, I often invite — probably more like coerce — house and dinner guests to paint a 3×5" or 4×6" canvas to add to my "gallery," a long hallway of small paintings affixed to the wall with Velcro and a staple gun.
We paint on the deck on spread-out newspapers and we're always running out of Titanium White and Cerulean Blue. I serve dinner right on top of those newspapers, but it is never so elaborate that it usurps the place of paints, palettes and brushes. More than once someone inadvertently dips a brush into someone's nearby gin and tonic. You might think we'd talk up a storm, but we are mostly silent, absorbed, until dessert. This scenario was also true of friends who met for several years at my Boston house on Sunday afternoons to paint or work on artists' books. Once, we even had a show titled Mixed up Media: Altered Books for Open Studios at the SoWa studio of a real artist, complete with a discrete price list, cheese and wine.
Painting in a group started years ago when a friend's son came home from summer camp with a painted face. For some forgotten reason we were inspired to paint an old Buick. It was such fun that we began painting furniture on my patio — six, seven, eight of us at a time. I always painted checks, annoyed that my husband called them "dots." From there we moved to canvas and books. Because drawing and painting were always social occasions for me, I assumed they were unconnected to my writing and my stories. Then I came across an anecdote recounted by James Baldwin. He describes standing on a street corner in the village with the painter Beauford Delaney waiting for the light to change. He writes:
Delaney pointed down and said, 'Look.' I looked and all I saw was water. And he said, 'Look again,' which I did and I saw oil on the water and the city reflected in the puddle. It was a great revelation to me. I can't explain it. He taught me how to see, and how to trust what I saw. Painters have often taught writers how to see. And once you've had that experience, you see differently.
David Hockney was my Beauford Delaney.
The first time I saw David Hockney's painting Peter Getting out of Nick's Pool at Boston's MFA, I was amazed and amused by the long squiggly yellow lines shimmering atop his pool's blue, blue water. I thought the nerve — even though those lines made me inordinately happy. Then two summers ago I was standing beside a friend's pool and there they were — those yellow lines shimmering on the water in the sun. Hockney saw those lines because he was really looking at his world. I've already used those wavy lines as a detail in a story titled "What I See," and someday I will paint them, not to compete with Hockney (hah!), but to remind myself to look, to see.
For the same reason, I took a drawing class with two friends at Provincetown's Fine Arts Work Center. On the second day, a pretty, curvaceous model appeared and was instructed to hold poses lasting from 30 seconds to ten minutes. The teacher said, "draw quickly, find the edges of light and shadows, use your entire arm in each line." One friend, not usually shy, totally concentrated on the model's angular right shoulder. He was drawing it quite well, but the teacher ambled over and suggested that he should consider also drawing her right breast. "See more, take more of her in," he said. My friend's red ears assured me that he was seeing her perfectly, but differently.
I am still not inclined to paint alone. This past summer I began doing watercolors of the trunks of scrub pine trees. But my bark was wrong, smooth, and my friends agreed. Cats desperate to get away from howling, hungry coyotes appreciate the convoluted cracks and crevices of a pine's bark. After really looking, I appreciated them too. But now what was I to do with the usual background of dappled leaves, bay and sky. A week later on a foggy day the only "background" to the dark pines was a dense white fog. Yes. At the next painting session, my pines stood out in stark relief against muted shades of white and grey. Actually, my Boston friends and I have missed those desultory Sunday afternoons of painting, and we're about to start meeting again. Writers learning to see.
+
Pamela Painter
is the author of three story collections,
Getting to Know the Weather
, which won the
GLCA
Award for First Fiction,
The Long and Short of It
, and
Wouldn't You Like to Know
. She is also the co-author of
What If?
Writing Exercises for Fiction Writers. Her stories have appeared in numerous journals and anthologies. She has won three Pushcart Prizes and
Agni Review
's The John Cheever Award for Fiction. Painter's stories have been presented on stage by Word Theatre, Stage Turner, and Wellfleet Harbor Actors Theatre. She lives in Boston and teaches in the Emerson College
MFA
Program.
+++
posted by Sherrie Flick