Writer in Residence · 07/11/2013
Interview with Sarah Bird: Above the East China Sea
Today I am so pleased to present an interview with the amazing Sarah Bird. She is a rare writer, one whose work is as popular as it is literary, as dark and insightful as it is laugh-out-loud funny. Find out more about her novels here: http://sarahbirdbooks.com.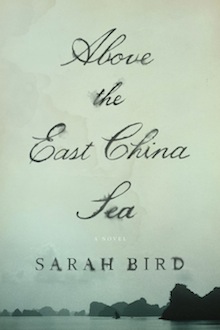 Bird's ninth novel, Above The East China Sea (to be released by Knopf in spring of 2014), is a big serious novel about the price of empire, and a loving evocation of Okinawans and their culture. The novel presents the unexpectedly entwined story of two teenage girls — one a contemporary U.S. Air Force brat, whose hard-ass, party-girl sergeant mom is stationed at Kadena Air Base on Okinawa; the other a gentle native of the island who is forced along with the other sheltered girls of the elite Princess Lily High School, to serve in the Japanese army's cave hospitals during the Battle of Okinawa.
+
MHS: Let's begin with the question that every reader loves to ask and every writer hates to answer: Since you also spent part of your youth living on Okinawa, how much of your own experiences inform the characters or the drama of this novel?
SB: No, I think that is an important and valid question and don't really understand why writers get testy about it. I'm fascinated by the intersections between fact and fiction. In the case of Above the East China Sea, the book absolutely wouldn't exist had I not been a military kid. (I disavow the term "military brat," since, as a group, children raised by soldiers who put The Mission above all else, including family, are some of the least bratty America produces.) While I was growing up, we were stationed in Japan and Okinawa, and I based a novel, Yokota Officers Club, on those experiences. In researching that book, I was astonished at what I did not know about Okinawa or our country's relationship with the chain of Ryukyu Islands that it is part of.
At the age of eighteen, I'd stood at the top of a popular destination, Suicide Cliff, and I'd toured yet another, the vast labyrinth of tunnels constructed by the Japanese army with native labor, and been absolutely unaware of their significance. I didn't learn for another thirty years that more lives had been lost during the Battle Okinawa than at Hiroshima and Nagasaki combined. That the invasion was the largest land-sea-air battle in history. That over one-quarter of the Okinawan population had died in agonizing ways, and virtually the entire cultural history of the islands had been lost.
The story of the Princess Lily Girls, the sheltered native girls from an elite private school who were conscripted by the Imperial Army to serve in their cave hospitals under the most horrific conditions imaginable, embodied this tragedy. I told the historical half of the novel from the perspective of two sisters who refuse to let anything, not the struggles of nations, not even death, tear them apart.
MHS: Your novel explores Okinawa in two different time periods. Can you tell us a little about your research process for this book? Was it different researching a country and culture that is not your own?
SB: I've actually done quite a few projects in foreign countries, both as a novelist and a screenwriter. For this one, I definitely did not want to write a purely historical novel. I wanted to show the continuing ramifications of our presence on that island. How seven decades after the war ended U.S. military installation still occupy a fifth of tiny Okinawa's precious 463 square miles. Having grown up within the barbed wire of the vast stretches of runways, housing areas, parade grounds, swimming pools, golf courses, and so on, it was a mind-bending exercise for me to put myself outside of the fence and ask questions like, How would an American would feel if, say, the entire eastern seaboard, were occupied by foreigners?
I re-entered the world of a military dependent stationed at one of the US's 700 plus overseas bases through the character of Luz James, only surviving child of a hard ass single mom sergeant in Security Forces. As the novel opens, we learn that mom is away on TDY, (temporary duty, one of the many acronyms that defined my early life), Luz's beloved older sister Codie, the emotional core of her rootless life, has just died in Afghanistan, and Luz is standing at the top of Suicide Cliffs looking down on the East China Sea where past and present are about to collide.
MHS: Did you decide to go back to Okinawa (in person) to write this book? If not, why not?
SB: Thank God for the Internet and that I live in a town with a world-class library university library system. The bulk of my research had to do with getting Okinawa's side of the story of the invasion and immersing myself in the history and the culture of the Ryukyu Islands. I was very fortunate early on to find the superb collections of Okinawan literature translated and collected by Steve Rabson, the pre-eminent expert in the field, who became a great source and sounding board.
As for research into the life of a contemporary military teen on Okinawa, the intimate side of that world certainly would have been closed to me had I shown up in all my old lady glory. But it was wide open and completely accessible on youtube. There I discovered an entire channel, Planet Oki, devoted to the hip hop scene on the island. I gathered tremendous insights from the many video diaries of young air force recruits going through basic and specialized training. Facebook was a wonderful source for teens and enlisted members currently stationed on Kadena Air Base.
Thus far all my sources have confirmed that I got it right, which is a gigantic relief as that was crucially important to me. So although I would have loved to have visited Okinawa, I also had loads of hesitations. First, I didn't think I could learn what I needed to in a short visit, couldn't penetrate any of the worlds that are so open to me in me other ways. Then there was the expense. Okinawa is a long way away. Finally, my time growing up on Okinawa was magical is so many ways. My parents were young and healthy, my brothers and sisters and I were this one, tight unit having an enchanted adventure. Though I now understand the dark side of that magic time, I've put those personal memories aside and don't really want too much reality to intrude upon them; I wanted my own private Okinawa to remain preserved in amber with its golden glow intact.
I will say that I did acquire a bottle of awamori, a sort of Okinawan rice brandy, with the requisite habu snake coiled at the bottom and toasted every time I felt I'd figured out a knotty problem. I can't compare it to viper-less awamori, but the stuff I have tastes like very strong sake. Oh, and it increased my virility tremendously.
MHS: Since many of your readers will likely be American, how did you approach the challenge of explaining Okinawan culture without bogging down the novel with exposition? Can you give us an example?
SB: This was a huge concern for me and the reason that I had to rewrite the novel several times from page one. For quite some time, I was at a loss about how to immerse an American reader into a culture with such fundamentally different ideas without turning the book into a sort of "Meet Okinawa and Its Weird Ways." I also, really, didn't want to write a ghost story which the book would have been for a reader who isn't steeped in the Okinawan ideas that the basic human unit is not the individual but the family. And that the dead live on in a literal way, influencing every aspect of life.
The two keys for me to unlocking this problem were the novels The Famished Road by Ben Okri and, of course, the book in whose shadow we all labor, 100 Years of Solitude by the author I named my only child after. I also admire the novels of John Burdett and how the beliefs of his Buddhist detective are implicit in the action.
Still, I did need a vehicle to articulate Okinawan history and her muddy relationship with both the US and Japan. My "mule" for carrying this narrative load was the character, Jake Furusato, a bilingual, bi-cultural Okinawan teen.
In this excerpt, Jake is helping Luz find a man in a photo she and her beloved sister Codie might be related to.
+
Excerpt from
ABOVE
THE
EAST
CHINA
SEA
I hand Jake the photo, pointing to the corner of the sign above the guy's head where the word 'apLand' appears and theorize, "Probably a misspelling of App Land, right? Some tech store. I'll Google it."
"Don't bother." Jake's tone is weird. He flips the photo back onto my lap and pulls into traffic. "I know exactly where and what that is."
The rain has stopped by the time, we leave the broad boulevards lined with royal palms and shops spilling out their glittering merchandise and turn onto narrower and narrower streets until we're creeping along a nearly deserted back street. On either side are abandoned businesses with boarded-up windows and weeds growing through the concrete steps sporting signs so faded by the sun that I can barely make out the names: Club Kentucky. High Time Bar. The Manhattan. Girls Girls Girls. GI Welcome.
Suddenly, amidst all the gray buildings, we encounter one painted a vivid crimson. The shocking color frames a painting two stories high that depicts a beautiful woman in a red-and-lilac kimono sniffing a flower. A few blocks later there is another painted a shocking pink. A two-story poster depicts a pair of animé girls in French maid costumes, breasts overflowing laced bodices. An invisible fishing line hoists up the backs of ruffled skirts to reveal the clefts of their butts. With a weirdly sarcastic tone, Jake translates the caption beneath the girls: "'Welcome home, Mr. Married Man. Your wife is out shopping for the day. Is there anything we can do for you before she gets back?'"
"Check that one out." He points to a place and translates the sign, "The Girls Nursing Academy." The two-story building is covered in bathroom tile and features giant posters of young Japanese girls in sexy nurse uniforms and pink scrubs. There is another caption, and though Jake does this translation in a high, girly voice, it's obvious that he doesn't think any of it is funny. "'Please, come in! We need to check your pulse. Now, please remove all of your clothes. We'd like to check your blood pressure, too.'"
On the street, a couple of Japanese businessmen in black suits crane their necks to study the photos of the nurse girls. A thuggy-looking guy with slicked-back hair steps out and beckons the men to enter, holding the door open, and pointing to other photos posted on the signboard next to him.
"What are these, strip clubs? Whorehouses?"
Jakes gives a dry imitation of a laugh. "Whorehouse? Technically, no, since prostitution has been illegal in Japan since the mid-fifties. No these are 'bathhouses,' Sōpus. Which is why what you pay for in a Sōpu is just a bath. A very, very expensive bath where the girl washes you with her naked, soapy body. But if, during all the rub-a-dub-dub, the couple should just happen to realize that they are soul mates and fall deeply in love and can't keep themselves from having mad, passionate sex. Well, it happens. That's just two strangers who've fallen in love. The money is for the bath. Period. That's the Japanese way."
"You sure know a lot about all this," I say.
Jake shakes his head. "No one who grows up here doesn't know about Soaplands. This is where Japan, Okinawa, and, now that the dollar is so weak, to a much lesser degree, America, all, literally, rub up against each other."
I'm relieved that Jake's judgment and disgust are for murky political relationships. He drives on, pointing out the tiled, painted businesses as we pass them. "Okay, there you've got the Princess Heart, the Emerald, and Wave. And, look," Jake tilts his head toward a couple of soldiers," "the first customers of the day.
Though they're in civvies, I figure the guys to be marines, since everything about them—from their high and tight haircuts, to the weightlifter muscles, to the rolling gaits, like their balls are so enormous they have to straddle them with each step, is military on steroids. They're too big for the narrow street, too red-faced for the glaring sun. The marines pause in front of the Princess Heart and stare at the poster of a girl with a face like Betty Boop and breasts like a Jersey cow.
The soldiers shove each other as they study a price list that starts at 24,000 yen for an hour, more than they make in a week. A tough-looking Okinawan bouncer wearing sunglasses, his hair gelled into a spiky do, slouching against a wall, straightens up, flicks his cigarette into the street, and closes in on the marines. He waves the soldiers away with broad gestures. The marines fail to take the hint and start to go in anyway. The bouncer, arms folded in front of his chest, blocks their entrance, and, with one nod of his head, two guys appear to flank him. The marines start to force their way past, and the three men drop down into the Stance. The marines recognize the serious ass-kicking potential on display, flip the guys off, and leave.
Jake takes a left, turns down a street drabber and drearier than the others, and stops in front of the drabbest and dreariest building. The sign above the door is spelled out, not in Japanese characters but in straightforward English: SoapLand. "This the place you were looking for?"
"I didn't think it would be… You know." Just like I figured, the instant I let anything about my family out, humiliation follows.
"This is the only place around here that's so low-class they take foreigners, even the lowest of the gaijin, soldiers. US G.I.s were what originally built the businesses, but all that's changed. Most sōpus now won't even let one stand outside and ogle the photos of the girls because they'll scare away the customers with real money, Japanese businessmen."
The rain has stopped, and in the bright sunlight SoapLand looks even dingier. The aqua tile framing the frosted glass next to the front door is filigreed with mildew along the grout lines. The photos of girls sporting ratted-up hairstyles, pale lipstick, and heavy eyeliner from the sixties and seventies, posted in glass cases outside, are so old they have faded to a lifeless blue. They remind me of the photo of my grandmother. Too much.
"Actually," I say, "I've changed my mind. I don't even know why I thought that I'm related to…" I wave at the scene on the other side of the windshield, "…any of this. My grandfather was a farm boy from Missouri. My grandmother met him when he was stationed at Kadena."
As I speak, the marines rejected from the higher-class sōpu down the street appear. As soon as they move into view, there is motion on the on the other side of the frosted glass of Soapland. The shadow of a man wobbles across the glass as he nears the open door. My heart gives a violent stroke.
"So, you want to leave?" Jake asks.
The shadow is inches away from being exposed at the open door. "Yes, we should leave. Now."
Jake starts the engine and pulls forward. He is about to turn onto the street when the shadow man appears in the open door.
Jake stops. "Isn't that the guy in the picture you showed me?"
He is even gaunter than he'd looked in the photo taken three months ago. The high knobs of his shoulders tent up his suit on either side of his head. A rim of white hair outlines his face where the roots of his frizzy dyed curls are growing out. Though he could pass for Latino, even white, in person his loose-jointed ease with a hint of swagger is all African-American.
I want to say "no" so much it hurts. I don't want to be related to some skeevy guy working at a sudsy whorehouse. I am cutting this loser out, excising him like a malignant growth, I'm saying the word, I'm denying that he has any relation to me when the old guy throws his shoulders back, stands up straight, and greets the marines with a smile that is Codie's dazzling smile. The years fall off of him and Codie is there radiating the same quick, but scattered intelligence.
The marines try to wave him off, but he gets out in front, cutting them off. They step around him, but he stays on their heels, a whippet herding buffalo. When they continue rebuffing him, moving farther down the block away from SoapLand, he grabs one of the marines' sleeves. Instantly, two massive clubs of arms shoot skyward, throwing off the unwelcome touch, and both soldiers whirl on the pest and go ghetto on him with aggressive head bobs and eye pops.
The skinny man with Codie's smile backs away, both hands up, declaring total surrender. The marines leave, fist-bumping each other, bonded again in semper fi brotherhood.
"What do you want to do?" Jake asks.
What I want is to tell Jake that I was mistaken, that my life has nothing to do with a broken-down old pimp dogging customers. I really want that. The only thing I want more is the tiniest scrap of my sister back. A flash of her smile. The name of the man who might be our grandfather. I pull the handle back, the car door cracks open. "I have to talk to him."
I get out and head toward SoapLand.
+
MHS: Were there any common stereotypes / simplifications / misconceptions about Okinawa culture that you consciously tried to avoid or correct while working on the manuscript?
SB: The biggest misconception is that Okinawa is Japan. Hopefully without being didactic, I wanted to show how the island has been betrayed and exploited by both the US and Japan, usually in collaboration. How they have paid for decades for a war they had no part in starting and never stood to benefit from.
Mostly, I wanted to highlight how viscerally the Okinawans understand the tragic, incalculable costs of empire, whether Japanese or American, and how those costs are always borne, mostly, by the young.
+++
posted by Mary Helen Specht