Book Reviews · 05/16/2011
apt, a literary journal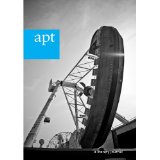 apt, vol 2, issue 1
Literary journals are like photographs—snapshots of a particular moment and a specific literary scene. By chronicling the work of a great number of writers in each issue and with every new edition, journals catalog trends and narrative voices as well as the development of new themes and innovative perspectives. They demonstrate how language, either by itself or in connection with other media, is being used, tested, examined or pushed. As such artifacts of an ongoing literary evolution, the incredible wealth of literary journals available today—both online and in print—is one of the most exciting elements of American letters.
As active, crucial contributors to the world of publishing, literary journals are also intimately involved with the ongoing discussion about the sustainability of a print-based publishing universe. For journals, this conversation must include questions related to financing, aesthetics, access and archiving, just to name a few. The decisions made in response to this complex discussion have given birth to a wide-range of journal formats, including the hybrid print/web journal—often considered a necessary compromise and made up of one part defiance of pessimistic publishing forecasts, one part enthusiasm for the possibilities of new media and one part sheer determination to continue working within a chosen vocation.
Aforementioned Productions, one of the independent publishers to have embraced this kind of hybrid publishing model, has just come out with a new print journal, apt. As the editors explain in their introduction to the issue, their decision to print as opposed to continuing to publish exclusively online is not based on a stubborn resistance to change, but on a thoughtful consideration of how the two media can co-exist.
That notion of co-existence bleeds into the journal's stylistic range as well. Experimental structures and voices share space with carefully-written realism and traditional narratives throughout the 138 pages of the inaugural print issue of apt. This embrace and mingling of what are often very separate literary scenes gives apt a unique texture, making it a generous and honest sampling of contemporary short-form American literature.
Highlights of the journal include: Javier Berzal de Dios' "Stairs, Seizing," a wily rumination on the soul of a stairway; Curtis Tompkins' enigmatic and beautiful poems, each of which begin with a series of tightly-wound, inscrutable images and then suddenly explode outward to capture the reader within a shared emotion; and Shannon Derby's road trip story of an unconventional almost-marriage, a story which pits cultivated insouciance against deep-seated sorrow and fear.
N. A'yara Stein's poem, "Hungry for Color," is a wonderful example of how apt celebrates both ends of the experimental/traditional spectrum. The poem opens with the briefest moments of narrative explication,
Slipping into the town for overpriced necessities,
the painters whisk local fisherman onto linen
and then gathers momentum through increasingly vibrant and surreal images,
They shade tiny yellow-washed houses,
develop the sky into a village of angels;
flat harps of ribbon color tinge the cowherd
past rooms skylit with the blue fury of forget-me-nots.
Millions of intricate moves form small acts of atonement.
only to twist back in the end and anchor the reader in a defined moment once again:
Their gaze biased toward beauty, they incite
greedy prayers made of the unexpected, artificial
offerings on the margins of a life hungry for color,
for days that begin in a bounty of bluebirds.
Carissa Halston, who is also one of the editors at apt, includes a piece of her own. "Hurricane Lamp" is written in a rich, contemplative language and explores what a forced re-envisioning of one's identity might feel like. This piece is about the aftermath of trauma, and Halston's respectful look into the mind of her defeated protagonist is both compassionate and revealing.
Lovers of wordplay, rhyme and whimsy will fall under the spell of Pete Mullen's "The Famine Queen of the House of Hanover." This story defies easy description; it is a riotous and twisting thing, joyful and flippant:
Some were from sordid Sonagachi, (Kali-Kutta), some La Pigalle, seeking the nitty-gritty contemporary temporary deployment for employment where their tempting expertise in the generalia of genitalia of the hierarchy of the squirearchy, and the provision of their own penetralia, as well as with the raffish Romeos from Rome who were missing their champ vamps and dames still under the domes of their Roman homes…
Finally, the other pieces in apt all merit careful attention, but Dolan Morgan's "Investment Banking in Reverse" is worthy of an entire review on its own. A frighteningly realistic fantasy piece of a world which has been utterly consumed, yet has re-birthed itself with an even more terrifying vision of consumption. The protagonist works days at the Credit Mill and spends his nights counting a stash of umbrellas which he believes will finally help him get out from beneath his crushing mountain of debt. The cleverness of this story resides in Morgan's re-imagined world, at first glance a wholly alien territory to contemporary society but which soon becomes far too recognizable. Excellent fiction. Excellent.
With the breadth and caliber of the writing showcased in its inaugural print issue, apt promises to become a valuable contributor to the restless and ever-evolving literary scene of today.