Book Reviews · 11/07/2016
Whiskey, Etc.
by Sherrie Flick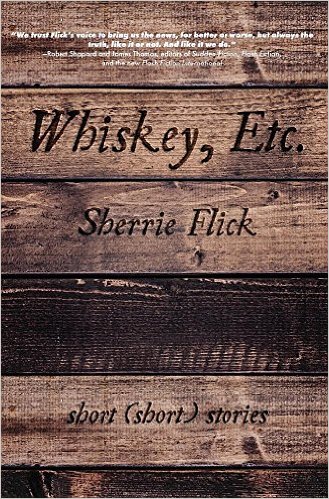 Queen's Ferry Press, 2016
I love honing the perfect little story—trying to create resonance and concise meaning. I love reading work that makes me feel something in such a short span. A story I can read over and over again and still feel something afterwards is the best thing ever. I feel like a lot of short-short fiction is gimmicky (like a joke with a punch line) and I don't like those so much. I love seeing these words so tightly constrained on a page that it's about to burst. It makes me incredibly happy to read work like that. That's why I both write and read flash fiction. ~ Sherrie Flick
Sherrie Flick's recent collection, Whiskey, Etc., proves without a doubt that she has mastered the craft of flash fiction. It contains a whopping fifty-seven stories, the longest registering sixteen pages, with a handful of stories approaching ten pages, and many as short as a single paragraph. Most are in the three- to five-page range, or "short (short) stories" as the book's cover announces. The book is divided into eight sections: Songs; Pets; Coffee, Tea; Dessert; Art; Cars and Canoes; Soap; and Whiskey, and the stories in each section relate, in some way, to the section title. Sometimes it's only a passing reference to something, like a song, and other times it's the presence of a physical object, like a particular kind of beverage or food, and though it's not the primary draw of the collection, reading Whiskey, Etc. becomes a scavenger hunt, searching for the ways Flick will weave the element or object into each story, creating a kind of "ah-ha!" moment for readers.
Though Flick uses the section headings as a way to organize the collection, the overriding theme of Whiskey, Etc. is one of liminality. Characters, mostly women, are often in transitional, in-between places or phases of their lives. Some characters deal with life post-divorce or separation; others find themselves in unfamiliar situations or places. In "Canoe," a woman inherits a lake cottage when her father dies, so she quits her job and moves from the city to the cottage. While there, she thinks about "the world she'd known" and "the new world she lived in. She wants to "simm[er] herself, [try] to make herself into something denser, something better." Many women in the book are dissatisfied with their lives or marriages and feel stuck or lost and are seeking ways to break out, while others seem to relish these in-between spaces. This is perhaps best exemplified in the protagonist of "All Night Long," a story about a woman who flirts with a man at a bar only to go home with the bass player of the jazz band playing there. After leaving the bass player's house, she concedes "it's hard only knowing the chorus when some people seem to know the whole song from beginning to end." In her car a short time later, this character admits that she's "not interested in forward movement" and "she knows anything at all could happen today. These days [are] so long and wide, you need a compass just to pass through them." In "Winter Storm," another prime example of Flick's exploration of this kind of transformational space, Evelyn, whose husband is away on business, dresses in an uncharacteristically (for her) sexy black dress and, pretending she's single, leaves her house "with a flourish as if late for an appointment with an important man." She imagines herself as Grace Kelly, and on the way to a cocktail lounge feels "a kind of loosening of her skin across her face, down her neck, as if she'd been holding her breath for years, sucking in her stomach and smiling the wrong way." After talking with the bartender and requesting a melancholy song from the piano player, Evelyn leaves with "the memory of the piano music in place."
In "Sweet Thang" and "The World, Floating," the liminality is represented physically, rather than emotionally or psychologically, with doors or windows, literal thresholds. In "Sweet Thang," a divorced woman goes to her ex-husband's house (where she used to live) and cleans and rearranges furniture, and then she confronts him when he returns home, the main drama of the story taking place in the foyer. In "The World, Floating," the narrator, whose boyfriend has just stormed out of the house after a fight, says:
The world often requires action. People want clear, fact-filled statements. I just want the rambling words to stop. If you sit long enough, you can wait out just about anything. I've learned this trick. It's the closest thing to magic I know. Silence. A magic wand in reverse. Take back, take back, take back. And then you're sitting alone, like you've wanted to be in the first place, and little flakes of snow flitter down outside the window.
The final image in this subtle yet powerful story is of the narrator looking out her window, watching her boyfriend walking toward their house with a bundle of flowers at his side.
In these stories, Flick creates a feeling of productive, compelling ambiguity. Readers may, at times, be somewhat puzzled as to what a story might be "about" or what a story might "mean," but answering those questions never seems to be Flick's concern, and the book is stronger for it. The short short stories in this masterful collection will resonate with readers long after they've finished the book.
+++
Sherrie Flick
is also the author of the flash fiction chapbook
I Call This Flirting
(Flume), the novel
Reconsidering Happiness
(Bison Books), a semi-finalist for the
VCU
Cabell First Novelist Award. Her fiction appears in many anthologies including Norton's
Flash Fiction Forward
and
New Sudden Fiction
. Her stories have appeared in journals such as
North American Review, Ploughshares, Quarterly West, Northwest Review, Prairie Schooner, Puerto del Sol
, and
Booth
. She has received grants and fellowships from Sewanee Writers' Conference, Ucross Foundation, Atlantic Center for the Arts, PA Council on the Arts, and PA Partners in the Arts. She lives in Pittsburgh.
+
Casey Pycior
earned his
MFA
in fiction writing at Wichita State University and his PhD in Creative Writing at the University of Nebraska-Lincoln. He was awarded the Charles Johnson Fiction Prize at
Crab Orchard Review
, and his stories have appeared in
Beloit Fiction Journal, Midwestern Gothic, Harpur Palate,

BULL

, Wisconsin Review, Wigleaf
, and
Yalobusha Review
among many other places. His short story collection,
The Spoils
, is forthcoming from Switchgrass Books in March 2017. He lives in Lincoln, Nebraska with his wife and son.