Book Reviews · 05/02/2016
Welcome to Christiania
by Fred Leebron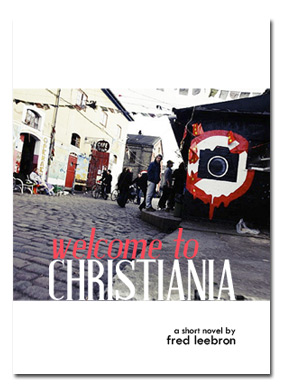 Outpost19, 2016
Every few years there is talk of displacing the 850 residents of Christiania, the famed and self-proclaimed anarchist village within Copenhagen, to make way for modern development. But thus far, Christiania's time-warped dream is still open for business. In Fred Leebron's mini-novel, Welcome to Christiania, one of the commune's hash pushers personifies Christiania's past, present, and uncertain future. Nameless and accompanied by his mentally-ill best friend, Otto, he can barely subsist on what he sells and is in such poor health that others expect him to keel over at any moment. Yet he continues to seek freedom, love, and community—the principles upon which Christiania was founded in 1971.
The voice of Leebron's narrator is minimalist, existential, and raw, and the advance praise comparisons to early Denis Johnson and the French existentialists are apt. Our sad hero is painfully aware of the tiny space he occupies within the larger world. In this passage, he compares his existence to that of a canine:
Sometimes I am coherent. I can think like a rock, I think so clearly. But mostly, oh, it's the paranoia. Every time I feel on the verge of a deep revelation, I fall into it. It swallows me like a mud pit. I am choked and can say nothing.
Unlike all the other pushers, I have no dog. I am my own dog.
When describing Christiania, he waxes lyrical, simultaneously evoking its beauty and his own spiritual exhaustion with his home:
But Christiania is where I live. It is a comet in the sky, falling fast. It is like eating too much candy. It is drugs and farms and pastel colors til you puke.
It is the child of civilization.
Christiania began when residents broke down the fences surrounding abandoned military barracks to use the space as a children's playground. Today, those barracks are covered in peace-loving murals and used for communal bakeries, bars, and music venues. No hard drugs are allowed, but one can purchase every soft drug imaginable on Pusher Street, an outdoor farmers market for mind-altering substances.
Leebron's narrator lives in a ramshackle treehouse in the Magic Forest, the green ramparts between the barracks and Ostrich Lake. His existence is free of any creature comforts. He sleeps on a tatty mattress and washes his clothes in the lake. He rarely eats, ignoring chest pains, ulcers, and fevers.
It's not all misery at the grimy commune, however. Our hero finds love in Luna, a white-haired woman whose face reminds him of the moon. Their romance takes on a mythic quality. They take long walks into the Magic Forest and stargaze from the shores of the lake. Their love is a silent one, because according to the narrator, "the only love is mutual silence."
When the relationship ends in tragedy, the narrator flees Christiania with Otto in the hopes that Malaga, Spain, will help him get over Luna. He crashes at the pad of a depressed Danish writer and panhandles with gypsies on Costa del Sol. For a short time, the sun and the beaches suit the narrator, but soon, he discovers that tragedy follows him like the moon.
Ultimately only Christiania gives our sensitive pusherman what he's looking for. Late in the book, he becomes unusually verbal, revealing all that he wants in life to a friend in this monologue:
"I want to live and be happy, not just live, but to really feel life, to be free and feel life like the wind against my face. And I want to love and soar with it, not just have it bellyflop down all the time. I want to feel like a bird, not a sailboat. That's what I want."
To reveal more of the plot of this tiny book would be spoiling what essentially is a long and stark prose poem about living on the margins of accepted society. Leebron's narrator, like all of Christiania's residents, is a person without a country, someone for whom living is synonymous with the freedom to define freedom for one's self. Leebron's ode to Freetown Christiania and its slowly dying dreamers is well worth the visit.
+++
Fred Leebron
has published several novels and numerous short stories, and has received both a Pushcart Prize and an O. Henry Award. He is also co-editor of
Postmodern American Fiction: A Norton Anthology
and co-author of
Creating Fiction: A Writer's Companion
. He directs writing programs in Charlotte, Roanoke, Europe, Latin America, and Gettysburg.
+
Leland Cheuk is the author of the novel The Misadventures of Sulliver Pong. He is a MacDowell Colony fellow, and his work has appeared or is forthcoming in Salon, The Rumpus, Kenyon Review, Prairie Schooner, [PANK] Magazine, Vol.1 Brooklyn, and others. He is an assistant fiction editor at Newfound Journal. He lives in Brooklyn.