Book Reviews · 04/18/2016
Waste
by Andrew F. Sullivan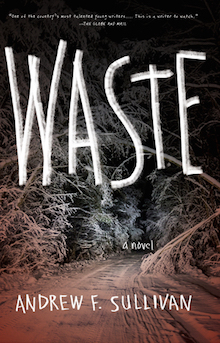 Dzanc Books, 2016
Andrew Sullivan's debut novel Waste takes place in fictional Larkhill, Ontario, circa 1989, a locale as hopeless and desperate and doomed as its citizens. The action occurs over a few frozen midwinter days and follows Jamie Garrison and Moses Moon immediately after an improbable accident: with Jamie behind the wheel of his Cutlass, they hit and kill a lion, after which the novel careens from one bad situation to another, dragging Jamie and Moses deeper and deeper into trouble.
The tattered cast of characters in Waste scrambles to exist, not only in Larkhill's failing economy, but also beneath the crushing psychological weight of their histories and broken families. For example, young Moses Moon, a bit of a failure as a skinhead, has an absentee father and is forced to care for his mother, Elvira Moon, who suffers from early onset dementia, the result of a bowling accident. The two of them live in a motel called The Dynasty, "one of the old motels strung up like discount Christmas lights along either side of the six lanes. The kind of place where bloodstains were bleached out of the carpet by Czech cleaning ladies." Locals call the place Da Nasty. Although Moses works in a butcher shop, he sometimes lifts wallets from unlocked motel rooms.
Jamie Garrison, also a butcher shop employee, is no exception to the rule of the broken past. A large portion of his issues stem from the guilt he feels when a dead body found in the snow-filled woods outside Larkhill turns out to be someone he serially bullied in high school. The rage that triggered the bullying resulted from a particularly harsh family incident, a story that answers many questions about Jamie's stormy interior world.
One of the novel's great successes is the stark sense of place. Larkhill is a broken town. Although it once bustled with a dozen manufacturing plants along with other commercial industries, it is "a different story now. Gray lots covered in concrete and the last bits of loosestrife fighting off the cold. … Dead grass and rotten foundations guarded by rusted forklifts. The ground here was filled with sulfur and asbestos and who knew what else, all of it bubbling under the crabgrass." The downtown is "stretched and bloated through the core of the city, dotted with grocery stores and half-empty townhouses with bed sheets for curtains." Sullivan's skill with such details paints vivid pictures throughout the novel, and at no point does he hold back.
The novel's setting is a tough one, and it reads like a Canadian version of the rough south depicted in the novels of Larry Brown and Harry Crews. Other than the butcher shop and a liquor warehouse, the only thriving businesses are pawn shops where "crumpled people trickle … handing over the old dreams they'd decided to surrender, the ones gathering dust like diplomas dangling from bathroom walls."
And, yet, despite the darkness of the story and brutality of the setting, dark humor allows for breathing room as the story lurches forward.
In a detail that is as heartbreaking as it is comical, Moses Moon regularly fantasizes that Bill Murray is his father. At one point, as he watches in shock as a friend's father kills himself, Moses makes the interior claim, in the deadpan manner of a standup comedian, that Bill Murray would never do that.
Before a fourteen pound bowling ball to the head tore Elvira Moon's sanity from its moorings, she was an exceptional bowler, utilizing her skills on the Blooming Broads, a team that enjoyed success in women's league bowling. She named her favorite bowling ball the Judge and she became such a strong bowler in her prime that "[h]er bowling ball collection took over the china cabinet. All her boyfriends had the requisite alley gut Elvira so admired."
But of course there is despair. There must be. And these characters with these struggles in this setting could easily be written off as egregiously dark and horrific if it weren't for Sullivan's ability to bring their humanity into sharp relief with his clever use of humor and creativity. The main narrative tension derives from Jamie's fear and avoidance of the individual whose lion he killed with his car. Meanwhile, Moses and his friends frantically search for Elvira Moon who has disappeared from Da Nasty. Along the way, Sullivan peoples the novel with unforgettable characters such as The Lorax (No, not that Lorax), Don Henley (No, not that Don Henley), Big Tina, and a couple of ZZ Top lookalikes. They are comical and sad and at no point do they tear the reader from the dream of the novel. At its core, no matter how steeped it may be in darkness, this novel is the basic story of, as Faulkner put it, the human heart in conflict with itself.
In a an effort to reveal why Moses and his young skinhead friends shave their heads and give one another homemade swastika tattoos, the narrator claims it "wasn't about skin or accents or the way someone walked. … It was to build something of their own. Something new. … Pulling up all the broken things your parents had buried and killed and making them your center. Turn trash into your cosmos." Like everyone else, these teenagers want something of their own, but they beat against the walls of their pasts in hopes of hearing an answer and perhaps getting a shove in the right direction.
In a recent interview, Sullivan makes the prediction that his artistic direction will "continue to barrel directly down the maw of all that's awful and unmade. I'm looking for characters that do the best to make their own light with limited tools and resources at their disposal."
Waste is a terrific example of this. Not only do we get a rough world where hope circles the drain, but the characters, no matter how demented, disturbing, or disturbed, do seem to be driven towards a light of some kind as they battle to build something of their own.
+++
Andrew F. Sullivan
is from Oshawa, Ontario. His debut short story collection,
All We Want Is Everything
(
ARP
Books, 2013), was one of
The Globe and Mail
's Best Books of 2013. Sullivan no longer spends his days handling raw meat, boxes of liquor, or used video games.
Waste
is his first novel.
+
John Baum
's work has been published in
Blue Mesa Review, Booth, St. Anne's Review, The Charleston Post & Courier
, and
The MacGuffin
. He also had a story reach the finalist stage in
Glimmer Train
's Short Story Award for New Writers. Currently at work on a novel and a short story collection, he lives in Atlanta with his wife and their two dogs.
www.johnpbaum.com
.