Book Reviews · 09/10/2018
Warnings from the Future
by Ethan Chatagnier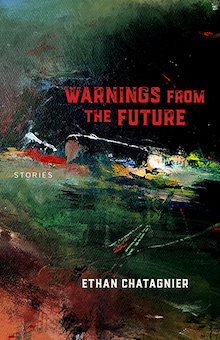 Acre Books, 2018
Warnings from the Future is the first collection of stories from Ethan Chatagnier. Despite the vivid title, it is not a succession of screeds from an apocalyptic wasteland. In fact, the collection does not adhere to a consistent mode, and as such avoids becoming monotonous. Regionalism is also not strongly emphasized. Fresno, California appears as a backdrop a few times, but I actually come away from this text having learned far more about Boston. Certain readers may balk at this de-centeredness. Others, I hope, will find it refreshing. Time, place and "theme" can be superficial, default, and — in the worst case — sectarian lodestars for a collection of fiction. Warnings from the Future does away with these constraints and instead offers wide ranging narratives of genuine interest.
"Miracle Fruit," the collection's first story, is among its finest. Semillon Incorporated, makers of corn and soy products, has manipulated the French economy to the verge of collapse, thereby forcing the French to sell their national seedbank, by this time "the last major seedbank in the world." Semillon then proceeds to "destroy the world's greatest depository of biodiversity" in order to increase its leverage on global markets. Caught up in these events is our narrator, a Semillon employee who is secretly growing fruits and vegetables, including Synsepalum dulcificum, a berry which blocks the sour taste of anything eaten after it. This is the naturally occurring miracle fruit of the story's title. A scene of the narrator sharing his harvest with a love interest is rendered beautifully:
We set upon the lemon tree. We bite into them without peeling them. The insides taste like lemonade. The white pith tastes like merengue. We eat whole lemons this way, not bothering to spit out the seeds. I yank other things out of the garden: arugula, which now tastes like some kind of crazy herb sorbet, rhubarb like raspberry jam; radishes like sweetened ice. But we go back to the lemon tree. It seems to be what this was made for — ambrosia, jellied light bulbs. The miracle doesn't keep our bellies from feeling full, from growing hot with acid, but we keep going.
This is not only a fine piece of writing, but also a humble, humanistic contrast to the destinies of nations and conglomerates the story so fatalistically charts.
"The Unplayable Études" follows a few stories later, and is likely the collection's strongest piece. A gifted pianist, haunted by her brother's accidental drowning death, sets out to perform music written by the avant-garde composer György Ligeti to be unplayable, both physically and for its lack of tonality. This meditation on grief and death and art is ambitious and sounds cloying in the abstract, but the story succeeds by avoiding the potential pedantry of ekphrasis. The main character's interiority is defined by an uncertainty we can all share and appreciate:
The argument has been put forward that atonal music has a lower bar of difficulty than tonal music because in tonal music an audience can tell when a note is out of place. The argument is that atonality is a veil. If the devil is tumbling down a staircase, will an audience take note of how many steps he misses? She thinks this is an evasion. She knows Ligeti well enough that she can hear when someone fumbles.

The two styles present divergent philosophies. Music should comfort. Music should discomfit. People should be comforted. People should be jarred from comfort. Binaries again.
Two more superlative pieces round out this collection. In "Every Face in the Crowd," an art student in Boston must choose between his lucrative sideline carving ornate jack-o'-lanterns for the wealthy or working toward an obscure masterpiece. It's a self-conscious premise which Chatagnier elevates through his choice of setting: contemporary Boston, home to a medley of financiers and struggling artists, a city defined by humanist institutions with expensive price-tags and a revolutionary history that is slowly disappearing behind the facade of new condos. Another story, "The Law of Threes," reads like a cinematic long-take. The narrator, a police officer contemplating retirement and law school, chronicles a night out on patrol with his partner. They are part of a larger effort to exact retribution for a fallen officer. The pacing in this story is masterful and leads to an ending that is deeply satisfying without reverting into a wild, sordid exploitation of violence.
The collection's shortcomings are limited. Two stories in particular deserve more expansive treatment. "Coyote" concerns a love affair between two cowboys (really, students of animal husbandry) and a third who is both their extremist moral arbiter and a repressed homosexual. However, the story doesn't allow itself space to explore the latter's sexuality and the problems and ironies therein. The villain is not fully wrought. "Dentists" is the last story of the collection and returns to a future-time perhaps similar to "Miracle Fruit's." Violence against Muslims in the United States has reached epidemic proportions. Muslims have been advised to move to "designated Protection Villas — some cleared out apartment blocks — where the National Guard could watch over them." An argument could be made that the story's brevity crystalizes its bleak, familiar vision of America. But there's more going on. The narrator is complicit in this Islamophobia because of his inaction. Meanwhile his father is a "Liberal in Defeat," eternally disappointed in the son's politics of indifference and silent assents. The complexities of this relationship are flattened in the few pages the story occupies.
Regardless of these minor qualms, Warnings from the Future, cover to cover, is a fantastic collection, which should surprise no one. These stories have appeared previously in Cincinnati Review, Glimmer Train and Georgia Review, among other well respected literary journals. Chatagnier's prose is at once elegant and conversational. More importantly, his characters are recognizable figures attempting to grapple with the world in constructive and thoughtful ways. What Chatagnier ultimately offers are insightful portraits of employees, grieving family members, decent cops, students and neighbors, i.e. real stakeholders in society, searching dearly for the humanity lost in the system. It is an enviable debut.
+++
Ethan Chatagnier has been awarded a Pushcart Prize in fiction and published stories in journals including Glimmer Train, New England Review, Georgia Review, Cincinnati Review, and Five Points. A graduate of Fresno State and Emerson College, he lives in Fresno, California, with his family.
+
Avee Chaudhuri is from Wichita, Kansas. His stories have appeared recently in Prairie Schooner and This Is Bill Gorton.