Book Reviews · 01/12/2015
Together, Apart
by Ben Hoffman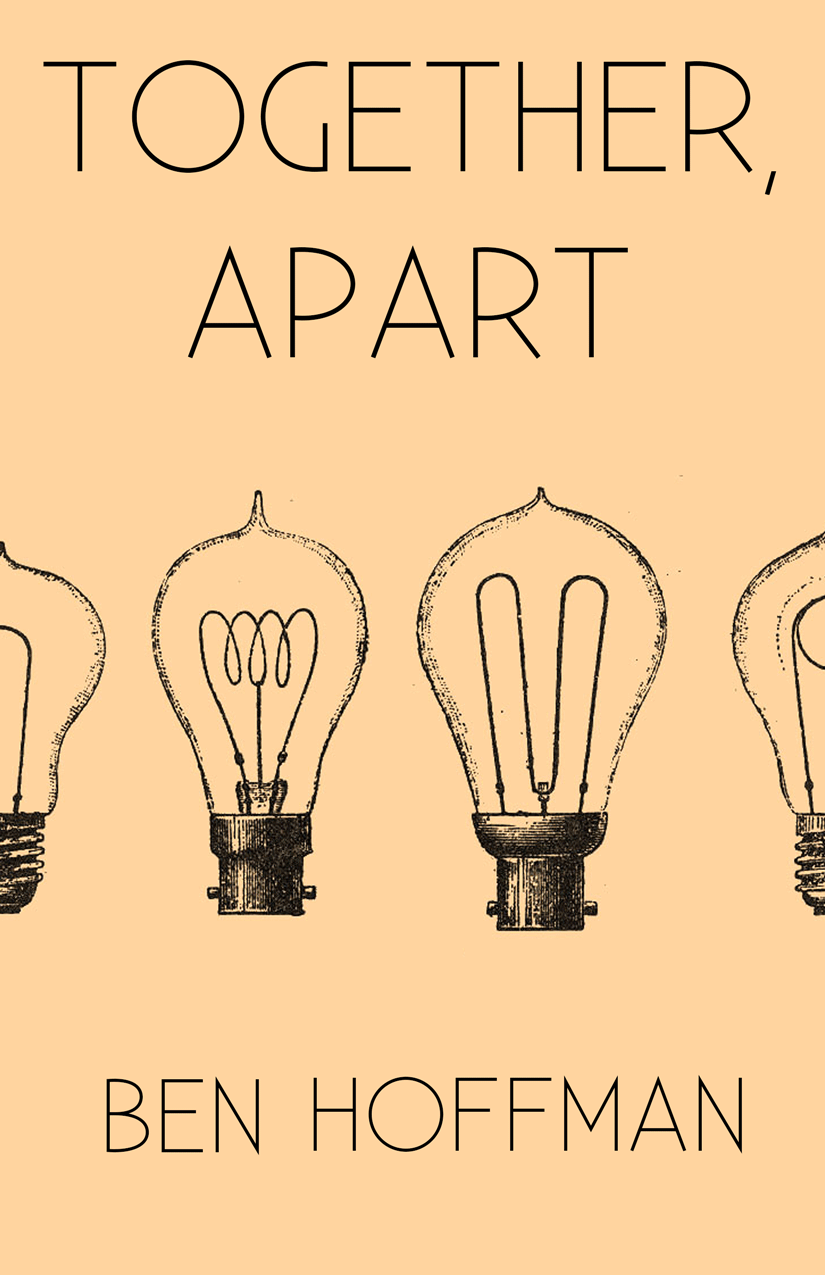 Origami Zoo Press, March 2014
Ben Hoffman, winner of both a fiction fellowship from the University of Wisconsin-Madison and the Chicago Tribune's Nelson Algren Award, writes stories that are original, sometimes funny, and often illuminate the dynamics in family relationships that can make the reader feel simultaneously together and apart. His outstanding new chapbook, Together, Apart, is packed with daughters and sons looking for signposts into adulthood minus their fathers, and adults trying to parent without the benefit of having been parented in their own childhoods.
Fifteen-year-old Marvel is not the only teenage character in the book navigating young adulthood together with one parent, apart from the other. Marvel's mother has her hands full: her husband just left and her father, a man who had five wives, just passed away. In "The Great Deschmutzing," the first story of six in this interesting collection, Hoffman's sharp, funny prose guides us through the parallel and intersecting plots of Marvel and her mother. In one exchange, Marvel asks the male worker at the family's storage rental center to shave his goatee, and the narrator, her mother, asks her:
"You asked him to? Why would you do that?"
"To see if he would?"
"And how do you feel," I say, "to know he changed his appearance for you?"
She smiles and looks past me, out the window at the menu.
"And what do you think he expects in return?"
Marvel's mother worries that since she herself didn't have a stable mother to guide her from girlhood into womanhood, she doesn't have a template to pass down to Marvel. The story accomplishes so much. It is heartbreaking and humorous all at once, and the prose sings when it reveals mother and daughter facing similar challenges at different ages.
In "Three and a Half Paths to Happiness," a mother has left her alcoholic husband and now raises their teen son Ricky as a single mother. She says:
I surveyed the fridge. Its shelves, haggard and low sodium, hummed icily that I was a bad mother, deficient in vegetables and protein and men and wisdom. I shut the door on its indictments…
Like Marvel, Ricky stumbles forward awkwardly, overcompensating for both the hole created by the parent who left and the immaturity of the parent who stayed. Ricky receives an outdated self-help book from his estranged father and, desperate for fatherly wisdom, he makes the absurd advice in the book his personal Bible. Like Marvel's mother, Ricky's mother navigates forward into new terrain.
Hoffman's characters, both male and female, are rendered with complexity, sensitivity, and insight. They are not clichés, but fully formed, unique people. He is skilled at allowing the reader to feel empathy for family members of different ages as the family morphs into a new state of being.
In "Your Baby's Mother," teens are brought together by their high school teacher when they're given an assignment to act as parents and care for a pink egg, carrying it around school and trading off responsibility. The girl in this story, Mora, takes the assignment much more seriously than her male partner, who cradles the egg in his lacrosse stick. Mora seems to think of the pretend egg as a hopeful foreshadowing of her future. Her partner, the pretend father of the egg, observes her "humming to the egg, pressing it to her cheek." This story, the collection's strongest, shows Hoffman's skill at allegory.
In "Next Time They Will Wow Them with the Shiny Stuff," Indians, wary of incoming imperialism, hide their iPods, DVDs, and TVs, and pretend to be uncivilized and impoverished, perhaps so the potentially hostile newcomers won't annex their possessions. It reads like a parable. This story, and some of Hoffman's other, shorter work that does not appear in this collection, leads the reader to wonder if, one-hundred years after Kafka, Hoffman is not in some direct lineage to the great modernist.
For those of us who have delighted in Ben Hoffman's stories as they've appeared in various literary journals over the last few years, Together, Apart, winner of the 2012 Origami Zoo Press Chapbook Contest, provides another chance for readers to wish we'd written these stories.
Kafka famously wrote, "A book must be an ax for the frozen sea within us." Hoffman has succeeded with this excellent chapbook.
+++
Ben Hoffman
's fiction has won Zoetrope: All-Story's Short Fiction Contest and appears in
The Missouri Review
and
Fugue
and online at
Tin House, Joyland,
and
Juked
, among others. Originally from Pennsylvania, Ben received his
MFA
in fiction from
UNC
Wilmington and lives with his wife and their dogs in Madison, Wisconsin, where he is the Carol Houck Smith Fiction Fellow at the Wisconsin Institute for Creative Writing.
+
Doug Benerofe won second place in Narrative Magazine's 2014 writing contest. His work can be found online with Narrative and forthcoming with LiteratureForLife.net. He's also published with Rosebud, Sonora Review and South Dakota Review. Carve Magazine interviewed him about his life as an English teacher at a public school near San Francisco.