Book Reviews · 11/18/2019
This. This. This. Is. Love. Love. Love.
by Jennifer Wortman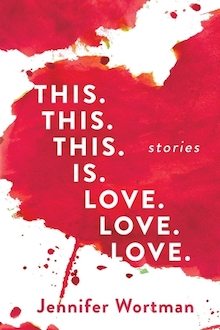 Split Lip Press, 2019
"Some say depression rises from helplessness," muses Jennifer Wortman's narrator in the opening story of This. This. This. Is. Love. Love. Love. But "might it rise, instead, from a fear of power?" Rather than the fear we can do nothing, the narrator suggests, the terror of depression may be that we could do anything. Paralyzed by potential, terrified by the thousands of ways we might get it wrong, we retreat into inaction, a move that promises comfort but delivers only a different kind of pain.
Fear of power and of consequences. Of moving others, and of being moved by them. Retreating into ourselves to nurse an ugly, tangled pain — yet hoping we'll manage to emerge from our isolation and try again. Put that way, depression starts to feel an awful lot like love.
Wortman's debut collection of short fiction, This. This. This. Is. Love. Love. Love. skillfully explores this intersection of intimacy and mental illness, each story examining the act of seeking and receiving love despite a disease that claims we are unworthy of it.
These attempts at connection are often as destructive as they are moving. In "Love You, Bye," for example, the narrator falls instantly in love with a young musician who works at a phone store in the mall. Though the narrator — happily engaged to another man — sees the destructiveness of her actions with clear eyes, she's also incapable of imagining another way forward besides self-sabotage. Her relationship's breakdown is inevitable, if she's unworthy of being loved. "Many subscribe to this truism: only those who love themselves can truly love others," she says. "I submit this modification: only those who love others can truly hate themselves."
Heavy material, to be sure. But Wortman manages to find the beauty in even the darkest subjects. Though her prose never loses the conversational tone of her first-person narrators, it cuts through her characters' defenses in the same breath to crystallize the experience of loving and being loved, and of living with the darkly calibrated emotions of depression. The tenderness and care for each character's self-destructive tendencies sings off the page, casting each story as an act of empathetic observation devoid of judgment.
It's not only empathy, however; it's also a stylistic balancing act. Wortman's writing captures two of depression's contradictory faces — flat affect and overwhelming sensation — in the titular story, "This. This. This. Is. Love. Love. Love." The story opens with the narrator, Helen, in a state of pure subsistence, emotionally disconnecting from the world as a survival mechanism. Her terse narration, with its curt declarative phrases and just-the-facts style, seems designed to rebuff the reader, describing a life we aren't invited to delve into:
"On my thirtieth birthday, I got myself cable. I live simply. I was first in my class in high school, but I never finished college because of my struggles with depression. Now I'm a cashier at a natural foods store. It's a good place for someone like me."
However, as the story progresses and a chance encounter with a TV psychic leads Helen to venture outside her own pain and consider the pain of others, Wortman's prose spins out into the other side of depression: the abundance of feeling, rather than the absence of it. Following the psychic's prompt to imagine her own father's grief, Helen says:
"It was then I saw my father, locked in our downstairs bathroom, the walls pale blue, the sink marbled with coppery streaks, the single window covered by a gauzy curtain. I'd always loved that bathroom. It was tiny and private and clean and in that room I felt that I was an honored guest in a pleasant home. My father would have chosen it due to its distance from my mother, who would be in the bedroom. I imagined him hunched over, crying silently, a hand fastened to his eyes like he was holding the darkness in."
There's a straightforward realism to this language as well, one that carries through the collection. But it's a realism that's suffused with emotional depth, where each detail takes on the weight of the narrator's pain. Like water filling a jar, Wortman's prose expands to fill the emotional range the character has available. There's beauty in hyper-awareness of detail: the marbled sink, the feeling of safety. But there's also a profound darkness, one that doesn't negate the beauty, but reflects it back distorted.
Though the strength of this detail never fades, the collection also veers repeatedly toward the paranormal. The story "This. This. This. Is. Love. Love. Love." contains one of several examples: a TV show called Animal Psychic, which Helen uses as a sort of emotional crutch. The idea of reaching into the beyond to understand a complex, unconditional love — whether between father and daughter, or between man and deceased family dog — is an attractive one, and doubly so for anyone doubting the strength of their connections to others. Who wouldn't want to know for certain if someone's love for us was real?
Wortman weaves this yearning for clairvoyance through her stories to great effect: the unnamed psychic friend in "Love You, Bye"; the mother who predicts her own premature death in "The Speech"; even the metanarrative in "Which Truth, Patricia?" in which the act of fictionalizing a failed relationship becomes a kind of attempted psychic probing. While each attempt is compelling, none of them alleviate the characters' suffering, which makes them all the more poignant — and hints that feeling fully secure in our relationships is fundamentally impossible.
Beyond content, Wortman also experiments with form throughout the collection, finding new ways to speak about the intersection of loss, connection, and the persistent ache of mental illness. Some — the magical realism of "Sometimes Things Just Disappear," or the found-text format of "How to Get Over Someone You Love in Ten Easy Steps" — are fresh and compelling, jolting the reader with bright flashes of the unexpected. Others — the home-invasion-slash-rape meditation of "Man in the Night," or the male student/female teacher fantasy of "Explain Yourselves" — take some of literature's more upsetting romantic tropes and attempt to subvert them by exploring their complexities. Whether this really subverts the trope or lays the groundwork for justifying it may be up to the reader to decide, but these stories nonetheless tread the collection's thematic ground in new ways.
This. This. This. Is. Love. Love. Love. presents a complex and compelling picture of the intersection of love and mental illness, holding it up to the light and examining it from all angles. Compassionate, darkly funny, and unapologetically honest, Wortman's collection extends a breath of hope to her readers. Loving oneself and loving others may never be easy, but we can always move forward — and telling stories will keep us company along the way.
+++
Jennifer Wortman grew up in Gambier, Ohio, home of Kenyon College and, reportedly, the Gates of Hell. She's spent most of her adulthood in Colorado, where she teaches at Lighthouse Writers Workshop, serves as an associate fiction editor for Colorado Review, and tries to do right by her husband and two kids. Her fiction, essays, and poetry appear in TriQuarterly, Copper Nickel, Glimmer Train, Normal School, Electric Literature, Brevity, SmokeLong Quarterly, Juked, and elsewhere. Her story collection This. This. This. Is. Love. Love. Love. was a finalist for the 2018 Indiana Review Blue Light Books Prize.
+
Allison Epstein
(
@rapscallison
) is a Chicago-based writer whose work has appeared in
Luna Station Quarterly, the Chicago Reader, Hypertrophic Literary, The American Book Review,
and others. She is pursuing her
MFA
in fiction at Northwestern University.