Book Reviews · 03/18/2019
The Wolf Tone
by Christy Stillwell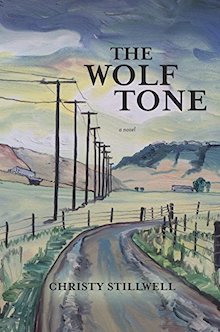 Elixir Press, 2018
A "wolf tone," we're informed on the first page of Christy Stillwell's debut novel of the same name, "is a wobbling or stuttering pitch caused by the vibration of the bowed instrument's string in competition with the vibration of its body." Musicians and music lovers overwhelmingly reject the sound as "annoying," "hideous," or monstrous," a "howl." That a musical instrument should harbor within itself the potential for such monstrosity seems extraordinary, yet the phenomenon is well known. Of course, much the same could be said of our own attitudes toward difference in general, including the differences we have with ourselves. It is this larger resonance of the "wolf tone" that Stillwell foregrounds throughout her work. "Some musicians," Stillwell notes approvingly, "refuse to suppress the wolf, believing it diminishes the resonance and sympathetic overtones" of the instrument.
Written in a reflective past tense and studded with carefully orchestrated scenes of family life, The Wolf Tone is a thoughtful exploration of the special problems that family members pose for each other. We want to belong; we want to identify with others in our tribe and to have them identify with us. At the same time, we also want to grow and change, and we want to be accepted while we do. Stillwell's novel traces the evolution of choices made in the hothouse of the family—to include or exclude, to welcome or reject—in order to show how those choices interact with those of others to create a larger family narrative, a story of who "we" are (and aren't). Although The Wolf Tone is Stillwell's first novel, she is also an accomplished poet; her chapbook of poetry, Amnesia, was published by Finishing Line Press in 2008. Her poetic sensibility is evident throughout the novel. Although the concept of the "wolf tone" provides the book with a unifying theme, it seems fair to say that there are few such "wolf tones" in it.
There may be no wolves and no wolf tones here, but this is a family story—which means the local fauna include black sheep. In The Wolf Tone, the role is shared around like an unpleasant chore on a rota. The central character is Margot, a cellist in late middle age. While sidelined by a broken clavicle, Margot is drawn into the volatile and uncertain world of Eva, a younger woman whose small child, she claims, was fathered by Margot's son, now away at college. Eva is Margot's foil and a version of her younger self; the novel's central drama concerns whether Margot can accept Eva as a daughter-in-law. As a counterpoint, there is also a question as to whether Eva and her mother can find common ground as well. The three women are similar in temperament and outlook. As daughters of Montana, they recognize its small-town limits while remaining sensible to its charms. Through a smartly constructed plot, Stillwell suggests that conflicting impulses—to stay or to go, to come close or create distance—may be present in the same person. As families blend—through marriage, children, accidents, luck—members of different families can provide each other with the acceptance that has otherwise eluded them.
Yet the novel's aim is not merely to show the power of relationships between women who can manage to get past their painful similarities. Interestingly, the husbands and fathers in this tale are largely absent or ineffective, at least emotionally. One absent father—Margot's husband, Andy, an itinerant musician—has invented a device that dampens wolf tones on an instrument. The device proves so popular that neither he nor Margot need to relinquish their not overly remunerative musical careers. But this freedom comes with a cost: Andy's frequent absences intrude on his family's integrity and undermine his son's development. That his son impregnates Eva and more or less disappears seems no accident, since his father did more or less the same thing to Margot.
As the fathers disappear, they're replaced by more unstable figures, including a drug kingpin who is not without his charms. His treachery sets the closing sequence into motion and brings the women together in newly revealing ways. As it turns out, Margot, the reluctant grandmother, has a secret of her own that aligns her closely with Eva; and Eva's mother Annie, who is guilt-ridden and aggressive by turns, softens upon meeting Margot. In her sensitive presentation of their delicate struggle for mutual acceptance, Stillwell captures the glory of these tiny moments when hardened attitudes begin to shift:
'My mother will find us,' Eva said. 'That's why she asked for your physical address. She'll use her phone to find our house.'

Us. Eva used that pronoun, Margot noted. What was that, exactly? Us was being invented, right now, as they spoke.
A quick intelligence reminiscent of Iris Murdoch lurks in the interstices of The Wolf Tone, brightening ordinary moments like this one. Like Murdoch's characters, Stillwell's struggle admirably to transcend the limits of their own perspectives, to see more in each other than just themselves.
+++
Christy Stilwell
holds an MA in Literature from the University of Wyoming, and an
MFA
from the Warren Wilson College Program for Writers. Her poems, short fiction and essays have appeared in journals such as
Pearl, River City, Sonora Review, Sou'wester, The Massachusetts Review, literarymama.com,
and
The Tishman Review
. She has been honored with a residency at Vermont Studio Center and a Wyoming Arts Council Literary Fellowship. Her work has been nominated for a Pushcart Prize and was a finalist in the Glimmer Train Short Story Contest. Her debut novel,
The Wolf Tone
, won the Elixir Press Fiction Prize. She lives with her family in Bozeman, Montana.
+
*Diane Josefowicz's writing has appeared in Conjunctions, Fence, and elsewhere. She lives in Providence, RI, with her family.