Book Reviews · 07/24/2017
The Weight of Him
by Ethel Rohan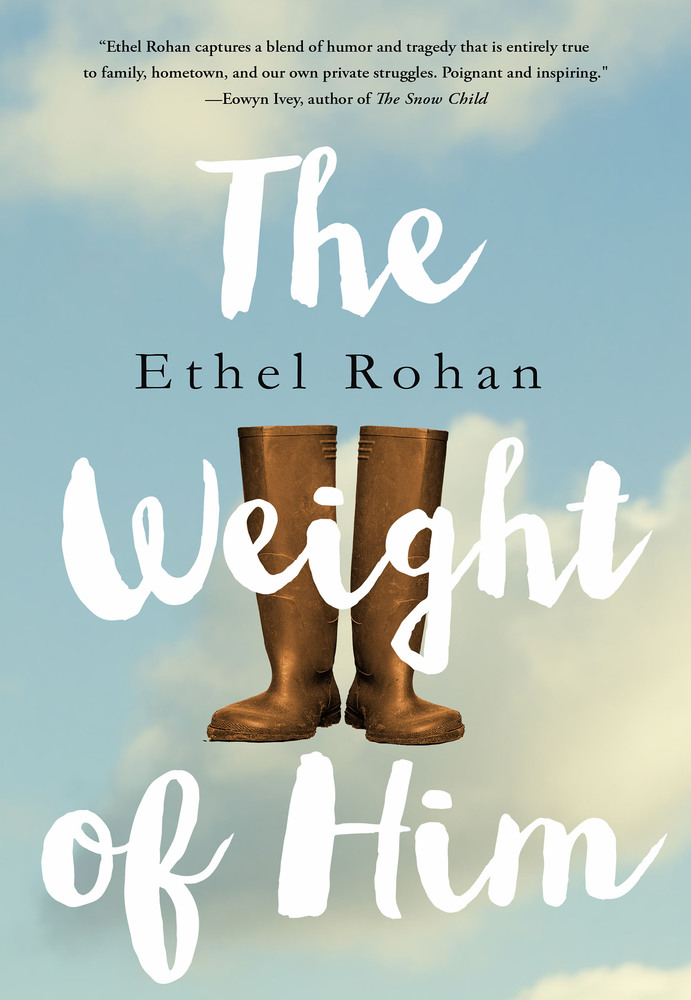 St. Martin's, 2017
The dictionary presents two basic definitions of "weight"—one (the noun) concerned with mass, and the other (the verb) meaning to place importance on something. We weigh in with our opinions and weigh our options. Weights are both things that pin us down and things we must pick up and lug around. Buried within the word "weight" is the concept of burden, be it physical, mental, or emotional.
San Francisco-based, Irish author Ethel Rohan's debut novel, The Weight of Him, confronts weight in all its manifestations of burden. Rohan's main character, "Big" Billy Brennan, is a middle-aged family man still reeling from the recent suicide of his child. With his world suddenly turned inside out, Billy begins to act as unmoored as he feels. He sets out to make big changes in his life, starting with the most obvious and immediate—the four hundred-pound figure he sees in the mirror. Billy now sees burdens everywhere: a dead-end job, a marriage grown stale, frayed relationships with his own parents and sister, one surviving child withdrawn and another starting to struggle with his own weight, and on a societal level, the quiet crisis of childhood suicide. Billy's crusade to halve himself to two hundred pounds ultimately encompasses all the other weights he carries.
In his small Irish town, Billy's very public plan to lose two hundred pounds while raising money for suicide prevention is seen as so unusual, so disconcerting to some of those closest to him, that it creates a significant source of tension. In a sleepy village where everyone knows everyone else's business, the blatant publicizing of personal battles the likes of Big Billy's multi-faceted crusade is certainly not welcomed by many of his more private, stoic family and friends.
It makes sense that Rohan would want to challenge herself with a novel, after mastering the short story and flash fiction forms. She previously published two well-received collections of short fiction: Goodnight Nobody (Queen's Ferry Press, 2013) and Cut Through the Bone (Dark Sky Books, 2010). The landscape of a novel gives her a large enough canvas to more thoroughly explore her complex characters.
Rohan's writing is as simple, direct, and painfully honest as a pub talk between friends over some pints of ale, and well-suited to peeling back the curtains and peering into the kitchens and bedrooms of her characters, catching them in their candid and sometimes unflattering moments:
Billy returned to the yard, relieved to see Lisa's car gone. Tricia stood leaning against the back wall.
"Is she long gone?" Billy asked.
"Not long enough," Tricia said. He gave a small laugh. Smirking, Tricia dropped her cigarette butt and squashed it with her shoe. "She means well."
He nodded at the killed cigarette. "Would you not give them up?" he asked gently.
She looked into the distance, her face hard again. "We all have our crutches."
His lower jaw slid to the right, setting his teeth on edge.
"I will go back off them eventually," she said, softening. "Besides," she said, gruff again, "they're too fucking expensive." She pushed off the wall and returned inside.
Rohan's characters are deep and contradictory, and she is at her most artful when her writing explores the complex layers of her characters; the structure of their humanity:
He dropped onto the wet, cold ground and allowed his buttocks to sink into the muck. The damp and chill seeped down to his bones, ushering in a mild and welcome numbness. His stiff hand moved to his trousers pocket and removed the two pieces of the soldier. He rubbed his thumb back and forth over its face. He pictured Michael standing in their backyard, the boy's right hand on the original red clothesline, making it dip in the middle, and his other hand on his hip. He was smiling, his left eye closed to the glare of the January sun. Ah, no, Dad, he said. I didn't do it, I changed my mind. I'm still here.
As complex as Big Billy is, readers may find his wife Tricia to be the most intriguing. She seems to alternate between small empathetic gestures and larger acts of obstinance, exhibiting a periodic tendency to thwart her husband's intentions. Could she exist in such a deep state of denial that she would prefer to maintain a dysfunctional status quo at any cost? So much so that Billy's weight loss and charitable fundraising would appear distasteful? Grief can hijack reason just as well as a teenager's depression and suicidal thoughts can.
Ethel Rohan's debut novel may not be so much about weight as it is about gravity—a specific human gravity. The pull we exert on each other in our relationships, the little solar systems of living beings that we construct for ourselves over a lifetime, and how these emotional mechanics buckle when one of those beings in near orbit to us disappears, leaving a hole, a black hole, a hole with a shape that we recognize, a hole that somehow increases its gravity and cannot be managed unless the surviving band together to bear the load.
+++

Ethel Rohan
is the author of two story collections,
Goodnight Nobody
and
Cut Through the Bone
, the former longlisted for The Edge Hill Prize and the latter longlisted for The Story Prize. Her work has appeared in
The New York Times, World Literature Today,

GUERNICA

Magazine, Tin House Online, The Rumpus
, and many more. Born and raised in Ireland, she lives in San Francisco.
+

Joe Kapitan writes from a glacial ridgeline a day's march south of Cleveland. His short fiction and creative non-fiction have appeared in many wonderful venues online and in print.