Book Reviews · 04/08/2013
The Way We Sleep
Edited by C. James Bye & Jessa Bye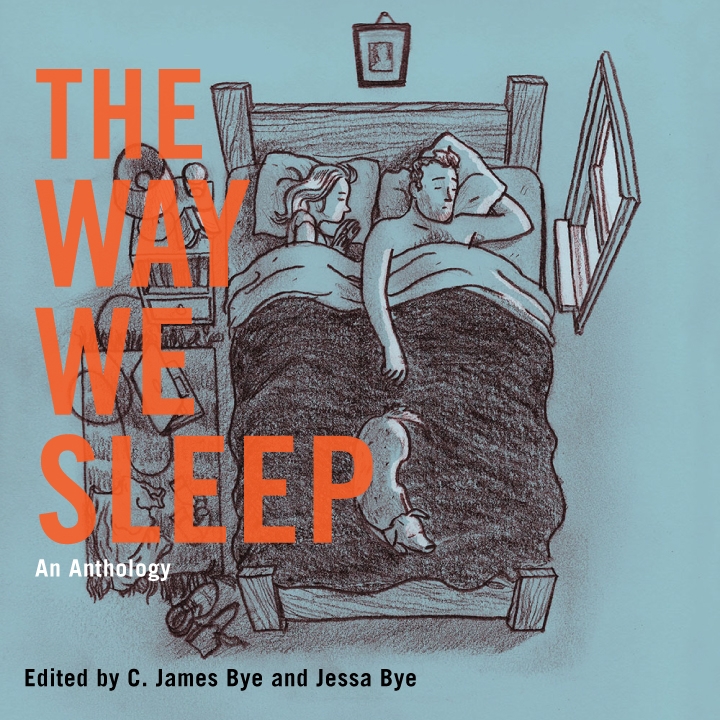 Curbside Splendor, 2012
"How did you sleep?" It's a simple question, one often asked without much consideration and answered just as casually. But think about it for a moment. How did you sleep last night? Did you sleep deeply? Did you sleep poorly? Did you sleep in a bed, on a couch, sitting upright during a long flight? Did you sleep next to someone or did you sleep alone? Did you dream or have nightmares? Have you been sleeping a figurative slumber, moving through life in a kind of torpor from which you've only recently awoken? Are you sure you really woke this morning? Or did you sleep at all?
The Way We Sleep sets out to answer these questions and raises many more as C. James and Jessa Bye take the reader on a dreamlike journey through a collection of short stories, cartoons, and interviews exploring the literal, figurative, and sometimes merely tangential elements of what the Greek's called "the brother of death"—sleep. Along the way readers will find that the answer to our simple question, "how did you sleep?" is as varied and complex as the approach of each artist who sets out to answer the question.
For those familiar with the empty hours of insomnia, sleep is often elusive. Some, like the narrator of Steve Himmer's "Hands to Work," attempt to fill sleepless nights with ill-conceived woodworking projects (in this case with an ill-conceived woodworking project which goes painfully awry). Ben Tanzer and Nathan Holic's illustrated excerpt, "Vanessa Hudgen's Diaries," charts the racing, circular thoughts of one insomniac as he struggles to sleep before rejecting rest entirely. The opposite of insomnia, escape through excessive sleep, is apt to create problems of its own, as the narrator of the story "Perchance to Dream," penned by the art collective called "The Residents," discovers following a loved one's death.
For some, sleep becomes a danger to themselves and to others (particularly roommates and spouses), as it does for the narrator of Dakota Sexton's "Nighttime in Gibberishtown," who lives in fear of what she might say or do while unconscious. For the Resident's chilling "The Sleepwalker," the sinister promise of Sexton's fears becomes all too real when subconscious desires are acted out during real, violent, sleepwalks.
"All dreams are shitty metaphors," Jim Joyce writes in "It Darkens, Brother." That may be so, but they make for excellent subjects. Many of the pieces in this collection focus on the longing of dreams, those private plays we perform in each night and describe to each other each morning. In "Your Dreams and What They Mean," from Agni Becker Stevens, a young woman finds her life inverted after falling in love with a man she meets in her dreams and her waking life becomes a brief interlude between sleep. In "Bedman: Dream-Lord of the Night Sky," a comic by Eric Haven, a night-time superhero acts out adventures, the alter-ego of a normal, sleeping man. Others, like J. A. Tyler's "The Fourth House" seem to be dreams transcribed directly to the page.
Other artists focus on the figurative sleep, such as Matthew Salesses and Pamela Balluck. In Salesses's tale, a women suffers under a prolonged drought with a distant partner; in Balluck's story a teen finds her life changed by a drastic breast reduction surgery: both awaken slowly to the new directions their lives have taken.
And, of course, what book centering around so many beds would be complete without a healthy dose of sex? Whether a way to mitigate loss, as in Roxane Gay's "We Cannot Be More Than We Are," or a kind of sanctuary, as in Tim Jones-Yelvinton's "Derrick Mickelson's Cuddle Bed for Wayward Boys," or in whatever type of psychosis is revealed by a sexual fascination for socks (Brandi Well's "Sock Addiction"), sleep and sex are closely intertwined. This is especially true in the hilarious "The Excellent Actor David Strathairn," by Sharon Goldner, in which an ordinary woman finds the actor David Strathairn arriving in her bedroom while she is mid-coitus, and is alternately amused and frustrated with his suggestions and critiques.
In their editors' note, C. James and Jessa Bye write that they intended to create a collection "chock full of magic realism, vulgarity, humor, sentiment, earnestness, conversation, beauty, absurdity, heartbreak and an itty bitty bit of sex." By all measures, they have succeeded. Although the subject does not sound like the most entertaining, I'd warn against reading The Way We Sleep before bed. You might find yourself up late at night, like the book's subjects, unable to put the collection down until you've read it all.
+++
A full list of contributors to The Way We Sleep: Tara Abbamondi, J. Adams Oaks, James Tadd Adcox, Lauryn Allison Lewis, Andrew Bales, Pamela Balluck, Maria Bamford, Ron Barrett, Angi Becker Stevens, Nick Bertozzi, Jeffrey Brown, Joey Comeau, Hugh Crawford, Robert Duffer, Natalie Edwards, Roxane Gay, Rick Geary, Sharon Goldner, Eric Haven, Cynthia Hawkins, David Heatley, Owen Heitmann, Steve Himmer, Nathan Holic, Emily Horne, William Hughes, Tim Jones-Yelvington, Jim Joyce, Kenny Keil, Etgar Keret, Michael Koh, Todd Levin, Susan L. Lin, Billy Lombardo, Joe Lo Truglio, Rachel Mans, Becky Margolis, T.J. Miller, Tony Millionaire, Jimmy Pardo, Margaret Chapman, Jesse Reklaw, The Residents, Mary Roach, Bryan Rubio, Matthew Salesses, Dakota Sexton, Michael Showalter, Curtis Smith, Simon A. Smith, Megan Stielstra, Ben Tanzer, Sally Jane Thompson, JA Tyler, David Wain, Brandi Wells, Julia Wertz, Shannon Wheeler, Alison Wight, and Catriona Wright.
+
Since completing the University of Southern Maine's Stonecoast
MFA
Program in 2009,
Michael Beeman
has placed fiction in
The Sewanee Review, The South Carolina Review, Necessary Fiction, Per Contra, The Emprise Review,
and
The New Plains Review,
among other journals. His book reviews appear regularly in
Publishers Weekly, ForeWord Reviews,
and online at
Chamberfour.com.
He reads for Electric Literature's Recommended Reading series. Michael is also a fiction editor for
Big Lucks
magazine. Originally from New England, he now lives in Washington, DC, where he is an enthusiastic volunteer at Dave Eggers' non-profit tutoring center 826DC and a writing instructor at Writopia Lab's DC branch.