Book Reviews · 11/13/2017
The Walmart Book of the Dead
by Lucy Biederman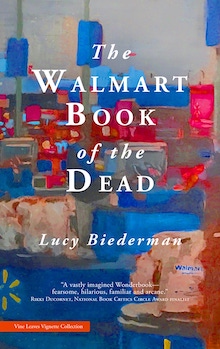 Vine Leaves Press, 2017
Lucy Biederman's wonderfully inventive first book re-imagines The Papyrus of Ani, from the Book of the Dead (ca. 1250 B.C.E.) in a brisk, 70-page collection of vignettes she calls "spells." She transports the reader from ancient Egypt across 5,000 years to the United States and into a metaphorical present-day tomb: a Walmart store.
Biederman's "Underworld" teems with life and is populated with well-drawn oddballs. She conjures a cast of nocturnals who shop (and work) in the empty, quiet calm of the wee hours in a Walmart.
Bierderman's "vignettes" are a single page (the longer ones are no longer than 2 ¼)—she might have considered expanding her clever creation with another dozen or more pages, which would make the collection feel more complete.
Mimicking the artifact that is her inspiration, she names each vignette by its "Spell" followed by an "Illustration," a compressed thumbnail of a Walmart shopper or night-shift employee. To her credit, despite her smart, side-eye snark, Biederman never mocks and wisely avoids the trap of being mean-spirited.
Although at times bewildered and/or weary, her characters are well-intentioned as the author guides them up and down the aisles of her Walmart "Underworld."
After its discovery in the late 19th century, the original 78-foot scroll was enshrined in The British Museum. The spells include helpful "tips" to assist the ancients in avoiding the treacherous minefield of the Underworld. Relevant spells include #31: "Protection from Peril to stop the Dead from being harmed by crocodiles in the Afterlife."
Spell #34 was "Protection from Snakebites; and #35: "Protection from being eaten by snakes." Spell #43 "prevents decapitation in the Underworld." The current iteration is just as specific in its list of protective spells.
Biederman's modern spells, like her "SPELL to Not Let a Man's Truck be Taken from Him in the Gods' Domain," are relevant to the challenges and perils of 21st century America. Her modern hacks are mischievously practical as well as protective. From her "SPELL for Building a Golden Mansion in the Gods' Domain":
It's work. It's war. You have to choose the right thing or else you die. You can step behind the set of a carnival game and win it, but you need to do your research first. You need to push aside the Crest Whitestrips smiles of the tough-guy girl winning her pretty girlfriend a jumbo stuffed alligator. Leave them their dumb fun. You're at work, at war, and you've won.
ILLUSTRATION: Standing in the laundry aisle mourning the price discrepancy of nearly an entire dollar, he rues what a moron he was for buying detergent at the no-name place by his apartment. What was he thinking? He had found himself at the little store and acted rashly, fearing some unexpected need to do a load of wash and him caught, like a fool, with no detergent.
Biederman has a knack for dark and wonderfully wrong, mangled humor of the blackest, funniest kind.
The only spell that is duplicated and jumps millennia from ancient Egypt to the present is Spell #44 in The Papyrus of Ani: "Not Dying a Second Time in the Realm of the Dead." Biederman calls hers the "SPELL for Not Dying Again in the Gods' Domain." Her "Illustration" begins: "He is 40 but looks 8,000."
Another nugget of Biederman's 24-karat prose is found in "SPELL to Light the Path Through Night." In this vignette, an unnamed character, an insomniac Walmart customer, shops for a suitable lamp. She appears to be, given her voice and attitude, female, presumably a teenager who lives with her parents, perhaps a millennial, surly and squatting in the family home. She is annoyed as well as unimpressed with the merchandise.
The Spell begins:
The lamps made by slaves look terrible. The slaves did a terrible job making them. They didn't even bother to fit the shade to the bases—you're just supposed to jam them together. The slaves made pieces of shit. I can't take home a lamp like this. I can't pay $11.97 for this terrible slave lamp. What would my Crate and Barrel bedroom table say?
And Another SPELL like it.
I don't want to spend eternity with the lights off. I'll buy the most expensive, longest lasting bulbs and charge them to my Amex.
In the acerbic "Illustration" that follows, Biederman enchants with the effortless execution of her conceit. Elsewhere, she doesn't quite sustain the same high level of cheekiness. In a couple of entries, she's as cryptic as a sphinx. A tonal shift occurs in "SPELL to Go Forth in Triumph in the Gods' Domain," which is a slog and a mystery:
Mission Accomplished. The banner flapped against the airplane, a meme. But this was an emblem of the disaster in the middle of happening. If you had been in it, inside it, a part of it…. Now, when they say the world will end, whatever the gods have planned, well, let's just say that you would be among the ones who knew it was coming. And who knew how you'd react when it came.
Still, reading The Walmart Book of the Dead is much more fun than any insomniac could have at three a.m. in the catacombs of a superstore.
In 1888, the British Egyptologist, Sir E.A. Wallis Bridge (1857-1934), who may have been too ambitious for his egotistical career goals, stole the priceless, ancient 78-footscroll from The British Museum and inexplicably chopped it up into 37 individual sheets—desecrating the treasure and destroying its integrity.
By contrast, Biederman's deconstruction of The Book of the Dead feels like a wry tribute. What fun to stroll the aisles of this slim, quirky book.
+++
Lucy Diamond Biederman
is a Lecturer in English at Case Western Reserve University and an adjunct professor at Cleveland State University. She holds a Ph.D. in English from the University of Louisiana-Lafayette.
The Walmart Book of the Dead
, her first book of prose, won the 2017 Vine Leaves Press Vignette Award. She is the author of four poetry chapbooks:
As Yet
(Country Music, 2014),
As I Walked Into the Middle of the Night Squinting
(Red Bird Press, 2013),
The Hardest Part is Done
(Grey Book Press, 2013), and
The Other World
(Dancing Girl Press, 2012). Her poems, creative nonfiction essays, and stories have appeared or are forthcoming in
Denver Quarterly,

BOMB

log, The Laurel Review, Ploughshares, Pleiades
, and other journals. Her critical articles appear in or are forthcoming from
The Henry James Review, Studies in the Literary Imagination
, and
Women's Studies
, and in the books
Insane Devotion: On the Writing of Gerald Stern
(Trinity U P, 2016) and
A Sense of Regard: Essays on Poetry and Race
(U of Georgia P, 2015). She is a regular reviewer for
Jewish Book World
. Find her online at
lucybiederman.wordpress.com
.
+
Lisa Medway
has taught in the Writers Program at
UCLA
Extension since 1995. She wrote a bi-weekly newspaper column for Copley Newspapers from 1990-1995 and won two AP (Western states) awards for "Columns, Commentary and Criticism." She's also written humorous essays for
Parenting Magazine
. Her 30 years in television include sketch comedy, sitcoms, animation, and half-hour pilots for the major networks. Sitcom credits include: "Silver Spoons," "Duet," "Baby Talk," "The Nanny" and more. For 7 years she did an annual seminar entitled "My Life As A Writer" for The Filmakadamie of Baden-Wurttemberg, Germany. She is the co-author, with Lauren Sarafan, of
ME 101: A Workbook for a Better Relationship
, published by Warner Books in 2001. She is currently at work on a memoir entitled,
Does This Cane Make Me Look Fat?
Find her online at
lisamedway.wordpress.com