Book Reviews · 11/23/2015
The Universal Physics of Escape
by Elizabeth Gonzalez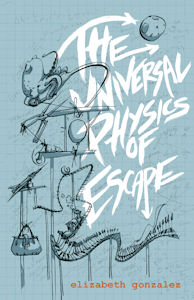 Press 53, 2015
The vivid settings of Elizabeth Gonzalez's stories in The Universal Physics of Escape illuminate the strangeness of the world. There is an abandoned mining town filled with sulfuric hot spots that "glow like so many dying campfires," an ancient gargantuan cave filled with "sugar in a great waterfall frozen overhead" and flowstone "like a herd of petrified slugs," meteor showers that turn the Michigan night sky otherworldly, and an octopus at a local aquarium that reflects a woman's dichotomous desire for connection and escape. Gonzalez excels at precise descriptions and metaphors. She describes one character's eyes as "crinkled and happy and white-blue now, like worn denim."
The characters are just as nuanced and strange as the places they inhabit. In the title story, "The Universal Physics of Escape," Claire (a character who appears in multiple stories in the collection) is a wife and mother who lives in a small church-going town where she feels like an outsider:
She had learned what to say: in spring, ask about summer plans, in summer, ask how the trips were going, in fall, ask what teachers their children got, and later how they liked them and how they were adjusting. Around holidays, ask about holiday plans. She had never seen her way past any of that chatter into a real conversation with anyone.
The story opens with Claire at an aquarium, where she marvels at an octopus that has hidden itself in a piece of PVC pipe. When it comes out, Claire holds her hand up to the glass tank and it swims to her, wanting to touch her: "It tries one arm after the other, patting frantically at the glass beneath her finger." Throughout the story, fascinating facts about octopi (they have three hearts; their arms literally have minds of their own) are interspersed with the narrative, and they resonate affectingly with Claire's situation. Claire is simultaneously hiding and desperately looking for connection, and by the end she still hasn't figured out how to resolve these disparate desires.
In an earlier story, "Half Beat," we see Claire as a girl taking piano lessons from an old spinster named Miss Wood. Claire is more interested in the story of Miss Wood's "lost love," Mr. Treski, than she is in the piano. Every lesson, she asks Miss Wood another question about Mr. Treski to uncover why they didn't get married. Bit by bit, Claire finds out that Mr. Treski used to deliver meat to Miss Wood's house while she practiced the piano. He would listen and then they would talk. They began a courtship, but Miss Wood's mother didn't like that Mr. Treski was just a butcher, so she forbid the marriage. Miss Wood went away to Juilliard, and when she returned, Mr. Treski had married someone else. He still made deliveries to her house, and still listened to her play the piano, but they never talked again because he was married. One day his son-in-law came for the delivery, and told Miss Wood that Mr. Treski had died. Claire thinks this is "the worst story [she'd] ever heard." "But he did die of a broken heart," she says to Miss Wood, and Miss Wood laughs. Later, when Claire recounts the story to her friends, she fabricates details for dramatic effect:
You know how she always gets to that one part [in the song], and stops? One morning he was standing there, listening just like he always did with his cap in his hand, and his heart just stopped like a watch. And he died, listening to that song. So she always plays to that very moment when his heart stopped.
Claire understands the rules of fiction: you must entertain; you must make meaning. The narration of "Half Beat" moves seamlessly between young Claire and older, wiser Claire. Young Claire thinks all the details of one's life must add up to make a meaningful story. Older Claire realizes that real life is not so neat.
Many of these characters are grappling with their place in the world, especially in comparison to the vast universe, the long stretch of history, and the finality of death. They know that there exists "a world self-sufficient and whole from which [the self] might be erased without consequence." An old man dying of cancer mail-orders meteorites, "specks of dirt in little plastic boxes with somber labels," that once blazed brilliantly through the sky. A teenage girl on a field trip exploring ancient caves looks at the rock formations and sees how insignificant she is compared to the accumulation of history:
The columns grew slow as time, a quarter of an inch every hundred years, some slower yet, so a single inch represented four hundred, eight hundred years; the big towers were inconceivably old. Against them she was — what? A sliver, a layer of molecules, maybe.
This self-awareness is present not only in the characters, but in the stories as a whole. They zoom in and out from the micro to the macro, from the mundane to the bizarre, from the interior thoughts of a character to a law of physics. The result is stories than feel bigger than themselves.
+++

Elizabeth Gonzalez
's short stories have appeared in
Best American Nonrequired Reading, New Stories from the Midwest, SolLit Selects, Greensboro Review, Post Road
, and many other publications. In 2011, she received the Howard Frank Mosher Prize from
Hunger Mountain
for "The Speed of Sound," and in 2012 she received the Tusculum Review Prize for "Shakedown." She works as a freelance writer and editor in Lancaster, PA, where she lives with her husband and two daughters.
The Universal Physics of Escape is her debut story collection
. More at
ecgonzalez.net
.
+
Celia Laskey
currently attends the University of New Mexico's Creative Writing
MFA
program for fiction. She lives in Albuquerque with her wife and cat. She has had work published in
BlazeVox, Stirring
, and
The Fiction Circus
. More at
celialaskey.com
.