Book Reviews · 01/15/2018
The Unit
by Ninni Holmqvist
Translated by Marlaine Delargy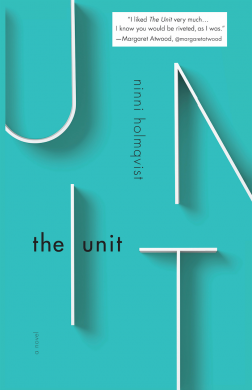 Other Press, 2017
Forcing people to live in a gilded cage in order to harvest their organs and experiment on them: not a particularly original plot for a dystopia, of course, but still a fascinating vehicle for social critique. Swedish author Ninni Holmqvist's The Unit, like Ishiguro's Never Let Me Go (2005) or the film The Island (2005), tells the story of middle-aged individuals held against their will in a specialized facility designed to extract organs and information that can be used to treat ill or dying people in the outside world. In Holmqvist's vision, however, these captive individuals aren't clones but anyone over the age of 50 (women) or 60 (men) who have no children and/or don't contribute to society in some significant way. And while The Unit offers an interesting twist on this dystopian theme, its forward momentum and at times passionate advocacy of freedom and individual rights collapses by the conclusion. Nonetheless, Holmqvist raises important ethical, legal, economic, and social questions that have no easy answers.
The novel itself functions like the facility in which the protagonist, Dorrit Weger, finds herself; that is, we catch brief glimpses of her in the outside world in the beginning and the end, but otherwise we only see her within the walls of the Second Reserve Bank Unit for biological material. The reader, therefore, doesn't know much more than what the facility's inhabitants and staff know about her (aside from a few of Dorrit's memories of her previous life as a single, childless author). We're asked, then, to judge her actions and reactions to the psychological experiments, organ extractions, and shifting social circle like one of the staff therapists. Nonetheless, we have access to her private thoughts, which reveal Dorrit's growing unease with the purpose of the facility and her developing desire to escape. This provides the novel's momentum.
At first, Dorrit is bitter and resentful toward the "indispensible" people — those who have children or important jobs and are thus exempt from what some "dispensible" people inside the facility call "the slaughterhouse." As time goes on, though, she becomes more comfortable with the omnipresent surveillance cameras, bizarre psychological and physical experiments, and lack of windows, because she receives in return what she had never had in the outside world: a vibrant social life and complete financial security. In the Unit, residents are provided with everything they could possible need or want: restaurants, theaters, gardens, shops, workshops, and more. The downside is that no one lives much more than seven years after entering. The average resident might donate a kidney to a firefighter with five kids, or a cornea to the CEO of a major company, but ultimately everyone goes in for their "final donation," when all of their organs are harvested and banked for future use. Dorrit's description of the system is clinical and detached, almost as if she were copying it down verbatim from a reserve bank brochure:
Our everyday life in the reserve bank unit really revolved around scientific humane experiments. That was what we were mainly used for, in reality. They tried to keep us alive as long as possible, in fact, and some individuals who were very fit had lived in the unit for six or seven years before they were taken in for their final donation. Those who are dispensable contitute a reserve, and those who are needed and are seriously ill are first of all given organs produced from their own stem cells, and if that doesn't work, they go on a waiting list for organs from younger people who are pronounced brain-dead after an accident. They don't use the dispensable until it is obvious that no other method and no other material is available…(112)
To keep the residents' minds off of the "final donation," the facility administrators make sure that people have plenty to do and enough time to socialize. And yet, despite the easy living and friendships, something in Dorrit rebels against the rules and antiseptic lifestyle of the facility in general. We eventually learn that she is actually against the philosophy that made the facility possible: that is, the belief that individuals who don't have children are no longer necessary to, and may even be an burden on, the larger community. It's a philosophy based on the idea of humans as capital, stripped of their personalities and dreams and reduced to interchangeable pieces on a board game of life. Dorrit repeatedly thinks about how she wanted children and a husband but it just never worked out; and yet, she never felt like she was a burden on anyone. At one point halfway through the story, she declares to the reader, "If I can choose between mind and body, I choose body. If I can choose between brain and heart, I choose heart" (130). Dorrit sees through the facility's self-constructed image and recognizes it for what it is: a euthanasia factory for people who aren't necessarily ill or dying; or even a farm, but with people acting as the animals and produce.
As expected in a dystopia like this, Dorrit is spurred on to try and escape from her prison (I won't tell you under what circumstances, because that would spoil too much). Reaching this part, I felt myself mentally gearing up for an intense final third, in which Dorrit either openly or covertly made a break for it. Strangely, though, it is precisely here where the story falls flat. Dorrit's rage at the deaths of her friends and lover is oddly short-lived, and her attempted escape is described in muted tones. Of course, what kind of a dystopia would this be if she successfully escaped? However, given what we know of her passionate beliefs about family, freedom, and control over one's own destiny (things she tells us throughout the novel), her sudden and unexplained capitulation to the facility's staff seems out of character and deflates the previous two-thirds of the story.
Despite the fact that The Unit fails to live up to its promises, it nonetheless encourages us to interrogate our own views on aging, what we "owe" to our communities, and what we're willing to give or ask others to give up.
+++
Ninni Holmqvist was born in 1958 and lives in Skane, Sweden. She made her debut in 1995 with the short story collection Suit (Kostym) and has published two further collections of short stories since then. She also works as a translator. The Unit marks Holmqvist's debut as a novelist.
+
Marlaine Delargy has translated novels by John Ajvide Lindqvist, Kristina Ohlsson, and Helene Tursten, as well as The Unit by Ninni Holmqvist and Therese Bohman's Drowned. She lives in England.
+
After earning her doctorate in literary studies,
Rachel Cordasco
taught literature and composition, and currently works as a developmental editor at the Wisconsin Historical Society Press. She also writes essays and reviews, and contributes to
Book Riot
, Tor.com,
Strange Horizons
,
World Literature Today
, and other publications. In 2016, Rachel started SFinTranslation.com, which tracks all speculative fiction available in English, and she's recently started translating Italian sf. You can follow her on twitter "@Rcordas"http://www.twitter.com/rcordas and on the
SF in Translation
facebook page.