Book Reviews · 02/22/2021
The Trouble With Language
by Rebecca Fishow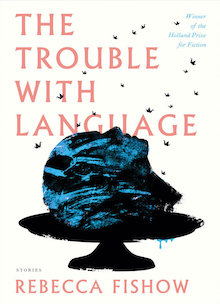 Trnsfr Books, 2020
During my undergrad creative writing degree, students tended to pigeonhole, to narrow themselves down creatively. A student would read a piece of genre-fluid work only to hear, in that vulnerable afterglow, a response like, "Well, this is poetry, and as a prose writer, I can't really comment." I'm sure I did it, too, fearing to say the wrong thing and be outed as some kind of imposter. But drawing lines between genres only serves to close up a natural porousness. Writers believe, wrongly, that they must choose.
If this first collection is anything to go by, Rebecca Fishow did not choose. The Trouble With Language might be fiction, strictly, and prose, mostly, but genre is liquid in these stories. They might be a page long or thirty. Prose slips into poetry; it reconfigures into stream-of-consciousness; and then it slims down to myth and fairy tale. The first piece, "None of This Is Your Fault," is a note addressed to a stranger that begins with the near-death of a dog and ends with "I am not doing a lot of living these days." The second, "Timothy's Severed Head," is a story in segments, like an orange, and just so happens to concern a decapitated head. This head, a therapy doll that magically appears for "whoever's suffered the most," provides a conduit for the character's lives and jealousies, which Fishow moves through in third-person, free indirect speech, lists, and scripts.
Any writer might pick up a handful of interesting techniques and write them well. Fishow shifts through genres and styles with a controlled electricity, a kind of buzzing precision. But each and every one of these stories is identifiably Fishow's. Each is rooted in the same humane glance into people's lives and damages, the same tragicomic absurdity that can shift from tongue-in-cheek to quiet empathy in the space of a line. Fishow's absurdism is not remotely related to fantasy, and her range of forms is not a disguise — these things are not window dressing for an empty shop. They are intrinsic to the truth of her characters and to the way she understands their contexts, their clinical depressions, their deliriums and struggles. The opening lines of "A Failed Kidnapping" drop us head-first into a characteristic example:
I would like to kidnap my childhood friend, Demitra. This will not be easy to do. I have not seen or heard from Demitra in twelve long years and, though I think I have seen her on the Psychic Network, I do not know where she is. She could be on top of a mountain, or swimming in a pool, or shaving her armpits over a sink.
As is perhaps inevitable in a book with so many stories, a few might have been excluded. Some feel like sketches; others seem repetitive. "The Opposite of Entropy," for instance, reads tonally as a draft of the more successful "A Failed Kidnapping." However, the few stories that don't quite succeed are only made visible in contrast to their more vibrant neighbors.
The vibrance of these stories is due to another defining skill of Fishow's: the perfect, banal line. Elizabeth Hardwick wrote, approvingly, of such lines in the works of major writers like Barthelme and Vonnegut, praising their "strict and accurate ear for banalities" that "connect the author with the world," linking "the extreme and the whimsical with the common life" so as to "serve, in a sense, as a form of history."
In Fishow's stories, such powerful banalities puncture extremes and wildness like buckshot. Tuning her lines, Fishow hits a wide range of notes, from comedy to violence, aesthetic pleasure to bruising trauma. In the tiny story "Two Dogs," the narrator's "mind halved itself" and, in doing so, came to inhabit two dogs. Extending the metaphor, Fishow writes: "It was the most natural thing, fucking myself." Another piece, "Visiting Sarah, 2005," about two sisters' wildly different lives, concludes with a line so dry it forced me to stop:
I think, time moves through us, not the other way around. It goes on living through us until we're all used up. You let go of your stomach and kiss yourself in the mirror. Then you shit in the toilet with the door open.
The Trouble With Language is an assortment, a bestiary of stories that manage to read fluidly, as though emanating from a single, empathic narrator. The collection provides direct evidence against writers closing up their senses or their range, boxing themselves into a tradition or a form. It is also a résumé, a wide-ranging portfolio of Fishow's capabilities, the many ways in which she solves the book's titular problem. There is no saying what she might produce next, but whatever it is will probably look like a dozen more things at once.
+++
Rebecca Fishow
is the author of
The Opposite of Entropy
(Proper Tales Press, 2018). Her work has appeared in
Tin House, Quarterly West, Joyland,
and
Smokelong Quarterly.
She holds an
MFA
in fiction from Syracuse University, where she was a Cornelia Carhart Ward fellow. She lives in Maryland with her husband and teaches creative writing.
+
Connor Harrison is a writer based in the West Midlands, UK. His work has appeared at Literary Hub, Longleaf Review, Anthropocene Poetry, and The Babel Tower Notice Board, among others. He is an editor at Tiny Molecules.