Book Reviews · 11/11/2013
The Taste of Marmalade
by Tessa McWatt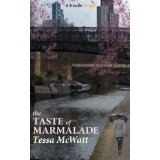 Kindle Singles, 2013
Near the end of The Taste of Marmalade, the main character Katrin says this:
'You can't do anything, yet,' she repeats, nodding, and hears how quickly she has forgotten to live in the first person. 'You will tell me when you can,' she adds, but she is really saying, I was wrong. She has been doing English all wrong.
Katrin is Polish and has been living in England, working at a café despite her degree in Economics and trying hard to make ends meet so that she can bring her mother to come and live with her. Her boss at the café does not like her, and Katrin experiences many of the familiar feelings of dislocation a person feels when living in a new country. But during this time she has met and fallen in love with a man, a university instructor named Robin—and it is to him that she is speaking here at the end, although really, the conversation between Robin and Katrin does not matter. What matters here is the conversation that Katrin is having with herself, and how she invites the reader into her sudden understanding of what is going wrong.
…and hears how quickly she has forgotten to live in the first person.
This is the line upon which the entire story hinges, and it works because in this space of only a few words we are given an image of Katrin split into two beings—one present, first-person, someone with agency, presumably a person she might have been in another life, in another country. And then we see the other Katrin, the Katrin of our story, who has become faded, who is someone that lets herself live behind a more important perspective, someone who defers to another person. This Katrin is a "second person" in the most vivid way.
And this is where Tessa McWatt's story fully inhabits itself as a meaningful narrative of contemporary migration, a narrative interested in the ways that young people leave their homes, necessarily leaving some version of their selves in that other place, and how they go about constructing or finding a new self in a new location. McWatt's careful writing transforms grammar questions into existential questions, and the story, which is simply and beautifully written, is tense with all the possible failures (and small successes) involved in finding oneself an alien, finding oneself displaced/misplaced.
+++
Tessa McWatt was born in Guyana, and moved to Canada with her family when she was three. She is an internationally published author of five novels and one novella for young adults. She is also the screenwriter of To the Wedding, a film in development based on John Berger's novel. Her most recent novel, Vital Signs, was published in 2012. Her fiction has been nominated for a Toronto Book Award and a Governor General's Literary Award for Fiction.
+
Michelle Bailat-Jones is a writer and translator living in Switzerland. Her fiction, translations and reviews have appeared in various journals, including The Kenyon Review, Hayden's Ferry Review, The Quarterly Conversation, Cerise Press and Fogged Clarity. Her translation of Beauty on Earth, a novel by the Swiss author C.F. Ramuz was published in 2013 by Onesuch Press. She is the Reviews Editor here at Necessary Fiction.