Book Reviews · 11/14/2016
The Special Power of Restoring Lost Things
by Courtney Elizabeth Mauk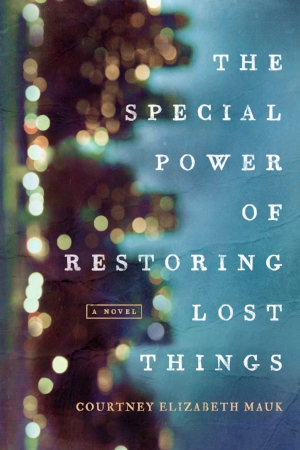 Little A, 2016
The Special Power of Restoring Lost Things, Courtney Elizabeth Mauk's third novel, spans little more than a day in the life of the Bauer family, minus one. It has been a year since their twenty-year-old daughter, Jennifer, left a night club in the Lower East Side of Manhattan on the arm of a stranger. She was never seen again. Over that year, friction created by the hope and fear of finding a body threatens the family's ability to move forward. Between Carol, the mother, Drew, the father, and Ben, the fifteen-year-old son, meaningful communication has become minimal. As each character pursues emotional stability down various avenues, the narrative tension renders Mauk's novel a page turner with depth, power, and keen emotional insight.
The novel's title comes from the prayer of Saint Anthony, the patron saint of lost things. Drew finds the prayer printed on the back of a Saint Anthony candle in his son's bedside table, where he also finds a copy of a survivalist magazine, a concerning discovery. Drew surmises that a copy of Playboy might have been "a perfectly normal secret between them, a sign of his son's appropriately blossoming private life." Instead, the magazine brings to mind the woman "handing out end-of-the-world pamphlets in Grand Central" and "the rambling commentators on Fox News. Not reasonable. Not good, not like Ben."
For Ben, the year since his sister's disappearance has been one of preparation. The tragedy scrambled his outlook, and he views 9/11, climate change, and Hurricane Sandy as precursors to a looming apocalypse. He stockpiles cans of beans, bottled water, and duct tape. The tragedies of the past, both personal and of the world, highlight "his own insignificance. He's done believing he can conquer the world. Now he's biding his time until he has to confront it." He also develops a relationship with his sister's friend, an older collage artist whose presence in his fractured world does not make for healthy behavior.
Carol's grief has pushed her in a destructive direction as well. She lies to Drew about attending therapy sessions, drinks heavily, and dresses in her daughter's clothes. Carol wants to inhabit her daughter's world and find the man who took her, "so that in that moment she can wrap her hands around his neck, like he did to Jennifer, and squeeze and squeeze until his eyes roll back in his head." She goes to Inferno, the club Jennifer frequented and the last place she was seen alive, where she goes "to drink, to get drunk, to reclaim her beating heart."
Drew, often at odds with his daughter during her teenage years, assuages his guilt by writing his thoughts in a notebook: "his gift to Jennifer, his promise that she will be found, that someday he will have the chance to give it to her and try to explain himself." While his notes serve the purpose of attempting to understand what his life has become, the exercise seems to be failing: "[The notebook] is almost full, and he still isn't any closer to understanding what is happening to his family." After leaving a depressing bar at midday and experiencing a mini-meltdown of his own, Drew is desperate to keep his family safe and intact. But before he can do that, the detective working the case calls and tells him they found a body they believe is Jennifer.
The novel's structure is effective. A close third person point of view alternates between Carol, Drew, and Ben. Mauk backfills the characters' emotional lives and relationships in quick bursts and, as the narrative gains speed, an emotional roadmap becomes clear. This is one of the book's strongest points. There are no wasted details or forgettable moments, resulting in a compressed novel that sails smoothly to its conclusion.
In the narrative's final hours, Ben stumbles through Inferno with his sister's friend, the older collage artist, who has plied him with drugs and alcohol, while his mother attempts to find her daughter's killer in the same club. Meanwhile, Drew combs the unfamiliar Lower East Side for any sign that he can save what is left of his family.
In an interview with TNBBC's Would You Rather, Mauk says "[m]y characters drive my writing, and I become deeply committed to them. Even when I don't like what they're doing, I still have a deep affection for who they are." This authorial connection to character is deeply felt in the novel. Carol, Ben, and Drew are richly drawn and deeply troubled, and their yearning for an end to the hell they're experiencing is palpable. The narrative tension driving this novel revolves around the question of survival following horrific trauma. Mauk skillfully builds a year's worth of stress and fear into the thirty hours that make up this story, bringing it to a tipping point.
The Special Power of Restoring Lost Things is an emotional portrait of trauma and its effect on one family. It is not overly wrought, nor is it spare in its details. The characters wrestle with grief in their own ways, and beneath their struggle smolders a slow-burning fuse.
+++
Courtney Elizabeth Mauk
's previous novels are
Orion's Daughters
(Engine Books, 2014) and
Spark
(Engine Books, 2012). Her short stories and essays have appeared in
The Literary Review,

PANK

, Wigleaf, Five Chapters, Juked
, and
Front Porch
, among others. She was born in Rolla, Missouri, and grew up in Copley, Ohio. She studied creative writing at Oberlin College before moving to New York City, where she received an
MFA
in Fiction from Columbia University. She now lives on Manhattan's Upper West Side with her husband and young son.
+
John Baum
's work has been published in
Blue Mesa Review, Booth, St. Anne's Review, The Charleston Post & Courier
, and
The MacGuffin
. He has fiction forthcoming in
Kentucky Review
and
WhiskeyPaper
. Currently at work on a novel and a short story collection, he lives in Atlanta with his wife and their two dogs.
www.johnpbaum.com
.