Book Reviews · 10/24/2016
The Sea-Wave
by Rolli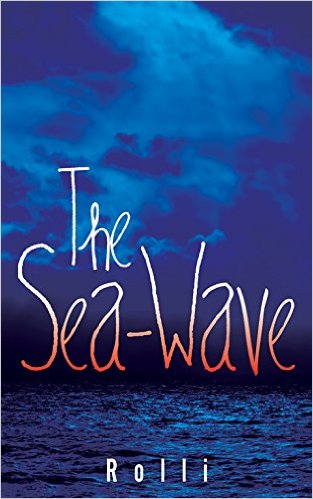 Guernica Editions, 2016
Narrative craft has a history. Cave persons had no interest in abstraction or jumbled events, but in an age glutted with information, we have an appetite for nonlinear stories that explore, wander, and engage us with the world. The Sea-Wave by Rolli, a Canadian writer and visual artist, is a boundary-pushing work that invites multiple readings. This is a three-pronged novel; one storyline follows a narrative arc: a girl in a wheelchair is kidnapped. There are non-sequential entries from the memoranda book the kidnapped girl keeps as a diary. There is also a third narrative, in which in which the kidnapped girl transcribes her kidnapper's ramblings, in entries entitled Sea-Wave I, II, III, etc.
Rolli could be said to be an absurdist. A previous collection of stories featured "a man with a ridiculously huge coupon; an elderly woman who befriends a frenzied robotic chimpanzee; an overzealous, if increasingly masochistic butler," to quote review copy from his website.
But it's a mistake to read The Sea-Wave as absurdism. Rolli isn't doing that here. Instead, in this novel of flash fictions, he explores the land of divergent narrative structure and character twists.
Reality itself is a roaming character in this novel. While the Sea-Wave cell dweller and the kidnapping are surreal in terms of their actions and the psychological effects of imprisonment, the memoranda entries of the girl's life are pungently real. The girl falls at the bottom of the stairs and lies there so long she soils herself; she goes to the library and listens to jazz when she is sad, which is often. Her parents try to get a voice machine to help her but just end up embarrassing her. The memoranda book tells of a whole range of emotional needs and how the girl is forced to withstand the world's discomfort—no, that's too weak a word—its dislike of her, for being disabled. The reader feels slapped to and fro by so many undeniable truths about society's cruelty that it becomes uncomfortable to read. But her story feels so authentic, reading on is exactly what one does.
The other two narratives are respite, places of emotional coolness and kooky scenes where characters say and do things that are internally driven. The girl is not panicked about this kidnapping, and her kidnapper seems to merely wheel her around and babble about other things—she is of no consequence to him. What will happen next? Will she be saved? Will the kidnapper eventually make his motives clear? The kidnapping is a propulsive plot the author has enclosed around the real center of the book, the flash fictions about the girl's life.
This novel-in-pieces is richly detailed and deeply felt: the flash fictions swing muscularly from closely observed scenes from the point of view of someone paralyzed and denied motion to the point of not feeling "human," to a portrait of parents as people both inadequate and loving. This girl's world is recognizable, despite its singularity. Her wry voice is funny and sad and relatable:
I'm quiet and still and the trouble with being quiet and still is that people will occasionally mistake you for a toilet. It's easy to take things out on me or blame me. Mom does this pretty much daily. She used to love me. She's like the dolls with the smaller dolls in them, but she forgets they're there, that one of those moms really loved me. Or she could never hurt me. I'm a different kid now, too. But I still remember the smaller kid, in her sarcophagus, who loved her mom and felt loved. I still feel her, sometimes.
The strengths of The Sea-Wave supersede distracting imprecisions, but the flaws do merit noting. The old man is described as frail, and yet in later chapters he is pushing a wheelchair through a dried pasture, smashing objects in a deserted house. The female wheelchair-bound narrator is described as able to reach up above her head to touch the old man's beard. But then she is closer to being quadriplegic in two harrowing flash fictions where she falls and is trapped for hours, because is she immobile. Still later, she wakes up lying on the floor and is able to crawl to her backpack, open it and write the man's entire ramblings in her notebook.
It could also be argued that the two dream-like storylines are abstruse to a point where the reader doesn't know what is going on. While the book's publisher describes the third sequence as the girl's recording of her kidnapper's stories, that is information missing from the book. There is one oblique line on page two that could be read as metaphor: "I am the old man's biographer, too." But that is elliptical and never taken up again.
These inconsistencies do not read as intentional. They read as sloppy editing, as if the author felt that everything imagined must be kept and nonsensical cracks in the story should be considered artistic flourishes.
But if we don't simply tolerate the cracks but look into them, we may ask, what is flawed, and what is deep? These are good discussions for readers to have and there is no one answer. For this reviewer, the third narrative works better if considered as some authorial deus ex machina. In this reading, the Sea-Wave flash fictions become oracular.
What should readers make of the fact that a book may require multiple readings to understand (or entirely miss) its basic premise? A book such as The Sea-Wave functions as a wunderkammer, inviting the reader to open it and gaze at everything inside. It is in this kind of reading that the great strengths of the book shine. Unlike, say, a thriller whose pleasures and secrets are over as soon as the last page turns, The Sea-Wave is, like its namesake, a thing outside time to be enjoyed again and again.
+++
Rolli
is a Canadian illustrator and the author of six books for adults and children. He is a cartoonist for
The Wall Street Journal, Harvard Business Review, Reader's Digest
, and others. His fiction and poetry has appeared in
The Saturday Evening Post, The Walrus, Geist
, and _Rattle. Find him on Twitter at
@rolliwrites
.
+
Kirsten Major
was born in Milwaukee, Wisconsin. She was educated at Emma Willard School in Troy, NY; Carleton College in Northfield, MN; and holds an
MFA
from the writing program at Cornell University. She currently lives in New York City. She has had previous work appear in
Crannog, Litbreak, No Tokens, Chelsea
, and other places. She listens to you on Twitter at
@kirstenamajor
.