Book Reviews · 01/23/2012
The Mimic's Own Voice
by Tom Williams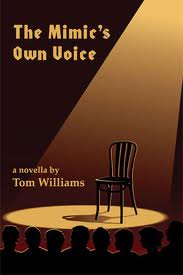 Main Street Rag, 2011
Douglas Myles worked in a library before becoming a professional mimic. And if Myles had been a real person instead of a made-up character, he would have been tempted to shelve The Mimic's Own Voice by Tom Williams in the PN2285's (the comedic studies section), instead of the PS3623's (American contemporary fiction), because the novella reads more like a doctoral dissertation on the rise and fall of America's most successful mimic than the fictional story it is.
Set in a world where comedians sell out football stadiums and the average American spends twice as much on comedy compared to music, film, and theater, and "ten dollars less than all sports combined" (48), states are known only by their epithets—the Badger, the Beaver, the Buckeye—and specific dates are omitted all together, requiring readers to piece together history by the evolution of what makes people laugh.
For this is how the novella begins: a brief history of the comedian, from the early days of knock-knock jokes and vernacular storytellers to the observational critics, introducing the reader to Douglas Myles's world and how he will never fit in. Born at the wrong time (a mimic in an observational comic's world) to a mixed race family that orphans him in his youth, Myles possesses the unearthly ability to recreate any voice with perfect fidelity, a talent which simultaneously rockets Myles to fame and fortune while stripping him of identity and filling his mind with everyone's voice but his own. Eventually, "the master of so many voices lost the capacity to control them," (90) and Myles dies insane and alone in what should have been the prime of his life.
Despite Myles's meteoric fame, not much is known about his personal life. The unidentified scholar-narrator must stitch together the mimic's story from unauthorized biographies, articles, reviews, transcripts, round table discussions, academic research, and Myles's own account, curiously written in the second person, "You wish it would hurry up. Get to the snow and ice of January so Spring might come sooner," (78) a point-of-view that underscores Myles' lost sense of self. As such, Myles's story isn't new or remarkable (the character arc is familiar even if mimicry as an art isn't), rather the genius of the novella lies in the tapestry of evidence Williams invents to support it.
Like Myles, Williams perfectly mimics an array of voices, satirizing late-night TV show hosts, mediocre comedians, and scholars alike. He weaves in multiple layers of analysis so complex and believable the reader must either question their legitimacy or laugh out loud with admiration and enjoyment, as when his scholar-narrator writes:
Prahtva Griggs, a student of Szok, has written in Comics and Comedics that "the voices absolutely don't matter. I wouldn't be surprised to learn that they weren't even the same both nights, as the intent seems sabotage: Myles wanted to quit performing and this was a way to bring about that end." Audacious yes, (then again, all Szok's students are) but it reduces the mystery in too convenient a manner. (83)
The beauty of the imitative fallacy is that when Williams's scholar-narrator compliments Myles's talent for mimicry, he is simultaneously praising his own.
Although short, the novella is dense, with much of the book operating on multiple levels. Not only has Williams recreated the comedic world, he has also recreated audience reactions to that world, and academic reactions to audience reactions ad nauseum, giving him ample opportunity to infuse humor and social criticism throughout. When the scholar-narrator describes Myles's first performance at the Hub, we get a sense of Williams's (or at the very least, the narrator's) opinion of avant-garde performance art:
Myles performed between a pale young man in a diaper who railed oedipally for seven minutes, then babbled in a "guttural baby talk of plosives and fricatives until he collapsed," and an equally pale young man who wheezed in and out of a harmonica while strumming a guitar and bellowing a song that rhymed "capitalist" with "I am pissed and "free market" with "aw fuck it." (14)
Similar commentaries exist, often delivered in parentheticals, on televangelists, washed-out comics, academics, sell-out journalists, and even more serious issues like poverty and race. The more audacious criticisms are cleverly hidden inside quotes within quotes, removing all responsibility from the narrator/author and minimizing any potential for offence.
Although the narrative distance between the reader and Douglas Myles provides ample room for (often humorous) commentary and analysis, it also risks potential apathy—the reader being too removed from the character to care. Yet tension in the form of competition between comedians and our own voyeuristic tendencies for celebrity worship (even when the celebrity we're spying on isn't real) propel the story forward.
As does our admiration for the complexity of the world Williams has created. Like Myles, we find ourselves listening to both what Williams says and how he says it. And like Myles's audience we get to wonder in whose voice Williams will choose to speak.
+++
Tom Williams's fiction, essays, and reviews have appeared in over thirty publications, including Boulevard, Barrelhouse, Indiana Review, The Main Street Rag, Night Train and Pleiades. A former James Michener Fellow, he has received individual artist fellowships from the Wisconsin Arts Board and the Arkansas Arts Council. He currently is an associate editor of American Book Review and Chair of Humanities at the University of Houston-Victoria. He lives in Victoria, Texas with his wife, Carmen Edington, and their son, Finn..
+
Laura McCune Poplin teaches writing classes at the Massachusetts College of Pharmacy and Emerson College. She lives in Jamaica Plain, Massachusetts. Her work has appeared in various journals.