Book Reviews · 09/16/2013
The Man Who Noticed Everything
by Adrian Van Young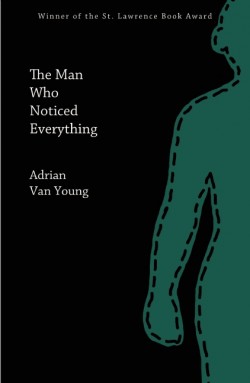 Black Lawrence Press, 2013
Adrian Van Young's debut story collection, The Man Who Noticed Everything, is as rich and dark as the soil that beguiles his characters. "The earth has witching in her ways," the narrator says in "Hard Water." "I have never pretended to know her completely." These stories are steeped in the language of haunting and uncertainty, and the landscape itself invites a pervasive wariness. A man's farmland shifts and rises until it is unrecognizable; a gravedigger finds himself pushed into a deep hole; a boy uncovers the remains of a Confederate soldier and watches a fresh battle arise over how to handle the bones. The ground, it seems, is never as solid as it appears, but Van Young builds his settings with cogent authority. When he tells us where we are—Georgia or the Hudson Valley, Civil War or 2009—we believe him.
"Hard Water," the first of the four strongest stories, is a gothic wrought with stunning imagery. Colby Marshall—farmer, jilted lover, devoted reader of Byron's Don Juan —allows a hungry drifter named V to stay for the night. The farm work V undertakes is clearly a pretense, and the tension between the men is immediate: V is vulgar and aggressive, Colby elusive and slow. A reticent man, Colby's silent observations are sensory outbursts: one of V's eyes is "like a thimble of cheap cologne." Of his former lover Benjamin, Colby recalls,
[t]he rooty sweetness, like a brace of cooked carrots, that lives in the space behind his ear. I feel, as his tailbone shifts to receive me, the slow whipstroke of his spine on my stomach.
Colby can withstand V's violent treatment of his body, but he cannot bear to watch him toy with his copy of Don Juan. He drowns V in the same bathwater he used moments earlier to wash the blood from "the backs of his thighs."
Elegiac and eerie, stippled with terse dialogue, "Hard Water" could have ended while Colby gazes at his handiwork:
The waters about [V's] head are peaceful. A tiny wave fleeing the things that it's seen unrolls to the foot of the tub, and breaks there.
Yes, it could have ended there, but Van Young's best work is marked by his willingness to seek the furthermost point.
After the drowning, a "slow upswelling" appears on the farm, an "armature" that grows until it dominates the land. Colby, already haunted by the loss of Benjamin, is tormented by V's death. We last see Colby digging among "[a] succession of caves […] honeycombed beneath the earth." The sense of endlessness, overwhelming and portentous, is beautifully drawn.
The question of what lies underground reoccurs throughout this collection. In the title story, a vagrant, Clemens, exhumes bodies in upstate New York. Like most of the men in these stories, he is a tightly packed knot of idiosyncrasies:
All he had with him was a foam bedroll, a backpack stuffed with puzzles and a trinket full of lavender; this last item he wore on a necklace to keep his senses keen.
Clemens is haunted by a cruel disregard for his body. First, he wakes in a halfway house, "all burned to hell, with my ribs busted up" ; then, his nurse finds him too repulsive to touch. "She was my world for three weeks," Clemens tells his lover. "Three weeks. She was as good as my mother."
As in "Hard Water," Van Young has so much to work with in this story that he could ease his burden by scaling it back. Instead, he complicates it further with the presence of Bertrand, the precocious son of Clemens's boss, Theo Size. Clemens obsesses the boy, who watches him and eventually observes, "You look like you're in pain." Clemens's reply—"A little"—doesn't satisfy Bertrand, who answers, "What's the difference? Pain is pain." Therein lies a tacit challenge to the reader: what do we know about pain's unequivocal nature? What is its value? How does it work?
Pain stalks the bodies in these pages; as we read we witness frequent brutality. Bertrand is struck by his father—a man whose thick arm is compared to a "butcher's parcel"—and eventually the boy flees. He seeks protection in Clemens, who bears the brunt of Size's anger and loses the ensuing tussle. The story leaves Clemens alive, lying in a newly dug grave, "happy to begin his life on such outstanding terms." This is not the first time pain is presented as rebirth: "life had begun in the dingy room with the terrified nurse standing over his bed."
Van Young's preoccupation with pain and disfigurement is equally vivid in "Them Bones." Leander DeMills, who lost part of an arm at his factory job, is a self-styled expert on the Civil War. Earnest and sensitive, raising his dead wife's child, Leander craves knowledge purely for its own sake. His stepson, Brennan, narrates with reluctant compassion. When Brennan and his friend C.J. find a Confederate soldier's remains, C.J. views them as a potential commodity (and Leander as the man to make the determination). C.J. is tied to a group comprised of "proud white men," and its members are intrigued by the value of the bones. Van Young skillfully enters a world of casual racism; we sense Brennan's unease, but not outright disgust. "So are you, like, in the K.K.K.?" C.J. asks the group. "The hoods aren't for us," comes the answer. "But we know guys that are." The conflict here is still Leander's vulnerability; "proud white men" (one of whom later confesses to murder) are simply a part of the world in which he lives.
With the exception of "The Sub-Leaser," all of Van Young's stories grapple with the color and condition of flesh. "Albino Deer" and "King Dodd" both center on wounded bodies. In "The Elder Brother Washing His Hands" we see slaves and slave-owners, a disemboweled horse, an amputated arm. Pain is the ever-present character in this collection. The foreground is cluttered with bones, scars, limbs, and blood, but the unseen backdrop contains its own gore. Van Young repeatedly chooses exploited bodies as subjects, and his writing is strong enough to contain them. A twelve-year-old slave girl is not to be pitied in "The Elder Brother." Her level response to a white man's introduction – "I know your name" – is as charged and telling as those four words can be.
Lush physical imagery, hard-bitten dialogue, and a tone of trepidation combine to make this work chilling and beautiful. There is something coy about the lyricism of these pages: it forms an invitation to take pleasure in spectacle, to watch without wincing, to refuse to look away.
+++
Adrian Van Young's fiction and non-fiction have been published or are forthcoming in Lumina, Gigantic, Lacuna, The Believer, Electric Literature, The American Reader, and Black Warrior Review. In 2008, he was the recipient of a Henfield Foundation Prize and was nominated for inclusion in the Best New American Voices 2010 Anthology. He lives in New Orleans with his wife Darcy where he teaches creative writing and composition at Tulane University.
+
Jackie Thomas-Kennedy
is a recipient of fellowships from the MacDowell Colony, Yaddo, the Ucross Foundation, the Saltonstall Foundation, Brush Creek Foundation for the Arts, and the Fine Arts Work Center in Provincetown. Her stories have appeared/are forthcoming in
Narrative, Glimmer Train, Georgetown Review, The L Magazine, Slush Pile, StoryQuarterly,

SLICE

, Canteen,
and
the Madison Review.