Book Reviews · 10/21/2013
The Hypothetical Girl
by Elizabeth Cohen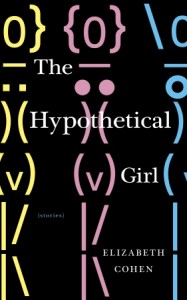 Other Press, 2013
Elizabeth Cohen's short story collection, The Hypothetical Girl, is directly inspired from her experiences in post-divorce dating. The title comes from one story in the collection in which a young woman is told by someone she meets online that she is not a real girl, but a hypothetical girl. In an interview with Burnt Twig Productions, Cohen echoes her character by saying "You aren't really a real person. You are the person you craft." In the world of online dating, people pretend to be anyone they want to be in what Cohen describes as "this ether of cyber space that really never existed until now." More than online dating, however, these stories are about hope and being open when it comes to love, and about caring for yourself in the process.
There is a shame association with this manner of so bluntly looking for love, and many of Cohen's characters are unabashed in their desire to find a match. Cohen's best stories are those that show us the places this longing can lead you. The main characters are hopeful but anxious, willing to believe but skeptical. The men they talk to vary—there's a traveling divorcé and lover of limericks, a yak farmer, a lifelong fisherman, and a man adopting a child. Character age also varies from late 30's to early 50's. They are paying fees to join communities for the purpose of dating. Each wants the man she's searching for to fill slightly different holes in her life.
How do we go about crafting our appearances or identities to others, whether online or in person? What parts of these crafted personalities are not entirely true? In this collection, Cohen asks what kinds of support people need, and how they go about getting it. Some find love. Some find a kind of love they can keep at a safe distance, a hypothetical love that makes their phone ring at night, which is enough for them. Others fare worse.
In "People Who Live Far, Far Away," we see two people giving each other a kind of support. Misty's college friends have been getting married and pregnant. They have "been brought into the world to do something big," and as she folds clothes at the Laundromat next to friends folding small sets of clothes for their children, she feels anxious about being left behind. Misty wants someone exotic with whom she can one-up these friends, especially when she thinks about her situation after a few apple martinis. She thinks this Miko, an Icelandic yak farmer, would be grateful to meet an actor-poet and that he would be "blond enough to be cute" and not a wimp, because "How could a farmer of yaks be a wimp?" She lives,
…in a walk-up, above an S&M parlor, and she didn't like to get home too late because she risked encountering the bloodied patrons heading for home.
She wants an escape from this life. Both she and Miko, whose real name is Mark, have been crafting shinier selves. They each finally admit to lying and give more believable lies, until the last layer peels away and the reader finds out their true identities. Misty and Mark, on the other hand, never find out. Does it matter? Both gain relief from their bleak lives as a result of their emotional connection. Both are willing to keep the fantasy of the other alive, and the two realities they know of each other blend together even though they know one is not true.
In "The Hardness Test," a woman named Estelle compares her appearances in all of the different mirrors she encounters.
There were mean and there were kind mirrors in the world…the mirrors at the mall in Binghamton were quite cruel and made her look obese and hideous. The mirrors at the airport there, on the other hand, were quite sweet to her…but the waist-up mirror in God Bless America Meats was the kindest of all. She always looked stunning in it, like a real beauty.
The same is true for the men she sees—they show her different reflections of herself. An ugly and a handsome man court her online. The ugly man does not kiss her at the end of the date, even after a few drinks, and the handsome man gives her the version of herself in the God Bless America Meats mirror. She reflects on all of the lives occurring alongside her own and thinks about what it is that comprises the loneliness in her, and how this feeling is not exactly remedied by these human connections she's making. Perhaps there are no connections, online or otherwise, that can quiet this feeling in her.
Until this point in the collection, the writing is mostly fun and lighthearted. The characters don't suffer terribly. The risks inherent in each character's hopes haven't taken any of them anywhere dark. Then comes "Love Quiz." This story has an interesting structure; each of its three sections offers a different scenario.
Which is how life is, right? You make choices, like you did by dating your best friend's college beau, and you must take the consequences?
The sections, the narrator explains, step up in risk. The nonlinear narrative in "Love Quiz," imaginary in parts, eases you buoyantly through until it tips into a devastating ending where fiction bleeds into reality and the narrator is speaking directly to the reader. The author explains she has "spared you the most unpleasant details" and has "also provided two infinitely more pleasant alternative endings for you, in case you can't handle this one."
What would you do differently if you were to date online, if you don't already? Who around you has a Plenty of Fish profile or has doubled up on wine to fill out that long eHarmony survey? Which of your friends have had mundane, bad, or satisfying experiences after typing up this information about themselves? Something must be sacrificed for a broader pool of possible mates, but isn't meeting less people in person equally problematic? Cohen's candid, humorous, and, at times, excruciating stories give us a chance to think about these questions. The collection reflects a turning point in the way our culture conceptualizes dating and the paths that lead to the lives people build together.
+++
Elizabeth Cohen
is an Assistant Professor of English at
SUNY
Plattsburgh, where she serves as the fiction editor for the
Saranac Review.
Her memoir,
The Family on Beartown Road
(Random House, 2003), was a New York Times Notable Book, and her articles, stories, and poetry have appeared in
SELF

,

MORE

, Newsweek, People, New York Times Magazine, Salon, Tablet,
and
the Yale Review,
among other publications.
+
Maria Anderson
is from Montana and lives in Providence, RI. Her writing appears or is forthcoming in the
Atlas Review, Metazen, the Fiddleback, NY Arts Magazine,
and others. You can find her online
here
.