Book Reviews · 02/05/2018
The Hummingbirds
by Ross McMeekin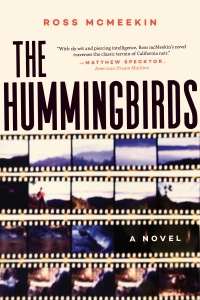 Skyhorse Publishing, 2018
A frequent motif in noir stories is escape. Oftentimes, such tales center on damaged individuals struggling to outrun a dark past or evade a future of doom—and the three characters at the heart of The Hummingbirds, Ross McMeekin's debut novel, fit that bill. Ezra, Sybil, and Grant come to Hollywood in search of a more prosperous life, although the City of Angels may turn out to be what destroys them.
As with golden era noir films like Double Indemnity and Sunset Boulevard, The Hummingbirds is told largely in flashback. The story opens with Ezra choking on ocean water while fighting to keep his bludgeoned head above the choppy surface, miles from shore—but before the reader has an explanation for how Ezra entered this predicament (and whether he will survive), the narrative jumps back nine days…
Ezra, an outsider with a lot of mental scar tissue and a passion for nature photography, makes a living as the groundskeeper for a celebrity couple's lavish Hollywood rental property. In his spare time, he photographs birds, for whom he has created small oases throughout the estate and around the pool house where he resides. One night, as he prepares a late dinner, Sybil Harper, a movie star and one of his de facto employers, goes for a dip in the pool, in the nude. Ezra, mesmerized and overcome with desire, archives her beauty with not only his eyes but also with his camera lens. Initially, he feels like a pervert, but, based on her sly mannerisms throughout her swim, he can't help but wonder if she is putting on a show for him, maybe tempting him.
The next day, Grant Hudson, Sybil's bloodthirsty, film producer husband, enters Ezra's residence. He peruses Ezra's wildlife pics for a while, but he's not there to look at birds; he's there to proposition Ezra. Grant, suspicious of Sybil's fidelity, asks his groundskeeper to watch her while he's away shooting his latest project. He wants Ezra to covertly monitor his wife and take snapshots of her male visitors. Ezra, awkwardly, agrees to keep an eye out. And with her husband away, Sybil seizes the opportunity to quell her loneliness by befriending her groundkeeper (the guy who is supposed to be reporting back on her carnal activities) and they, naturally, begin an affair that blooms and swells like succulent California flora.
For much of their time together, the groundskeeper and the actress exchange their histories with one another, which allows McMeekin to skillfully weave moments of memory into the narrative to reveal what drives his characters, and what terrifies them. He exposes their pasts—sometimes through self-reflection, sometimes in conversation—to uncover their scars and establish what motivates them, in heartfelt detail. Like an expertly composed voiceover, McMeekin highlights the darkest truths that dwell within his characters' broken hearts, in a manner that does not at all feel like obligatory exposition.
As the title suggests, birds are a recurring symbol throughout The Hummingbirds, thanks to Ezra's mother, who raised him in a cult of her own making. When he was young, she prophesized the date of the Apocalypse and earned herself a following and the title of The Prophetess. Feeling the pressure of being outed as a fraud, and probably due to a bit of untreated mental illness, Ezra's mother self-medicated with alcohol and sordid sexual encounters to escape. During her more lucid moments with young Ezra, she would deify birds, insisting that they are "the closest to a pure spirit inhabiting the earth," and thus implanted the idolization of birds in her son's malleable psyche.
As Ezra recounts for Sybil the horrors of his youth, and the unhinged nature of the mother who shaped him, Sybil zeroes in on an opportunity: turning her new lover's childhood into a major motion picture, in which she plays his disturbed mother to acclaim and recovers her reputation as a serious thespian. In these psychological asides, Sybil's motives grow murky, and the possibility that she may be a fraught femme fatale—perhaps the character responsible for Ezra's potential demise—grows a bit more probable.
Sybil's career, at the top of the story, has been on a downturn for years. She's desperate for a comeback performance. For years, she has been unable to get her passion project off the ground, so she has resorted to appearing in sleazy films and even skin magazines—anything to be in front of a camera and stay relevant. Ezra's friend April even claims at one point that Sybil "has set women back a few decades." And when the reader learns that Sybil was once nominated for an Oscar, for her breakout role, it becomes clear how far she has fallen—and how frantic she must be to be on top again.
Grant is the shadowiest of the bunch. The twisted events of his past that propelled him to where he is, professionally and psychologically, are not revealed until much later in the narrative. For a huge chunk of the novel, Grant is "off screen" while his wife and Ezra's amour deepens—thus, a lot of the time he doesn't have a scene partner to tell his secrets to. So what the reader learns about Grant are the facts that he, or McMeekin, chooses to share leading up to the well-constructed finale.
The Hummingbirds is not the typical noir tale that may spring to mind—one featuring a gruff private eye in an overcoat who falls for the salacious wife of a corrupt politician. This is the human side of noir. Each principle character grasps for a life different from what they believed they were destined to have. They have overcome tragedy and risked a lot to reach their station—sometimes by capitalizing upon the deaths of others. This is a story about damaged individuals and how far they are willing to go. The Hummingbirds is existential contemporary noir with West Coast gothic vibes.
+++
Ross McMeekin
's short fiction appears in or is forthcoming from publications such as
Virginia Quarterly Review, Post Road Magazine, Green Mountains Review, Shenandoah, Redivider, Tin House's
Open Bar, and elsewhere. His nonfiction has appeared online in
Ploughshares, Hunger Mountain, Numero Cinq
, and
The Rumpus
. His poetry appears in the
WA129 Anthology
. He edits the literary journal
Spartan
and holds an
MFA
in fiction from Vermont College of Fine Arts. He has received emerging writer fellowships from the Richard Hugo House and Jack Straw Cultural Center in Seattle. He lives in Seattle with his wife and two children. Find him here:
rossmcmeekin.com
.
+
Brandon Stanwyck
lives in Cleveland. His writing has appeared in
Cleaver Magazine, The Fiction Pool
, and
Corvus Review
. Twitter:
@BrandonStanwyck
.