Book Reviews · 06/24/2013
The Great Disappointment
by Kathryn Dow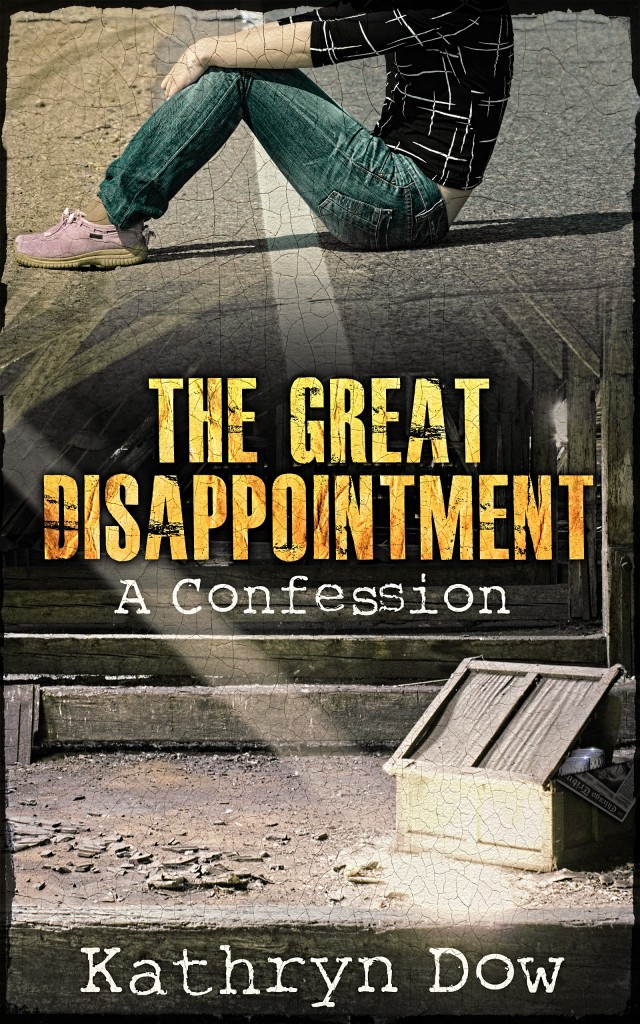 Foreverland Press, 2013
English and Creative Writing teacher Kathryn Dow's first novel The Great Disappointment is, in fact, no disappointment whatsoever. More magic than magic realism, this is a novel of teenage angst and resiliency, a runaway tale, a novel within a novel, and a clear and poignant peek into the world of a Midwestern college English program – perhaps a fictionalized version of the University of Iowa, where Dow pursued her own studies.
Mollie Mifflin seems to be a nearly-reliable narrator, presented in third person, though early in the novel it is clear that Mollie has an ability to communicate with her twin brother Horace who died at birth, an ability which calls reliability into question. Important decisions are reviewed telepathically with Horace, and when Mollie is most alone, Horace is able to offer guidance and assistance. Perhaps that ability to communicate with a dead person sets Mollie apart as a little unusual.
Mollie's aunt is a mind-reader, and Mollie has learned not to read other people's minds so much as to plant ideas in them as needed. During her brief but successful stint as Deek and Emily Molene's caretaker, she certainly seems to have the elderly couple (both writers) convinced of her value in their lives. Likewise, she has the reader of The Great Disappointment captivated—intrigued to understand why Mollie Mifflin would graduate high school one day and immediately head across country by bus to meet the author of a novel she bought at a tag sale. Page by page the story unfolds… Mollie's neglectful upbringing and her friendship with a scrappy, abused kid, Paul Solomon, known as PS or Postcript. He was never part of the original plan in his father's and abusive step-mother's lives, and his resourcefulness as he essentially raises himself helps guide Mollie from afar along with the guidance of her brother Horace. Also, Postcript seems to have a useful awareness of basic kitchen-table-style bomb-making.
Mollie takes the bus across country to escape her home town of Nowhere and to start fresh with her serach for Emily Molene:
By then, it was the middle of the night and so far away from Nowhere that Mollie didn't even know where she was anymore. More no one and nowhere than she'd ever been before.
Dow plays with language, setting, and character. She imbeds Emily Molene's novel—several chapters of it—within the bigger work. She reports the story from an omniscient vantage point, looking back, with a wry editorial comment and direct address to draw the reader in and hold tight. Mollie is feeling snug in the Molene's house and hoping to use her clairvoyance to contact her mother and let her know she's fine.
Mollie bumped into the Big Nothing. Emptiness. Silence. Not even a flicker. Not even a peep. Worse than that, she seemed to have invited a violent thunderstorm to gather and strike instead. The kind you read about or see on television after it's over, one that blows through those little farm towns and smashes all the houses flat…
Dow continues with a comment on the victims of such a storm, as seen on tv:
…so stupid-looking that no matter how compassionate you're trying to be you can't help but think that in a way they kind of deserved it?
The comment itself is nothing more than an aside—but the punctuation adds a powerful dimension to Dow's writing. The reader is invited to consider and even to answer the accusation that perhaps, like Mollie, we are more arrogant and judgmental than we'd like to admit. It's clear that Mollie has perpetrated some kind of crime, or she has been accused of something, and the reader is both drawn in and repelled… in turns hoping for Mollie's eventual exoneration while considering the very likely possibility that Mollie is insane, even dangerous. No reader wants to see him or herself in that possibility, even as the subtleties of direct address work their magic.
Before long she had left the car and moved into the house, and whether they were aware of that or not, what does it matter, really?
And sometimes, Dow is not subtle at all, but downright manipulative:
Some people have already said that Mollie Mifflin was crazy. They've told themselves and each other and everybody else that if her story isn't an outright fib, then it must all of it at least be some weird and complicated wishful dream she had, a delusion, an hallucination, a figment of her imagination that it looks like we're now in the process of turning into a figment of yours.
The novel hints at the primitive bomb theme repeatedly, even quotes bomb-making recipes and caveats from an internet site, but the reader won't understand why this information is planted until the story is completely unfolded, every wrinkle pressed out. It's not a page-flipping urgency that drives the reading experience… it's more a gnawing need to know more, and then more, and then more. The novel within the novel begins to entwine with the bigger story, and there's a dynamic forward and backward movement to the presentation—skilfully delivered. Very satisfying when it all becomes clear. There are so many clever features at play in Dow's debut, it will be interesting to see what paths her future works will take.
+++
Kathryn Dow
teaches high school English and Creative Writing at the Stanley Hall School for Girls in Oaks, Iowa, where she was also a student at one time.In addition to her writing and teaching, Kathryn's ongoing projects include
All The Lost Girls
, a website devoted to exploring the lost girl archetype and the grip her story continues to have on our cultural imagination;
In Hollow Hill
, where she documents evidence for the existence of goblins in the 60 acres of undeveloped woodland at the edge of Nowhere, in Linwood, Iowa; and
The Foreverland Chronicles
where she assists
Susan Taylor Chehak
in creating a detailed narrative record of Foreverland and its denizens. At present, Kathryn is at work on a new novella, the first in a projected series, about a world in which everyone over the age of 27 has disappeared.
+
Nancy Freund
is an American-British novelist and poet with a B.A. in English/Creative Writing and an M.Ed. from
UCLA
. In addition to writing and teaching, she's been in editing, publishing, book marketing and publicity. In September 2012, she was the Writer-in-Residence here at
Necessary Fiction.
Her novel
Rapeseed
will be published this September with Gobreau Press.