Book Reviews · 07/22/2013
The Consummation of Dirk
by Jonathan Callahan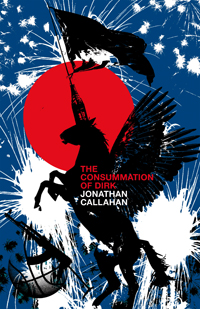 Starcherone Books, 2013
Jonathan Callahan's The Consummation of Dirk is aptly described as innovative fiction, as it puts on display the author's virtuoso abilities as both a prose stylist and structural experimentalist. These twelve fictions demonstrate Callahan's impressive critical intelligence because they show how ultimately all worthy writing is aware of its context, engaging with influences rather than pretending hermetic origin. But that isn't to say that these stories creak with use, inflexible and stingy in what they yield to the reader. Instead, there is a great deal of fun and playfulness, a fundamental comic force that invites a conversation between text and reader as each turn through the tale reveals some new facet of what there is to enjoy.
A perfect illustration of Callahan's ability to leaven philosophical weight with witty dialogue is in the early story, "The Witness," which features a pair of Pynchonesque WW II sailors, named Oliver and Phurst, swapping existential speculation over beers concerning what is a very immediate conundrum: whether or not Oliver should confess a wartime act of infidelity to his wife. What follows is a complex play of dualities and possible future scenarios as Oliver tries to riddle out a way of comprehending his guilt and obligation:
How can he suffer with suspicion and still dare not to admit the hideous things he's done? [I]s it really true he'd rather never know? Seems sound to posit that, given the choice between hurt and no-hurt, he'd choose to avoid the hurt. Only the word "choice" is the problem, here, no? He wouldn't really have much of a choice, would he? The supposed "choice"'d already be made for him.
Oliver's irresolution is further compounded by the reality of a world of events that take place outside of his immediate knowledge, as is asserted by a "True story, more or less" that is the epigraph of the main tale. This collage of meanings and their obscuration make this a remarkably probing story given its brevity.
But the centerpiece of the collection, not surprisingly, is the title fiction, "The Consummation of Dirk," a cross-structure of dialogic lyric, ontological introspection, transcript, and generally sublime talent at play. The focus is Dallas Maverick's basketball player Dirk Nowitzki, or versions of him, both fictive and historic. What follows is an annular depiction of Dirk and how he (or the construction of him) exists as a basketball player, a man and a fictional portrayal (treated through a lengthy footnote that tackles the effect of text on personality and authorial control). The round and round of what can be called a discernible truth is best expressed in one of the brief interview responses Callahan devises, wherein the character of "Callahan" responds to an implied question on the theme of obsession:
A: No, I wasn't personally ever obsessed with Dirk Nowitzki. But I did perceive in Dirk fairly early on, uh, the, I guess you could call it the possibility for obsession.
The sense of approximation is felt throughout the story, and it would appear to be the only kind of received wisdom that can survive in the toss of such indeterminate points of origin and influence. The difficulty is an essential part of the story's pleasure, and perhaps conveys its truest poignancy.
Another standout element of the collection is the story called, "Under Joe's Volcano." This piece is nothing less than mock epic, detailing the horrid surrealism of a restaurant that sports the daunting colors of "Red, Black and Fun." Evoking Pynchon yet again, with "Trystero's horn," Callahan portrays the nightmare of the modern bizarre as the narrative caroms through the indignity of a tourist trap restaurant, seemingly on the edge of hell, beginning with Biblical expansiveness and ending with aptly Shakespearean finitude. And yet, there is an uncommon beauty in the rendering, a transformation that is restorative and dignified:
Through the loading dock's night-shadows, my steps clocked weak percussion to the traffic's thrum. I saw seven garbage bags stuffed with sauces, cheese, brownie, ice-cream, caramel scum, ketchup, swirled mashed potatoes, blackened grease, French fries, your gold locket, chunks of chicken, burgers, steak, sodden napkins, stray utensils, melting ice; I saw silhouetted forms, hunched before floating embers, beneath smoke curling skyward into the semblance of a face.
It is the break amid the exhaustive detail, the arresting "your gold locket" and the aesthetic hunger for recognizable form in the figurative face that the mineral shows through the prosaic grit. Callahan, despite all of his careful invention, is a devotee of the beautiful and rare, a romantic sensibility aware that he can't pull too obvious a retreat, lest he cheapen the soft truth.
Overall, the collection boasts remarkable consistency of achievement despite a variety of modes and designs. Callahan is not a writer for passive admiration. His work demands a sensitive reader, one who is willing to grant permission to the author through some of the more disorienting funhouse turns. Ultimately, however, the reward is in the simple largeness of the reading experience, one that demands participation and active construction. Callahan is not interested in devising clever boxes. He is, like Dirk, about the growing circles, the patterns and processes that make asymmetry the only kind of mathematic that supplies a reliable code for the known world.
+++
Jonathan Callahan
has also written non-fiction, including a lengthy essay of Kafka, Thomas Bernhard, and David Foster Wallace for
The Collagist
and an essay on Rick Moody in
The Fiction Writers Review.
He grew up in Honolulu, studied fiction at Sarah Lawrence, where he worked with Stephen O'Connor, Melvin Bukiet, and David Hollander, and taught writing at
SUNY
Purchase for a year. Currently he lives and works in New York City.
+
Charles Dodd White was born in Atlanta, Georgia, and grew up in both the city and the woods. He currently lives in Candler, North Carolina. He has been a Marine, a fishing guide, and a journalist. He is the recipient of the Jean Ritchie Fellowship, an individual artist grant from the North Carolina Arts Council, and is the author of the story collection, Sinners of Sanction County, the novel, _Lambs of Men, and co-editor of the contemporary Appalachian short story anthology, Degrees of Elevation. His next novel, A Shelter of Others, is due to be released in 2014 by Fiddleblack Press.