Book Reviews · 10/22/2012
The Beautiful Wishes of Ugly Men
by Adam Prince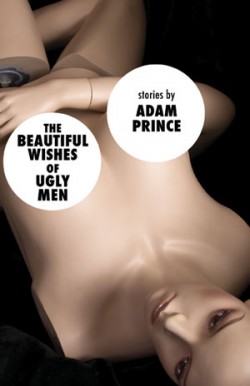 Black Lawrence Press, 2012
Adam Prince's The Beautiful Wishes of Ugly Men is a complicated collection of short stories. I know I'm supposed to admire a challenge, to dig deep for my empathy when confronting a fictional perpetrator of paedophilia up close and personal, especially if the perp is at all confused or remorseful—or escaping confusion and remorse by fleeing to his mother's house. I should ache a little when a fictional druggie catches sight of himself on security camera footage and sees a sad fuck standing where he thought a decent looking fellow had been. But I found the perpetrations too on-going, the sad depravity too in your face to wish to relate. Nonetheless…
This short story collection runs the gamut, and some very real characters—not at all fiction-like—emerge in every story. Prince has a way of describing the truth behind the faces people put on that draws these characters close. His final story in the collection, "A. Roolette? A. Roolette?," details a fiftieth high school reunion in South Pasadena with such wit, humour, tenderness, and hard-drinking that it can't help but invite the reader in—not just to witness the event but to partake. The men and women certainly have their flaws: arthritic knees, need for Viagra, too much make-up, false modesties, pointless modesties, over-sensitivities, over-drinking… but balanced against the stories they try to put forward, they are fully realized people, never caricatures. And Prince deftly packs the dance floor and the country club bar with much more action than would at first appear. Like life.
In the opening story, "Big Wheels for Adults," Peter and Jocko, friends since childhood, visit a strip club. Peter's girlfriend is pregnant, and he's trying to decide where his responsibilities lie, and how much of the decision is his to make. Jocko is trying to get the strippers to meet the men after work.
Jocko was always building up expectations, riding people so hard that at some point their letting him down was inevitable. Peter wanted to explain that. He wanted to say that we are all at our most brilliant in the ways we find to suffer, and thus happiness depends on modifying expectations.
The line could easily describe Prince's collection. Each story then unrolls brilliant suffering and modification of expectation. In the second story, "Action Figure," a 32-year-old man identified ironically as Kid is both aching for the attention of his adoptive parents and attempting to care for an 18-year-old girl he met in a bus station—a girl whose initial greeting was a one word request: help. Kid's drug-addicted suffering is tempered by bouts of good luck, lottery winnings and generous gestures he can then make. But his cosmetic surgeon father has been too busy transplanting faces to get past the long-ago loss of his first child, and Kid bears the brunt of his parents' failures. He modifies his expectations of himself as needed, but his suffering runs deep. Likewise, the story runs deep as well, and it requests the reader's profound attention.
In "Island of the Lost Boys," we find fastidious high school teacher Ted on route from his home in Arizona to his mother's place in California, after he tried to kiss the school's handsome and mischievous soccer star on the mouth. He is both devastated by his mistake, and on some level set free by it. He arrives at his mother's with no luggage and no plans.
He finds a spare toothbrush in the bathroom and brushes his teeth without looking into the mirror, as if it were someone there he has never met before and feels shy of.
Ted hasn't had a face transplant, but he's certainly altered, and his fleeing 379 miles from one place to the next (no note left behind, no call to the high school to try to protect his job or undo damage done) is a feature Prince employs often as his characters encounter their own suffering and need for modification of expectations. Ted's approach to modification is one of the darkest stories in the collection—as he takes his own suffering to a deeper level by trying to entice an acne-scarred local soccer star in his mother's neighbourhood into his car. This boy runs away, but the reader is left with an unshakeable weight of awareness that Ted is dangerous to himself and others. And his escape to his mother's house will only bring further trouble.
Ted isn't the only paedophile in the collection (not that the reader is entirely certain Ted deserves this damning label). In "Ugly Around Him," Masky's neighbour Ed Hold is in fact a registered sex offender. When Masky's young daughter is killed in a car accident, the relationship between these two men, and with Masky's wife Grace, becomes the focal point of the story's tension. This story, like the others, deals with loss and fear and profound difficulties of parenting, but it's set apart in its adroit handling of dialogue in revealing these many-layered characters.
But it was while reading that 4th story in the collection, Ted's story, that a Paul Simon song got stuck in my head, one line in particular, "I want a shot at redemption." The lyrics go on… I'm not sure what it means, but the song has stuck. "I want a shot at redemption, don't want to end up a cartoon in a cartoon graveyard. Bonedigger, bonedigger, dogs in the moonlight. Far away, my well-lit door. Mr. Beer Belly, Beer Belly, Get these mutts away from me…." The lines, the nonsense and desperate need for just a chance of redemption keep singing in my head. A testament to Prince's writing and the whole of The Beautiful Wishes of Ugly Men, the stories, the song, that need for redemption hasn't let go yet.
+++
Born and raised in Southern California, Adam Prince has since lived in New York, South Korea, Arkansas, Nicaragua, and Knoxville, Tennessee. His award-winning fiction has appeared in The Missouri Review, The Southern Review, and Narrative Magazine, among others. During the 2012-2013 school year, he will serve as the Tickner Fellow at the Gilman School in Baltimore. He is married to the poet Charlotte Pence and is currently at work on a novel that takes place in Jakarta, Indonesia.
+
Nancy Freund
is an American-British novelist and poet with a B.A. in English/Creative Writing and an M.Ed. from
UCLA
. In addition to writing and teaching, she's been in editing, publishing, book marketing and publicity. Involved with the University of Iowa Summer Writing Festival, London's Women in Publishing and the Geneva Writers' Group, she currently lives in Switzerland.