Book Reviews · 01/28/2013
Tell Everyone I Said Hi
by Chad Simpson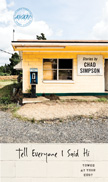 University of Iowa Press, 2012
I first came across Chad Simpson's writing at The Rumpus. An Epilogue to the Unread is told in such a straightforward manner that when I reached its end, my own sobs surprised me. I hadn't even realized I had started crying; my empathy had transformed into something so personally felt I had almost unconsciously disappeared into my own life while reading about Simpson, someone I don't know, and his mother, whom I never knew, and a book, which I have never read.
The quiet way Simpson builds this essay was a good primer for what he does in his collection Tell Everyone I Said Hi. The stories here are glimpses. I kept thinking while I read them of this visual of a frame, that each story is one small piece of a larger image, one moment of an entire life the story belongs to, and we know, we know there are panoramas in the peripheral, there are unseen vistas that spread out over time and landscapes beyond that frame. Yet we don't feel like we're missing out by not being able to gaze upon the entire image. These glimpses are a gift. Held within them is recognizable loss, and characters who are recognizably lost, yet each story seems utterly, quietly new; within its framed moment, each story creates new loss, even makes us feel newly lost while simultaneously enveloping us within something sincerely momentous—this sense that these characters are not far away, they are not father away than the Midwest where they live, they are never farther away than we can reach.
The particular visual of the frame is at work in the first, very short story in the collection, "Miracle," which begins:
My brother calls and says to get to the bar as fast as I can—he thinks he just died.
The narrator's brother, "high on something," tried to stop his car from rolling down the street, and it rolled on top of him. And though the narrator drives to the bar where his brother is at, he sees him but doesn't go to him.
He still thinks he may be dead, and his heart. Beneath his shirt, where the bruise has not yet begun to form, his heart is racing. His breath, I can tell from where I'm sitting, it can hardly keep up.
We are presented with things that happen, or the memory of things that happened in this and every story, but like the narrator in "Miracle" who can see into the chest of his brother, we can see the things we can't see, things we aren't told in these stories, things we know without having to have them explained. And while we're reading a story about a fostered kid who won't eventually be adopted, or a man who meets a woman he tries to refuse a connection with, I kept wishing for something I find myself wishing for in real life all the time: let them, let me, just have this moment. Let us just have this one moment. Let's slow time down, find a way to step outside the moment to take a picture of it, to hold onto it separate from a continuum, separate from some linear progression, and just listen to songbirds on a doorstep, and not worry about what has to happen next.
The titular story, "Tell Everyone I Said Hi," is flush with heartbreak. A relationship has ended, although the narrator can remember, re-live it, can be a part of it in his memory, in his mind, in the present of the story, in ways that are painfully vivid. He has just called his former longtime love, who is now pregnant and living with her fiancée:
What happened at the end of our call was I started getting anxious. I felt like I hadn't said anything. It was just so good to hear you happy, and everything you'd said started to fill up my head so all I wanted was for you to keep filling it up, to fill it completely.
But then he starts to feel really anxious, he starts over-thinking the things he's hearing in her voice:
I started hating you then, you and Ted, and that's when I ended up muttering that I wanted you to tell everyone I said hi.
After we hung up I didn't even know what it meant: Tell everyone I said hi. I said it over and over again, the phone still in my hand. It seemed like the absolute stupidest thing in the world a person could say.
There is something so profoundly familiar in this kind of truthful reveal, the kind of painful embarrassment, outside of reason, yet impossible to rationalize away.
These stories. They are gorgeous, sometimes ugly, sometimes painfully ugly and mean but they are so true, and so truly told in ways that seem so closely knit to real life. Each of them ends, not in a drop off, but at the end of that frame of that glimpse: with strangers embracing on a doorstep, in a memory, on the roof of a house, something is always just about to happen to these characters the moment we turn the page: a man isn't going to an estate sale, a woman hasn't yet left for a trip, she will, but she hasn't. Each of these stories extends out past our fingertips, from the page into an ether that seems to transcend fiction.
While I mentioned, and meant it, about the glimpses and the frames and all that, Simpson does something completely unexpected in the last story of the collection—he returns to an earlier story, "Peloma," whose narrator, a widower father, and 12-year daughter, are last seen on the roof of their house, holding hands, jumping off together, and takes us forward in their lives in "Consent." It's as if these stories we've read in the inbetween that have nothing to do with them are only the years passing. And the collection ends in a quietly familiar domestic moment, the widower teaching his daughter to drive, and looking into that vista on the peripheral, seeing it, a simple, calm, heartbursting moment for the reader. And the collection ends, with the feeling that as fragile as the lives are in these stories, they are only as fragile as our own, and they can't be contained to the frame, or even the covers of the book.
+++
Chad Simpson was raised in Monmouth, Illinois, and Logansport, Indiana. His work has appeared in McSweeney's Quarterly, Esquire, American Short Fiction, The Sun, and many other print and online publications. He is the recipient of a fellowship in prose from the Illinois Arts Council and scholarships from the Bread Loaf and Sewanee Writers' conferences. He teaches at Knox College in Galesburg, Illinois, where he received the Philip Green Wright/Lombard College Prize for Distinguished Teaching in 2010.
+
Jess Stoner is the author of the novel, I Have Blinded Myself Writing This (Short Flight/Long Drive Books (Hobart), Feb 2012). Her choose-your-own adventure chapbook of poems, You're Going to Die Jess Wigent (Fact-Simile), came out in the summer of 2011. Her prose and poetry have appeared in Alice Blue Review, Everyday Genius, Caketrain, Juked, and many other handsome journals. Jess currently lives in the sweat and brisket of Austin.