Book Reviews · 06/02/2013
Strategies Against Extinction
by Michael Nye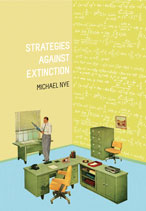 Queen's Ferry Press, 2012
Most discussions about extinction usually include a list of now mythical animals: the dodo bird, the mammoth, dinosaurs, and others. What if the list instead enumerated defunct professions, lost traditions, ruptured relationships, and insignificant towns and dissolved countries? In his debut story collection Strategies Against Extinction, Michael Nye depicts nostalgia and storytelling as fragile arts threatened by extinction and the family unit as a morphing organism capable of adaptation. Comprised of eight short stories and one novella, Nye's narratives, set in Cincinnati, Boston, St. Louis, Pittsburgh, and as far away as Ukraine, further examine the notion of belonging and second chances.
In "The Re-Creationist" and "A Fully Imagined World," Nye presents imagination as a necessary vehicle for escape as well as a dangerously convincing trap. In the first story, set in 1952, Don, a radio baseball re-creationist announcer, learns his job is being terminated. Instead of broadcasting these somewhat fictionalized accounts of games, management has decided baseball announcers will now report the games live from the stadiums. When Don begs his boss to allow him the chance to prove himself in this capacity, he is told:
What your best at is making things up, being a storyteller. You aren't as good with what's literal, what's on the field in front of you.
Don's existence is rooted in the past when life had purpose and success seemed imminent. Likewise, Kyle, in "A Fully Realized World," is haunted by his memory of Serena, a woman with whom he had a fleeting romantic encounter years ago. Trapped at home caring for his temperamental child, Kyle daydreams of his lost freedom and the infinite possibilities life offered him as a single, unfettered man. After a trip to the local museum with his daughter goes awry, Kyle realizes how poisonous his desires are and previews the devastation caused by such futile longing.
Another theme Nye explores in many of the stories is belonging. His characters struggle to belong in their towns, within their families, and in their professional careers. In "Projection," Monica is torn between wanting to be far from her hometown and its ugly water tower, while still craving the comfort of her mother. Eventually she realizes she doesn't belong in Ohio, and this knowledge is freeing but also bittersweet. In "A Surgeon's Story," Leonard wonders if he'll fit in among the other surgeons once he returns from an unpaid suspension. He fears his act of aggression towards a medical student has blurred the line between his ability to destroy and save a life.
Several stories in the collection examine the idea of second chances, particularly as they pertain to houses and enemies. In "Utility Room" and "Keep," Nye skillfully portrays houses as characters capable of transformation. In the first story, Ellen, newly divorced, decides to rent the utility room in the home she once shared with her husband to a couple having an affair. The habits of her new guests—their tidiness and tendency to leave the window of their room open—help her to view her home through a new lens of possibility. Similarly, in "Keep," the narrator seems to subconsciously compare the warmth of his childhood home with the austere, museum-like atmosphere of his current house. While now wealthy and living in a house he always dreamed of, he fears the empty rooms and the ominous ambiance. One night when arriving home with his daughter, he notes:
All the windows of our house were black, and when the garage door rose, shining light on us from such a cavern, it felt as if we were travelers being devoured by some great sea monster, never to be heard from again.
Friends turned enemies also pose threats. In "Sparring Vladimir Putin," David Joyce, former mayor of Ohio, duels not once but twice with the Russian leader. Hungover and dehydrated, Joyce defeats his opponent only to find himself facing a rematch. Both men are determined to kill each other despite the friendship they had previously forged. Nye leaves it to the reader to decide who will reign victorious. In many ways, the champion himself pales compared to the actual challenge for a new outcome.
The most fascinating concept Nye tackles in the collection is the constantly evolving family unit. Nearly every type of family is represented: from the traditional model of two parents and a child, to a daughter and mother pairing, a stay-at-home dad whose wife is the breadwinner, a sister mourning the loss of her brother, two sons dealing with the absence of their mother and the declining health of their father, and a man who realizes his mentally ill brother and daughter are all the family he has and needs. What is extinct, or at least rare, in Nye's world is the harmonious nuclear unit. The narrator of "Keep" is cognizant of the odd dynamic occurring within his family:
In time, however, [my wife] did become aware that I wanted this emotional separation from her; I wasn't just helping ease the burden of raising a daughter but also keeping Catherine away from her mother. This new awareness created a paranoia based on a certain amount of truth. Gretchen believed we thought she was cold, callous, distant, and she acted on this belief until it became true, her own vertiginous, self-fulfilling prophecy.
What do familial obligations mean when a husband no longer loves his wife, when one brother is completely dependent on another, or when ambition overrides all bonds? Surprisingly, in Strategies Against Extinction, those who succeed are not necessarily the strongest but rather the most humane and compassionate.
Ultimately, what propels this collection is the urgency to survive every type of calamity: career uncertainty, loss of a home, physical combat, divorce, and death of a loved one. The strategies Nye's characters employ are as complex and varied as the wondrous species presently roaming the earth.
+++
Michael Nye
is a graduate of the
MFA
program at the University of Missouri-St. Louis. His stories are forthcoming or have recently appeared in
Boulevard, Crab Orchard Review, New South, Sou'wester,
and
South Dakota Review,
among others. He is the managing editor of
The Missouri Review.
Discover more about Michael and his writing on his personal site, mpnye.com.
+
Ursula Villarreal-Moura
is a writer, book reviewer, and editor. Her work has appeared in
CutBank, Emerson Review, The Fiddleback,

NAP

, Toska, Black Heart Magazine,
and elsewhere. She recently received her
MFA
from Sarah Lawrence College and is an assistant editor for
Cream City Review
and a senior editor for
No Tokens Journal.