Book Reviews · 11/09/2015
Steelies and Other Endangered Species
by Rebecca Lawton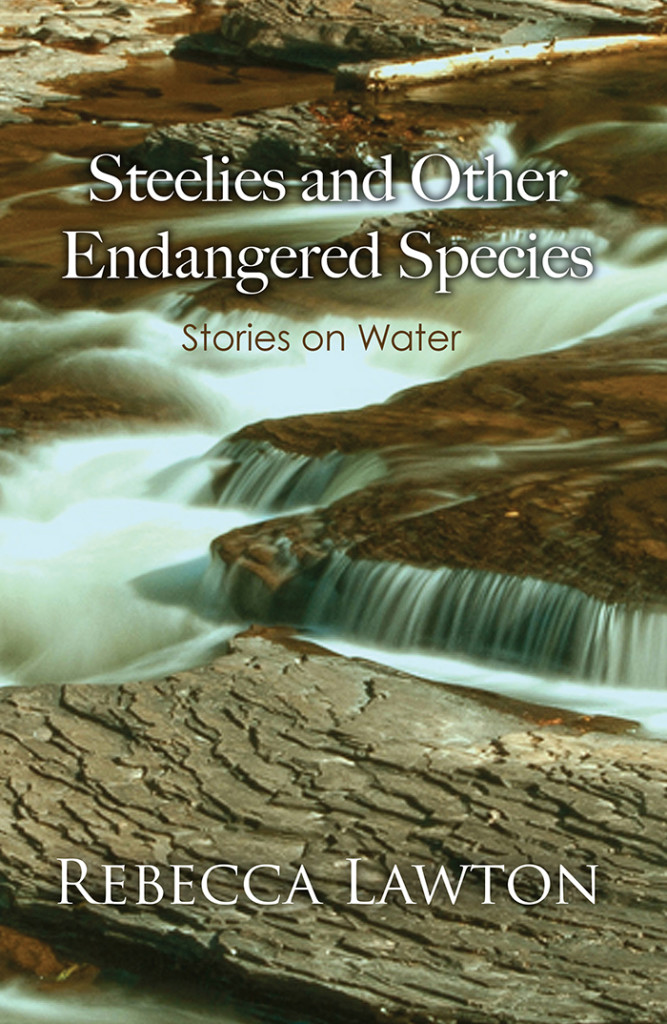 Little Curlew Press, 2014
The stories in Rebecca Lawton's Steelies and Other Endangered Species are set in motion by a sense of stewardship: a concern for wild places and the beings — human and animal — who inhabit those places. A collection of fifteen linked stories, Steelies finds its strength in the webs of connection between characters as well as between those characters and their environment, ranging across the rivers and deserts of the western United States.
In the first story in the collection, "What I Never Told You," we meet R. J., a young woman who works as a rafting guide on the Colorado River. R. J. tells the story of a not-quite love affair with an older boatman who makes a job-losing mistake with a client on a river trip. R. J. is a witness to his troubled life but is unable to help. In a later story, "The Middle of a River in Flood," a more experienced R. J. recalls the time she was nearly responsible for a friend's death in the rapids — a friend who survives only to fight an unwinnable battle against cancer. And in the title story, "Steelies" — the penultimate story in the collection — a much older R. J. monitors steelhead trout in a California creek and takes tentative steps toward a relationship with a sympathetic fish and game warden. "No one listened when I warned about the water," R. J. thinks. "You stand to lose everything: first the summer pools, then the wet river cobbles and wells, then the last, mighty fish named for the silver-blue dress they put on to spawn." Through moments such as these, the reader accompanies R. J. on a journey from youth to middle age, from class 5 rapids to the minimum flow of water necessary to enable a fish to spawn.
In Lawton's stories, what's at stake is thus not only a matter of life and death in her characters' lives but also a matter of environmental crisis. The stories in Steelies ask: what difference can one person make in the world? Other people's lives may be complex and largely beyond our control, but if it's possible to help one fish make it up the river to spawn, characters such as R. J. will take action.
As the title of the collection suggests, these stories honor life beyond the human realm. Lawton reminds readers that human lives and human stories happen in places that have their own history, geology, and hydrology. She describes land and water with precision and humor. The canyonlands of Utah are "big domed couches of sandstone." The place where rafters launch on the Colorado River is "a stretch of pavement the size of a Kmart parking lot." More seriously, homeless men camped under a California bridge are the ones in a position to observe the steelhead most closely over time, as both R. J. and the fish and game warden know.
Readers of Pam Houston's stories about women in the West will appreciate Lawton's take on similar themes, including the desire for outdoor adventure and the dynamics between the sexes. Lawton's voice is entirely her own, though. She keeps an especially thoughtful eye on how her characters make a living. The characters in Steelies are dependent on the natural world for their livelihood whether they work as an outdoor recreation guide, a geologist in the oil and gas industry, or as rangers or wardens who are paid to be stewards of the land.
Lawton has said of Steelies, "The key ingredient to these stories … is water — how the characters need it, pursue it, or are overwhelmed by it." I read Steelies in the summer of 2015, a few weeks before the Animas River in southwestern Colorado turned orange from a spill of toxic mining waste. I reread the stories as the news emerged that flash floods had taken lives in southern Utah. As I read, my questioning of whether a story such as "Steelies" was too didactic in its approach to environmental issues was balanced by these real-world reminders of what it means to be endangered.
The flawed relationships in Lawton's stories — they are broken, struggling to get started, or uncontrolled and damaging like a flash flood — suggest that what's gone wrong with human lives has parallels on an environmental scale. Are we endangering our emotional lives, and the survival of our species, through detachment from the natural world? If only we could get together like the steelhead, Lawton seems to say. Even in a damaged environment, the fish find the water that remains; they know instinctively what to do to survive. Do we? "No one listened when I warned about the water." Lawton's stories alert us to what threatens our connection to the environment, and to all that we might lose.
+++
Rebecca Lawton writes about nature, human and otherwise. She won the Ellen Meloy Fund Award for Desert Writers and was a San Francisco Chronicle best-selling author for Reading Water: Lessons from the River. Her novel, Junction, Utah, about a river runner caught between life on the water and land, is rooted in her many years of whitewater guiding.
+
Erica Olsen lives in Cortez, Colorado. She is the author of Recapture & Other Stories, a collection of short fiction about the once and future West.