Book Reviews · 10/14/2013
Sorrow
by Catherine Gammon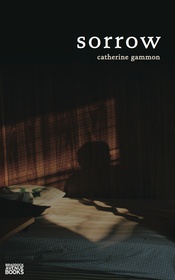 Braddock Avenue Books, 2013
Catherine Gammon's labyrinthine second novel Sorrow is expansive in its layers of perception, but also specific in its meanings. The word itself, sorrow, sounds like a slow process, something quiet and arching, but it implies a long-held sadness, and within that an arc of emotional action. The book delivers on this idea, pulling the reader through the grief of 26-year-old Anita Palatino.
She is introduced as obsessive and unreliable, a relentless stream of concerns and second-guessing. Anita observes a coworker;
she had somehow created in him this inverted passion…But every time she saw him she knew what he was thinking. He began to frighten her. She began to wonder whether he had been calling her into his dreams.
While her voice seems to scream "don't trust me" it's impossible not to be drawn into her vision, her plight:
Out the window she saw city lights, lights on the river, lights in New Jersey—the urban Milky Way. She saw her face projected into the darkness, and on her own face other faces.
Anita's history of abuse which surfaces throughout, her self-destructive sexual behavior, and her strained relationship with her mother, set her life constantly on the edge. The book begins to hinge on a single event, namely, that Anita is plotting her mother's murder in what seems to be an attempt to save her own life.
The idea was only a game. A thought like so many other thoughts that kept her alive. I won't really do it, she told herself. It's like dress-up. I just want to know. But every day brought it closer; every thought she had about it, every detail plotted, every problem anticipated, every obstacle overcome—the props and tools she gathered, the lies she planted and prepared herself to tell—everything pushed it forward, moving it out from imagination into necessity, into the world.
The novel is arranged around the interior lives of a multitude of characters within Anita's New York City neighborhood, all of whom endure the reverberations of her violence. There are cousins (Cruz and Tomas) from El Salvador running the corner store, a detective, a nun, a widow, and others who all speak from their own windows.
The author's hand is felt throughout the book: her descriptions involving each of the senses, her decisions meticulous but not careful, her words each placed with strength, holding one in various grips. Gammon's style morphs to fit the situation. In some chapters there's a sort of stream-of-consciousness:
She [Anita] felt a hole inside her body, growing—the size of a baby, she thought, a baby growing inside her body as empty as night, emptiness growing where a baby would grow, ballooning, eating her out from inside, an emptiness the size of her mother, bigger, the size of her love for her mother, the need, the size of the hunger and lust and loneliness, silent, contained by flesh and her mother's down-turned mouth and inability to hear her, contained by her mother's eyes, gray and flashing with angers beyond any she would ever speak, contained by her mother's rages, directed everywhere but at Anita, contained by her mother's blindness, which made Anita invisible, contained by memory and loss, held and buried. Until now.
Other chapters are sharp with dialogue and declarative thought:
Yes, he [Tomas] thought, she could have killed her mother, and even that thought increased his passion for her, along with his desire. She was an animal and a child and a lost and confused living creature and a beautiful woman and her tears against his chest were something old, ancient; they touched something ancient and old in him that didn't care about her mother or Cruz or the policeman or his brother in Morazan or his country or peace or war or maybe not even his own life or death. Was that love? he wondered.
The story lacks levity; readers descend with Anita and the people in her world until it is impossible to surface from this place where there are no answers and therefore no forgiveness. Gammon reminds us all with intensity that to write is to take a chance, a risk. Much like walking down a city sidewalk, the audience is unknown, the dangers veiled, the destination undetermined. Since not even Anita's closest confidante can peg her emotions or motivations, both Anita and her act remain opaque yet uniquely intricate.
Ultimately, however, readers are left to make of Anita, and everyone truly, what they will. Sorrow is a story that bends and weaves, conveying time and again the terrifying and exhilarating possibility that the truth is always as subjective as the individuals who are trying to find it. Gammon grants her readers the freedom as well as the responsibility of bearing the weight of that truth.
+++
Catherine Gammon is the author of the novel Isabel Out of the Rain and the story collection Beauty and the Beast. Her fiction has appeared in many literary magazines, including Ploughshares, Kenyon Review, Other Voices, and The New England Review. She has been awarded fellowships from the National Endowment for the Arts, the New York Foundation for the Arts, the Corporation of Yaddo, and the Fine Arts Work Center in Provincetown, among others. A Soto Zen priest, Catherine was ordained in the lineage of Shunryu Suzuki Roshi by Tenshin Reb Anderson in 2005. She divides her time between Green Gulch Farm Zen Center in California and Brooklyn, New York. She can be found online at www.catherinegammon.wordpress.com.
+
Erin Lewenauer is a poet, novelist, and freelance writer and editor who hails from Milwaukee, Wisconsin. She holds degrees from Vassar College and the University of Pittsburgh.