Book Reviews · 06/26/2017
Seeing People Off
by Jana Beňová
Translated by Janet Livingstone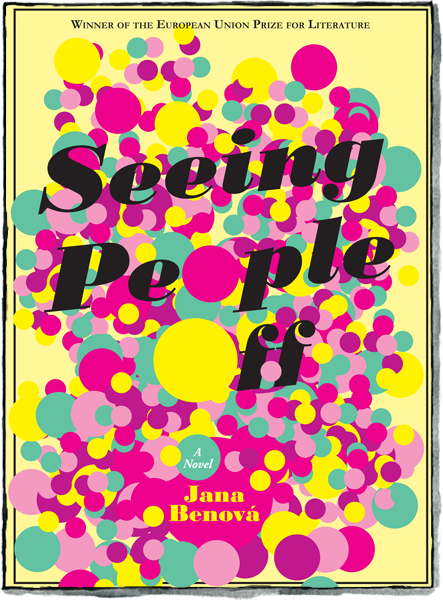 Two Dollar Radio, 2017
A winner of the European Union Prize for Literature in 2012, Jana Beňová's Seeing People Off (Plán odprevádzania) was published last month in a stunning English translation by Janet Livingstone. The novel's subtitle, "A Manifest of the Quartet" refers to a foursome of young artsy types living in the Petržalka neighborhood of Bratislava, who have created a unique arrangement of sponsorship in which one person at a time is responsible for holding down a regular job and supporting the other three, while they spend their days working on various projects and otherwise roaming the city, enjoying a sort of restless existence. Elza, the main character and sometimes narrator, lives with Ian, also a writer; her childhood friend Rebeka, along with husband Lukas, comprise the other half of the group.
While it would seem that such a foursome would be a closed entity, they are in fact quite a porous group, with such intimate intrusions as affairs and alcoholism echoing the more quotidian disturbances of loud neighbors, snippy older women, violent teens, and the muezzins reciting the call to prayer. They comprise a kind of knotted family but are also very much implicated in a web that includes dark chapters of history, still felt to this day. Indeed, in one beautifully told but harrowing scene, the past and present overlap, as Elza and Ian make love with the sound of "child führers playing their games in front of the building" seeping into the room. "The pleasure of man and women mixed with the vulgarity of children's shouting. They made love quietly and modestly. Gazing into each other's eyes. Like Jews hiding in a cellar."
Stylistically, the book echoes the paths of its characters, reading more like one long, ambling, prose poem than a novel, with round and dreamy descriptions of the neighborhood taking precedence over any plot points, which are usually inserted haphazardly into the narrative, intent on maintaining an air of obscurity throughout. The largely unemployed young artists float through life upon a wave of alcohol and ideas. They discuss the significance of a character in a David Lynch film; they stand quietly and stare out at the river; they read their work aloud in their favorite café, the Hyena. And yet, just underneath this highly romanticized lifestyle of unpaid artistic and intellectual pursuit, survival is asserted as an ever-present problem. Obviously, the material concerns of food and drink and shelter are of consequence, but more prominently is the theme of surviving the city itself, which seems to bring about a kind of death drive. Speaking of the river that separates Petržalka from Bratislava proper, Elza asserts that, "The bridge is dangerous, especially if you cross it on foot. The river is too close. The boundary between the water and the air calls you. I'm afraid I'll suddenly jump." And sometimes the peril lies with the city's predatory nature: "Bratislava. A city that grips you in its clutches…A city that forces you to pounce on something, just as it has pounced on you."
Strains of Petržalka's past—the city was annexed by Nazi Germany and was also the site of a labor camp—quietly echo throughout the book. Yet this history is signified in multiple ways, appearing sometimes as dark memory and sometimes as absurdity and farce, as in the example of Elza's short-lived job with a reality show whose gruesome premise has two groups of people living in the Dachau concentration camp, one side meant to play the prisoners with the other embodying the role of prison guards. Yet Beňová doesn't entirely remain with the past, but rather—with the deft skill of a seasoned poet—allows this troubling image to bleed into other innocent structures, in this case rendering societal staples like the youth camp and the old age home deeply uncanny.
Throughout the book, Beňová is concerned with the way that memory—and particularly traumatic memory—affect the present. At the end of the book, Ian's mother undergoes the process of slowly dying and Elza describes the ways in which the old woman understands the tedious progression of her fading memory. According to Mama, as a child, she was made to walk to school in the freezing cold every morning along with the workers (here, it would seem, we are within the memory of Communism). "That's why she can't remember anything now, she said. Every time I looked at her blood-filled feet I had the feeling that every night while we were asleep, she must have walked that long and difficult road in the dark." Though childhood suffering is asserted as the cause of memory loss, it is also suggested that the body retains some notion of this past. One begins to wonder if Petržalka itself—as much a living character as its residents—is also a body whose scars serve as a continual reminder.
Much of the narrative seems to drift just out of reach, and scenes of probing intensity continually evade taking shape. Rather than a story, it is a detailed portrait of a city, of human relationships, and of a deeply complex emotional landscape. Yet despite the evident lack of structure, the book is extraordinarily well paced. For a novel that that so intimately depicts a city where "time plays no role" and where one hears songs "the world had long forgotten," there could be no simple beginning-middle-end framework. But the trajectory of Elza's inner life, reflected in the city and the Quartet, is certainly led by a driving force that eventually reaches a climax. In this way, the author has created that unique and uniquely satisfying phenomenon of a page-turner that must yet be read slowly and precisely.
+++
Jana Beňová is one of the most acclaimed Slovak authors, winner of the European Union Prize for Literature. She is a poet and novelist, author of the novels Seeing People Off, Get Off! Get Off!, Parker, and Honeymoon (forthcoming from Two Dollar Radio), as well as three collections of poems.Though her work has been widely translated throughout Europe, Seeing People Off is her first novel translated into English.
+
Janet Livingstone was born in Boston, Massachusetts and ventured to Czechoslovakia just after the 1989 Velvet Revolution. In total, she spent 15 years in Bratislava in Slovakia. In 2003, she began translating films and plays from Slovak to English. Among her full-length book translations are Master your Stage Fright by Slovak master violinist Bohdan Warchal and Piata loď (working title: Boat Number Five) by novelist Monika Kompaníková. In addition to Jana Beňová, her current translation projects include the novels The Best of All Worlds by Slovak-Swiss author Irena Brežná and The Arab World—Another Planet? by Emire Khidayer. Janet lives in Seattle with her two children.
+
Bronwyn Averett
is an editor and translator living in Montreal. She has written about books for publications such as
Electric Literature
and
The Quarterly Conversation
, and is on the masthead at
carte blanche
. She holds a PhD in French and is a specialist in African and Caribbean literature. You can find her at
indirectlibre.com
.