Book Reviews · 04/22/2019
Prodigal Children in the House of G-d
by Yermiyahu Ahron Taub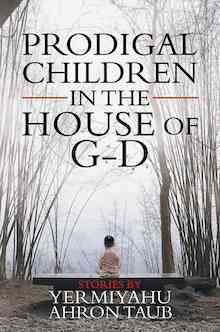 Austin Macauley, 2018
Our universe consists of people and events that are connected in ways not immediately apparent to the casual observer. Good fiction writing can depict how seemingly unrelated characters affect one another. The author can help the reader derive meaning from what appear to be random events and unexpected relationships, and to experience deep understanding and empathy for the characters.
The ten stories in Prodigal Children in the House of G-d by Yermiyahu Ahron Taub coalesce in just such surprising ways. Loosely divided into two sections, Daughters and Sons, the characters who inhabit them are mostly drawn from the ultra-Orthodox Jewish world. Taub, an accomplished poet in both English and Yiddish, writes in a gentle and lyrical tone which often belies the incisiveness of his message. He imbues his characters with a Yiddish inflection that derives from their upbringing and background. They are prodigal children because they no longer fit into the social construct of their families. Yearning for forbidden love, they are rejected by their communities of birth and must seek personal fulfillment on their own terms.
The opening story, "Night in the Solarium," sets the tone. Madame Maisie's old-fashioned boarding house is a place of dignity, carefully and painstakingly designed as a home for single women of fine character. Miss Leventhal is discovered to be carrying a burdensome secret that proves shocking to the prudish owner. In a subsequent story, "Phoenix, with Hat," we learn that Miss Leventhal is a young Jewish woman named Khane who comes to the realization that in her "inchoate, roiling exhilaration" she is actually not a dutiful Jewish daughter but rather "a woman of the wild, outside the bounds of civilization altogether."
"Idolatry Averted" is told in the authentic voice of a child who experiences brutality in the name of religion at the hands of his father. This story is particularly moving, as we are transported to the inner world of the child and are shocked at the cruelty of the world around him. Avromi's innocence is shattered and the reader cries along with him.
Several stories deal with the pain of gay men raised in the Orthodox Jewish faith. "Swimming in the Lavender Room" portrays the full-blown anxiety of a young man whose father, in becoming more devout, has distanced himself from his son. Only in his dreams is the son caressed by his mother who accepts him as he is. One of the most powerful stories in the book is "Love in the Red," a heartrending tale of a young man who was banished by his father when he announced his homosexuality. Twenty-one years later, when his mother Yente hears that Efroyem is very ill, she finally goes to visit him. He is dying, but not from the cause she had assumed. She has missed out on all the years of his adult life, and forfeited the joy and pride she could have taken in his accomplishments.
Two other stories which come together in a surprising way are "Called Away in the Spirit" and "Angel of the Underworld." In the first, a Christian boy named Silas, after having experienced a series of unsettling sexual interactions, escapes his small town to start a new life in the city. In the second and last story of the book, Meyer, a married yeshiva student who is secretly gay, meets Silas and realizes true love. Although his future is uncertain, Meyer is elated. He wonders how "these connections, threads really, would be reconfigured." Wife, khavruse [Torah study partner], and lover – the reader only hopes he can resolve these intertwining elements.
The stories in this collection, imbued with love, passion and regret, leave the reader breathless with emotion. There is symmetry in the juxtaposition of the two sections about Daughters and Sons. The women and men portrayed in the stories each have their own needs and longings, but they all have bearing on each other's stories and on the lives of those around them. Taub's characters, though rooted in religious and cultural specificity, convey a sense of common humanity in all its complicated glory. The threads that bind them, and the charged themes which pervade their stories, are sure to have universal appeal to discerning readers of all backgrounds.
+++
Yermiyahu Ahron Taub
is the author of the book of short stories
Prodigal Children in the House of G-d
(London; Cambridge; New York; Sharjah: Austin Macauley, 2018), named a finalist for a Foreword
INDIES
Award in the Religious (Adult Fiction) category, and six books of poetry. Honored by the Museum of Jewish Heritage as one of New York 's best emerging Jewish artists, Taub has been nominated twice for a Best of the Net Award and four times for a Pushcart Prize. Taub is also a translator of Yiddish. He was born and raised in an ultra-Orthodox community in Philadelphia and received an M.A. in history from Emory University and an M.L.S. from Queens College, City University of New York.
+
Joyce Levine
, past Publications Chairperson for the Association of Jewish Libraries (
AJL
), has published numerous reviews in
AJL
Reviews. She has also served on the review committee for the National Jewish Book Awards.