Book Reviews · 11/06/2017
Planet Grim
by Alex Behr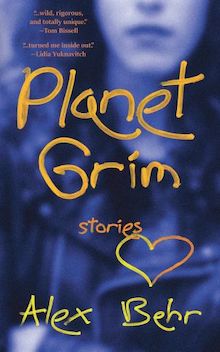 7.13 Books, 2017
While not every story in Planet Grim is set on planet Earth, the book delivers on the "Grim." Alex Behr's debut story collection is a gritty wonderland of junkies, burnouts, and dreamers, with most of its stories centered on the forgotten, drug-addled underworlds of the Pacific Northwest. Hidden among tech giants, microbrews, and sleek suburbs, Behr paints these decaying lives and landscapes as if they actually are from another planet, some secret world lying just beyond the next pine-covered hill. But more than characters and locations, it's the sentence-level writing that propels Planet Grim from good to great. The prose constantly leaps in ways both thrilling and unpredictable.
Behr's stories are refreshingly varied, but one early piece that establishes Planet Grim's titular tone is "Wet." The story follows a depressed mother as she works her way toward divorcing her husband and moving on with her young son. But like many pieces in this collection, "Wet" is focused less on plot and more on the writing. These sentences meander in and out of bizarre and sometimes gross mental territory that cause the reader to question what is and is not real:
I have a bad gin headache and many unfinished projects. I can't find Advil. Four coffee mugs and one espresso cup in the bedroom. Fifty books I will never read. I have lost the sweetness, affection, lust, and pride in the other. I forget the pet names (but I remember). I give up the teasing (I transfer it to the cat).
I live with a polite stranger, a slob. I am a slob.
"Mealworms can be ground into butter. They taste like cow milk!" The top of my brain is pressing upward into my skull. It's my fault. … I cut off my left arm with nail clippers. It hangs on. I can't snip the final pieces of dried-out skin.
The woman's thinking circles divorce but constantly dives into odd asides, invigorating the writing and allowing Behr to pepper the story with brilliant phrases like "Does the egg scream when it's pierced by the sperm?" and "The suburban failure machine." Amazingly, Behr condenses all this unhappiness and random violence into four tight pages. Many of Planet Grim's stories follow the same trend in combining despair and weirdness in a quick, coiled package.
Place plays a central role in the collection, and none of the stories illustrates this more than "Fairyland." The story is set in Berkeley, but rather than focus on upper-class intellectuals, Behr points her lens at drugged-out hippies barely scraping by. Cookie, fourteen, is upset at her clueless mother Anne for taking on a boarder, Theresa, whom Cookie both despises and admires. Theresa takes Cookie to the seedy underbelly of the Bay area, educating Cookie in drugs, sex, and escaping from danger. Place permeates the story in a way that feels suffocating to Cookie: "She hated Berkeley. She hated the tube socks and incense sticks for sale at the flea market; she hated roaming the aisles with Theresa, looking for her drug connection in the food stall lines or by the reggae drummers. She hated the men who whistled at her and told her to smile." To further emphasize place, Cookie eventually wanders to Fairyland, a decayed amusement park for children that accurately mirrors Behr's dark Pacific landscape:
This park was Oakland's version of urban nature, evergreens growing by parking signs and bare spots on the grass. … The tiny amusement park was protected by barbed wire, as if it could keep out anyone with a good set of clippers. By the entrance, a concrete Old Woman peered out the window of her pink shoe, the color of Pepto-Bismol. She has too many children, Cookie, thought, but she's smiling. My mom only has one but I'm not good enough. She had to get a fake one.
"Fairyland" is filled with similar ironies and metaphors. And, like "Wet," the story is largely built with small but wonderful phrases, including this dazzling line: "Being a teenage girl was like being meat on a stick." On the sentence level, Behr is a master.
Importantly, Behr isn't intent on glorifying this underworld; she works hard to capture the real confusion and sadness of these people in stories like "Some Weird Sin," "The Desperate Ones," and "Cuckoo." The beginning of "The Desperate Ones" is a deceptively complex series of observations on the part of our nameless narrator. Hidden among the grit of these lines is a vulnerable character who wants nothing more than to find happiness and love:
Right now I am high. He is watching TV like a sucker. I want to sock him in the spine. "Pay some attention to me." I have enough salt to cure the wound afterwards. I am so bored. … Listen, Charles, you don't need to buy anything. You have me. And I am everything for you. I will rip out the eyes of that product that takes your interest from me. I see you through the glass.
The narrator becomes increasingly desperate in her attempts to be loved by Charles, resulting in one of the collection's boldest and most experimental endings.
Another of Planet Grim's strengths is its variety. The collection features full-length stories, flashes, stories in parts, and wild shifts in perspective. Behr manages to surprise her readers in terms of style and form while maintaining her focus on the downtrodden and the grinding minutia of their lives. But the main draw to this book is the extraordinary sentence work on each and every page. Readers who love dark stories filled with drugs, strangeness, desperate characters, Cascade landscapes, and some of the best writing this reviewer has ever read in a debut, should pick up Planet Grim.
+++
Alex Behr
has taught creative writing residencies at Portland, OR, high schools through Literary Arts' Writers in the Schools program. Alex's work has been published in
Tin House, Salon, Nailed, Mutha, Bitch, Manifest-Station
, and other publications. She received an
MFA
in creative writing from Portland State University, and has performed nationwide in the comedy show
Mortified
. She can be found online at
alexbehr.com
and on Twitter
@Alex__Behr
.
+
Caleb Tankersley is the author of the chapbook Jesus Works the Night Shift. He won the 2016 Wabash Prize in Fiction from Sycamore Review. Other stories appear in CutBank, Permafrost, Psychopomp, Pacifica Literary Review, Big Muddy, and other magazines. He is the Full Length Editor for Split Lip Press.