Book Reviews · 02/04/2019
Parts Per Million
by Julia Stoops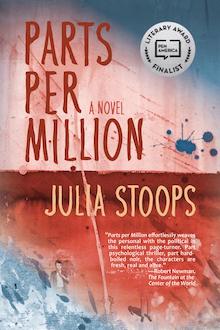 Forest Avenue Press, Spring 2018
When an author's novel gets picked up by a reputable publisher, we can assume the manuscript has literary merit and that the story's premise will hook a wide audience of readers. But as the book is fiction, and as bringing a story from raw manuscript to readers' shelves takes months on end, we can never anticipate just how well a freshly-pressed novel will mirror our current state of affairs—personally or politically.
Julia Stoops' debut novel, Parts Per Million speaks to this magic and power of the written word. A novel that not only gives its audience a complex and thrilling read, Parts Per Million also hits on themes so relevant to our world today that it's surprising to learn the first draft of this story was written after a paradigm shift in politics during the early 2000s.
"The height of the Bush administration was an absurd, fascinating, propaganda-filled, scary time in American history. As I was living through it I felt compelled to record the experience," Stoops says of the time and setting of her novel.
But if an author writes in response to actual political events, why not publish the work as an editorial read or a book of nonfiction? Because as Stoops says, "Fiction…has entertainment value and has lasting power (compared with a news story), [and] seemed like a good alternative tactic, a way to give voice to a point of view that was being shut out of the conversation."
Parts Per Million gives voice to several points of view, on the page and in theory, as Stoops builds a story about three political activists in Portland, Oregon: Nelson, a convert from a governmental employee with the Forest Service to a grassroots undercover renegade; Jen, a fervent activist willing to go to any lengths to expose injustice; and Fetzer, a middle-aged, seasoned revolutionary who struggles to find balance—and his place—along a fluid continuum of passive to extreme resistance.
In the first few pages of Stoops' novel, we get a glimpse into the different perspectives of these three characters. Sitting in the dark, waiting to film the firebombing of a barn to release wild horses in captivity, we find Nelson in mental limbo, unsure as to why he's there—"All this risk, all this danger, the worth of it. He expects the familiar jolt of purpose, but it doesn't come." We hear Jen's voice over Nelson's headset, loving every part of this protest from cause to combustion—"Burn, baby, burn!" We see Fetzer, experienced and wise, supportive of the cause but wary of the process, almost disheartened—"His head down like he's searching…the ground for a jewel, but his eyes are closed tight."
The three of them have formed Omnia Mundi, a media group that gathers and disseminates news about grassroots environmental activism, protests and actions typically ignored by mainstream media. While their work remains focused on small-scale events, they are drawn to bigger fronts when they discover a local university in quiet partnership with the Federal government to research and create military technology. Determined to expose the university, they probe deeper and uncover more sinister information about the actual project that would threaten innocent lives. Suddenly their work is noticed by a larger audience. Relationships are tested, their motivations questioned, and their actions marked by unintended consequences.
Surrounding these three activists are minor characters with powerful impact. Dedre is a photographer and struggling drug addict brought to the house by Franky, a soft soul who hangs in the shadows and provides the group with financial backing. Nelson and Fetzer grow attached to Dedre immediately but Jen remains suspicious; she—and we—wonder what damage Dedre might do. The damage, however, comes from inside the circle when Jen invites protest to the university in a way that cuts off Dedre's creative opportunities as well as endangers the lives of them all.
Nancy, the assistant to the man who holds the key to the university's Federal contract, adds another critical voice to the conversation. A personal tie to Fetzer's past, he and Nancy both spent more time in the spotlight protesting when they were younger, but she has since settled into a quieter way of activism, compromising some beliefs but holding strong to others and remaining connected. In doing so, she becomes the catalyst for change within this group as she tells them, outright, their work is important, yes. It is risky, of course. But even more concerning, it is dividing. "Those rallies of yours are all organized by white people," she says. "They tell their white friends. They advertise in white places. They don't come into the black communities and let us in on what's going on, or ask us to get involved."
Here, Stoops' story takes on even more relevance to the workings of society today, a point driven home by Nelson when he says, "'Democracy is getting together in dialogue. It's taking turns at the microphone.'" Activism is most effective when every voice on the continuum is heard, from a subdued style like Franky's to a radical voice like Jen to each one of us in between.
Parts Per Million is a novel that sticks with you for plot and pace, but also for the interesting way in which it is told. Stoops writes these different voices using different techniques: Nelson's chapters are written in 3rd person, Fetzer and Jen in 1st person. In this way, the reader is brought in close and then distanced a bit for understanding, for breathing space. Jen is an intense character—her actions set her on the edge of relationships throughout the book, and we feel this as we read her chapters. Nelson is unsure, a person looking from the outside in, and sharing his story from 3rd person gives us that same experience—we learn in the same time he does what he is capable of, good and bad. And Fetzer, in 1st person again, brings us back to those inner workings of the mind, the constant grappling with what's right, what's wrong, what's necessary.
Throughout the pages, we are also treated to another layer of story with artwork by Gabriel Liston. Illustrations at the beginning of each new section in the book act as a preview, an invitation for the reader to consider what's to come and perhaps a place to which the reader might return— because every novel carries significance for readers in either speaking to our past understanding or forcing us to consider our current state of mind.
This story as told begs the reader to ask questions of herself and her own resistance to things unjust, to consider where she might fit on the continuum of protest, how past actions —seen and unseen— might have had unintended consequences, how she might shift perspective and judgement in the future. How she might ensure dialogue beyond the last pages of the book.
+++
Julia Stoops
(
@JuliaStoops
) is an alum of Portland's Pinewood Table writing critique group. A visual artist as well as a writer, Julia Stoops is a recipient of Oregon Arts Commission Fellowships for visual arts and literature, and was a resident at the Ucross Foundation in 2016. She holds dual degrees in Visual Art and Philosophy, and she received an
MFA
in Painting from Portland State University. She has experience in alternative radio news journalism and anti-war activism, as well as a background teaching media studies, hybrid art methodologies, and history of ideas.
+
Christi Craig
(
@Christi_Craig
) lives in Wisconsin, working by day as a sign language interpreter and moonlighting as a writer, teacher, and editor. Her reviews appear in
Fiction Writers Review, Great New Books,
and
Fig Tree Books
. Her own stories and essays have been published online and in print, in such places as
The Drum
and
Hippocampus Magazine
, and forthcoming in
Stonecoast Review
. Visit her website at
christicraig.com