Book Reviews · 01/06/2020
Pain
by Zeruya Shalev
Translated by Sondra Silverstone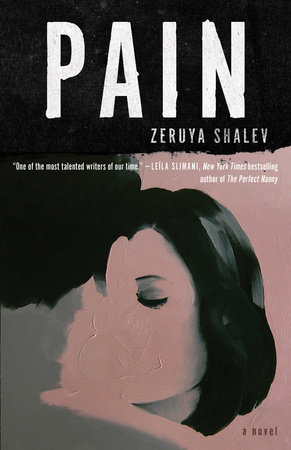 Other Press, 2019
A lot in Israeli writer Zeruya Shalev's fifth novel to be translated into English, Pain, is familiar territory. A married woman, finding herself bored with married life, seeks something better. That something better is another man, who promises to be the antidote to her boredom. Drama ensues.
In this novel's case, the woman is Iris, a woman who has climbed the ladder at her school to become its principal. Despite this, she realizes she's stuck in a sterile, loveless marriage. Her husband, Mickey, has grown unattractive. On top of that, he lacks empathy. In the opening scene, when a surge of pain — an echo from an injury sustained in a terrorist attack ten years earlier — overwhelms Iris, instead of getting her a chair to sit and rest, "he drags one toward her. But to her surprise, he sits down heavily, as if he is the one now suddenly seized by the pain." Indeed, he's an aloof companion and would rather play chess on the computer than engage with his wife. The only reason she stays with him, Iris convinces herself, is "something else much bigger that always made her feel a bit of compassion for him, a bit of guilt, which made her angry, sometimes at him and sometimes at herself."
During a check-up on a particularly long-lasting episode of pain, Iris sees her first boyfriend, Eitan. As teenagers, Eitan abruptly ended their relationship and disappeared, causing Iris to have a mental breakdown. To her surprise, Eitan is now a doctor and, while older, still as beautiful as she remembered. From there, she hatches a plan — she will have an affair. No, she will leave her husband, she will leave her family, she will start a new life, she will reunite with her first love, the love of her life. She is convinced this is her destiny. Until, of course, she is not. But then, again, she is.
Iris is a difficult character to pin down. She is neither the deluded character hit by a mid-life crisis nor is she the blameless victim in a stifling relationship. Instead, she moves between these two archetypes and what she feels she feels intensely. The present tense Shalev chooses lends itself to this intensity. Shalev also places readers, through a third-person narrator, inside Iris's head and there we are privy to her thoughts and the way it ebbs and flows — from the maniac phases of infatuation:
She feels her body fill with love as if it is an empty well finally filling with blessed rainwater , a cracked well that has been repaired and is whole now, able to contain copious waters that cannot extinguish love.
to acceptance of her middle class life:
She is no longer a teenager in love, she is a busy woman with a full life, almost too full, her cell phone is overflowing with messages, her mailbox is flooded with emails she doesn't have time to read…The fire has long since gone out, even if the smoke alarm continues to buzz.
Through Sondra Silverstone's translation, Shalev's metaphors are heavy and her writing doesn't shy away from adverbs. Character recall "coldly, almost differently," they gasp "furiously" or talk "in a hollow voice," they look at each other "hopelessly." It shouldn't work — all these words piling on top of one another — yet it matches Iris's character, her histrionics, her racing thoughts. These are what hold her captive and unable to make a choice for most of this pleasingly claustrophobic novel. One doesn't read Pain, but rather one inhabits it and its protagonist's desperate landscape, the prison she has inadvertently built for herself.
Despite being a deeply psychological portrait of one woman's mid-life crisis, Pain is not satisfied with an already overdone Madame Bovary-esque narrative where desires lead to ruin. Instead, it asks questions about our perception of the past, the way it makes our present lives with all its trappings inevitable, and — as the plot unfolds to include Iris's daughter possible involvement in a cult and her son's impending conscription into a military that took her father's life — expectations others have of us, the inheritance of trauma, and the role all of this has on our happiness.
That the novel is titled Pain is also important. Of course, there is a lot of pain here — from the physical pain Iris experiences in the terrorist attack to the pain of misunderstanding between family members. By exploring instances of pain, Shalev asks what do those who cause us pain owe us and what do we owe those who we cause pain to? How do we move beyond the injuries inflicted on us and how do we find a path towards atonement? And what about the pain caused by institutions — the military, religion, a country's government?
A recurrent theme throughout the novel is violence on a large scale — Iris's father's death during the Yom Kippur War, the terrorist attack made against Israel's treatment of Palestinians, and the government's compulsory enlistment that threatens to take away her children and "devour" them in armed conflicts that are part and parcel of "this turbulent country." These pains, Shalev suggests, lead to more pain, revealing a world that's in essence a web of people wronged and injuries sustained. One might be tempted to read Pain as a metaphor for Israeli-Palestinian relations or criticism of Israel's policies and history, yet Shalev never reaches for allegory and is never didactic.
In the end, Pain is not merely about an affair or a mid-life crisis. Shalev instead takes a story of love and obsession under a microscope, prods its mechanics, and shows us something completely different from what we expected, the tropes we're used to, the narrative arc we thought was to come. The result is a highly original novel that asks tough questions about the moral duties we have to those we hurt.
+++
Zeruya Shalev was born at Kibbutz Kinneret. She is the author of four previous novels, The Remains of Love, Love Life, Husband and Wife, and Thera, and a book of poetry and two children's books. Her work has been translated into twenty-seven languages and won multiple awards, including the Corine International Book Prize, the Welt Literature Award, and the Prix Femina étranger.
+
Sondra Silverston is a native New Yorker who has been living in Israel since 1970. Among her published translations Amos Oz's Between Friends, which won the 2013 National Jewish Book Award for fiction, Eshkol Nevo's Homesick, which was long-listed for the Independent Foreign Fiction Prize, and works by Etgar Keret, Ayelet Gundar-Goshen, Alona Frankel, and Savyon Liebrecht.
+
Eric Nguyen is a writer based in Washington, DC.