Book Reviews · 06/01/2014
Out of Dublin
by Ethel Rohan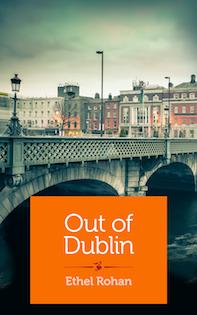 Shebooks, 2014
The opening lines of Ethel Rohan's short memoir Out of Dublin immediately signal the difficult subject matter that Rohan is about to tackle:
Two-hundred-and-six bones hold the typical adult together. When we first arrive, our skeleton contains three hundred hard, slick parts the color of teeth, and then life takes out some bones.
There is birth here, and with it the inescapable reference to a mother. She gives us this image of an infant, its intact shape, by inference its perfection, and then she quickly subverts the idea by superimposing an adult with missing parts. This implies a journey, likely a painful one. Rohan accomplishes so much in these two sentences solely by implication and tone—death, illness, pain, even loss of innocence.
What follows this careful opening begins with a childhood sketch: place of birth, family set-up, holidays, sibling interactions, portraits of a mother and a father. Rohan is wonderful at situating herself as the observant child, layering pertinent detail and remembered feeling in such a way as to re-create the high pitch and quick shift of a child's developing emotional universe:
…toward the end of our night out, my sisters, identical twins and about eight-years-old then, getting up on the stage to sing into a microphone and afterwards the cheers and applause and my beautiful sisters—their Irish skin, eyes, and hair the impossible color of coconut shells—beaming out at the audience and my wanting my share of all that, too, but my parents saying, no, you sit down, you can't sing, and they were right, I can't sing, but I didn't know that back then, I just knew I wasn't beautiful, and my brothers sniggering ha ha ha, you can't sing, and another frothy pint for Dad and another ambercolored brandy and red lemonade for Mammy, and another burning cigarette each, their two mouths dragging hard on each inhale, as though they needed the nicotine more than air, those cigarette tips fiery red and then dulling to ash, and so on igniting and dying igniting and dying, and meanwhile fizzy orange for the six children, and packets of salt crisps and peanuts all round, and later in the cave-like dark of the caravan Mammy kissing us all goodnight, her breath laced with smoke and the tang of hard spirits. For a long time I didn't sleep, thinking how I hadn't sang, how I hadn't gotten heard.
But once this set-up is accomplished, Rohan quickly moves us to the heart of this short memoir, toward her mother's dual illnesses, both gravely serious, and how they affected a family with six children, how they affected Rohan as a young girl, a teenager, and finally a woman brave enough to leave it all behind and immigrate to America. These are riveting portraits even if Rohan rushes us through them. There is room for much more, but this swiftness actually works to create an incredible intensity, giving the reader the sense that this life lived was extreme in its feeling, no matter the shade.
There are great traumas here—sexual abuse, a drawn-out death, a fairly unexpected one, and the ever-present combination of the pain and exhilaration that comes from being separated from one's family—but one of the most engaging aspects of Out of Dublin is how passionately Rohan treats them all. Not in the sense that these difficult moments become a source of creative ecstasy—the risk for any memoir, I believe, despite authorial intention—but instead that each trauma is transformed into a precious, even sacred object—brittle or enraging or sorrowful, yes, but always vivid, always luminous—for Rohan to puzzle over, to pore herself into its study. It is this studying that makes her writing so powerful. Again, that image of the observant child returns, a being with great feeling but insatiably curious to understand the import, the texture and depth, the effect of these difficult moments on a person. On a body. On a family.
The writing also involves several wonderful shifts in narrative structure, movements both toward and away varying levels of lyricism. When relating the moments of each of her parents' deaths, the writing is economical, literal, even spare. These are not moments in need of extravagant polishing, but which call for honesty, carefulness, the perfect word. But when it is time to treat the metaphysical, the sending off of a spirit through ritual and emotional processing, here the text is transformed through a lyrical movement that becomes nearly poetry:
My sisters and I, we tested our strength. On the Tuesday, with our brothers, we carried Dad's coffin from his house and out to the shiny hearse. Inside voice said fool, said we'd drop him, said coffin crack asunder, said he'd roll and break, said serve you right for wanting spectacle. Serve. You. Right.
We carried. From the house to the hearse. From the hearse and across the churchyard and up the stone steps and along the aisle to the altar. Heavy. Heavy nothing like my mother. Heavy hard to breathe. Heavy hard to keep my eyes open. Heavy hard to stay standing. To keep walking.
Rohan begins her memoir with that image of a skeleton, which is easily considered a foundational structure, an invisible scaffolding and therefore a source of strength to which we owe our posture and our stature. But she deftly draws out the fragility of that underlying composition and this is, I think, one of the larger discussions prompted by Out of Dublin: the paradoxes in fundamental structures like family relationships, especially between parents and their children, and how something can be so strong (however you want to define that word) and yet so delicate, so easily transformable. Both wonderfully and horrifically complex.
+++
Raised in Dublin, Ireland,
Ethel Rohan
lives in San Francisco. She is the author of two story collections,
Goodnight Nobody
and
Cut Through the Bone,
the latter named a 2010 Notable Story Collection by the Story Prize. Winner of the 2013 Bryan MacMahon Short Story Award, Rohan's work has appeared or will appear in the
New York Times, World Literature Today,
and
PEN

America,
among many others.
+
Michelle Bailat-Jones is a writer and translator. Her début novel Fog Island Mountains won the Center for Fiction's Christopher Doheny Award and will be published by Tantor in the fall of 2014. Her translation of C.F. Ramuz's Swiss classic Beauty on Earth was published in 2013 by Onesuch Press. She is the Reviews Editor here at Necessary Fiction.