Book Reviews · 09/17/2018
Other Household Toxins
by Christopher Allen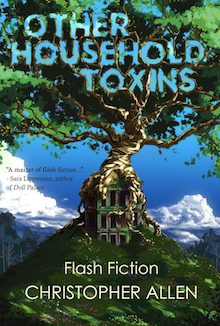 Matter Press, 2018
Writing a review of Christopher Allen's new book of flash fiction isn't easy. There is no problem reading the stories and enjoying them, but what should be said about these tiny, remarkable pieces? They are consistently unlike any other stories I've read. Allen has two clear gifts as a writer: imagination and intelligence. There are also other qualities, of course. Style, pacing, and use of metaphor are skills he has mastered. His intelligence is seen most clearly in his clear-eyed way of looking at human nature and human behavior, but also in finding the precise unexpected ways of writing these stories that leave the sense they couldn't have been written any other way.
Take the story "To Carry Her Home," placed near the end of the book. We learn nothing about what will hold the story together at the very beginning. All we know is that the narrator is collecting his sister's hair. Then we realize the narrator is covering up deep pain. The story comes to us from an angle, its seeming offhandedness an illusion we are soon made to see through. We suspect the narrator's sister is dead from the start, but can't be sure. What we do learn is that "My twin sister's hair snakes through the carpets, coils in pillowcase corners, spider webs from plants and lamps." It's as though the dead hair is still seeking a purpose. Hair is what holds this story, built on misdirection, together. It is the perfect motif in a story about the thin but strong coils that hold us close to those we love, whether they be alive or dead. The narrator is gathering her hair to make something, maybe even a "clip-on sister ponytail." By time it was delivered, I found that line to be almost more than I could take.
"To Carry Her Home" is only one of many powerful pieces in Other Household Toxins. The longest story is titled "Fred's Massive Sorrow." When I first read the title I expected a story focused on Fred, not a story about a tree that grows to a massive size over the years until it's completely occupied the apartment building that Fred's lost love lived in. The story, like the tree, is fresh and wild, but it was the subtleties that caused me to place the book on my table and look out the window several times while reading. We learn that Tanna, the woman who dumps talkative Fred, has a background vital to her actions because Allen tells us this casually, in a way that allows us to see all her humanity. At first she seems heartless and frivolous. Then we learn of her childhood, and suddenly Tanna has new dimensions. The story is centered around characters who live in the building and we learn who they are as the years come and go and come back again while a living being slowly occupies their homes. Time is seldom made so vivid.
Many of the stories thrive on motifs that are imaginative and off-centered. But we shouldn't become hung-up on the motifs. A lesser writer would let their strangeness carry the story. But these stories with fresh motifs also have something else. They have compassion. A sort of defiant humanness holds each one up. In "Providence," the narrator lets us know with the first sentence that "My father tells me the constant rush of water through our town is the whoosh of the world going round." I stopped and read this sentence over a few times. It isn't one we're likely to find elsewhere. "Silence in the town is never silent" he tells us in the next paragraph and we are left standing on one foot, trying to get our bearings. The answer of course is to keep reading about the narrator's plans to leave the noisy town. He needs some place quieter. His desperation stews beneath the prose. Then his young son brings him some items he thinks they'll need to take to their new home: air in a jar, animal crackers, and the tiny river on his palm. The river is as necessary to the child as air and animal crackers. It's what he knows and suddenly we know there is no escaping the river.
There is no other writer of flash fiction like Christopher Allen. He gives us the opportunity to ride along with his imagination as it works. Then we discover the core of the story and we learn we are reading truly remarkable fiction. Compassion is what makes his stories ride along with us long after we've put the book down. When we finish reading a story we have seen both the peculiar side of human behavior and, perhaps, the not so peculiar.
+++
Christopher Allen's
short fiction has garnered acclaim from
Glimmer Train, SmokeLong Quarterly, Literal Latte, Indiana Review,
and others. He is also the author of
Conversations with S. Teri O'Type (a Satire)
and is currently the managing editor of
SmokeLong Quarterly
. Originally from Tennessee, he now lives somewhere in Europe. Find him online at
www.imustbeoff.com
.
+
John Riley works in educational publishing. His poetry and fiction has been published in Metazen, Blue Five Notebook, Connotation Press, Willows Wept Review, The Dead Mule, and many other journals both online and in print.