Book Reviews · 07/01/2019
One, No One, and One Hundred Thousand
by Luigi Pirandello
Translated by William Weaver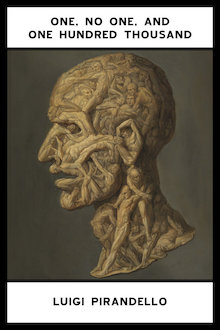 Spurl Editions, 2018
Today, Luigi Pirandello is best known as a playwright. He won the 1934 Nobel Prize in Literature primarily "for his bold and ingenious revival of dramatic and scenic art," and with plays such as Six Characters in Search of an Author, he influenced such dramatists as Jean Anouilh, Jean-Paul Sartre, Eugène Ionesco, and Samuel Beckett. In his lifetime, though, Pirandello (who was born in 1867 in Sicily and died in 1936 in Rome) wrote poetry, short stories, and novels in addition to plays.
Among his six novels, One, No One, and One Hundred Thousand was a longtime obsession for him. He began writing the novel around 1909, possibly earlier, and worked on it for years, finally publishing it in La fiera letteraria in installments from December 1925 through June 1926. Pirandello's son, Stefano, wrote a preface to this publication, in which he addressed his father directly: "For fifteen years it was the motive that made you work with such alacrity. A tormenting refuge. Also avoided at times, I know, and feared." Pirandello himself called the novel an "epilogue" of his work in the theater, because it epitomized the themes with which his plays were concerned. For those of us who are unfamiliar with his plays, however, the reissuing by Spurl Editions of the translation of One, No One, and One Hundred Thousand by William Weaver (first published in 1990) is a welcome and entertaining introduction to Pirandello's work.
The novel tells about the unraveling of the life of its protagonist, the wealthy, idle, twenty-eight-year-old Vitangelo Moscarda. His crisis begins with what would seem to be a trivial mistake. He is examining his nose in the mirror because of a "little pain" he feels inside one nostril, and his wife says, "I thought you were looking to see which way it tilts." This observation that his nose tilts to the right is news to Moscarda, as are a number of his wife's other observations: that his eyebrows are like circumflex accents over his eyes, that his ears are "badly placed," and so on. Moscarda's nature, he says, is "to plunge, at every word addressed to me, at every gnat I saw flying, into abysses of reflection and consideration that burrowed deep inside me and hollowed my spirit up, down, and across, like the lair of a mole, with nothing evident on the surface"; and plunge he does, into pages and pages of reflection and consideration on the fact that the Moscarda who he thought he was is not the Moscarda his wife or anyone else sees. "If for the others I was not the one I had always believed I was for myself, who was I?" he asks.
The idea that one is not the same for others as for oneself, and that who one is for others varies depending on who that other is — a spouse, family member, friend, neighbor, colleague, or stranger — is likely not new to most readers today. Everyone knows that the shiny happiness that people present on Instagram, for example, is (if not a complete lie) only one facet of their actual lives. And everyone knows that the self one presents at the office is different from the self one presents to one's friends, which in turn is different from the self one presents at home, and so on. True, our awareness of this reality is so common and unremarkable due in part to the work of such writers and thinkers as Pirandello. Nevertheless, to a contemporary reader, much of Moscarda's prolonged justification of his views seems unnecessary, as does his assumption that readers (whom, irritatingly though perhaps unsurprisingly, he addresses as "gentlemen") will find his assertions about the nature of the self to be implausible.
At the same time, the language with which Moscarda expresses and explores his views is a pleasurable amalgamation of philosophy and poetry. For example, Moscarda's childlike attempts to catch a glimpse of what he calls the "outsider" within himself in a mirror are compelling, as is the language with which he expresses the self-estrangement he experiences when he is finally able to see that outsider:
He was there, like a stray dog, without master and without name, the one could call Flik, and another Flok, however they chose. He knew nothing, nor did he know himself; he lived to be living, and didn't know he was living; his heart beat, and he didn't know it; he breathed, and he didn't know it; he moved his eyelids, and wasn't aware of it.
Similarly, Moscarda meditates on the existence of the earth and the trees, "which seem to us to live purely for the sake of living," he says; and he asks, whether "those luminous things sailing up there through the boundless blue void are clouds? Do they perhaps know they're clouds? Nor do the tree and the stone know, since they don't know themselves either; and they are alone." He envies the unconstructed reality of the earth, trees, clouds, and stones, and decides "to discover who I was at least for those closest to me, my so-called acquaintances, and to amuse myself by dismantling spitefully the me that I was for them."
Moscarda's spite is not so much for others as it is for who he is in the eyes of others. Indeed, the essence of his crisis is that for the first time in his life, he sees himself as others do, and he does not like what he sees: "one who lived calmly and idly on the usury" of the bank he inherited from his father and that he relies on others to run. To liberate himself, Moscarda must destroy this legacy, which he does publicly, and spectacularly. Following along as he does so is deeply satisfying, though unsettling. According to Moscarda, if you, the reader, truly understood the nature of reality as he understood it, then you, too, would commit the same follies as he. Though certainly no small part of why more of us do not attempt to live more "purely," like the earth and the trees, as Moscarda does, is because to do so is to find oneself living utterly alone.
+++
Luigi Pirandello (1867–1936) was an Italian novelist, short-story writer, and playwright. His best-known works include the novel The Late Mattia Pascal, in which the narrator one day discovers that he has been declared dead, as well as the groundbreaking plays Six Characters in Search of an Author and Henry IV, which prefigured the Theater of the Absurd. In 1926, Pirandello published One, No One, and One Hundred Thousand, which he had been writing for the previous seventeen years. He was awarded the Nobel Prize for Literature in 1934.
+
William Weaver (1923–2013) was a renowned translator who brought some of the most interesting Italian works into English. He translated Italo Calvino, Pier Paolo Pasolini, Italo Svevo, Umberto Eco, Alberto Moravia, and Elsa Morante, to name just a few, as well as Pirandello's The Late Mattia Pascal. An expert on opera, Weaver lived for many years in a farmhouse in Tuscany and later became a professor of literature at Bard College.
+
Rachael Nevins is a Brooklyn-based freelance writer whose poetry, essays, and book reviews have appeared in Rattle, Brooklyn Poets Anthology, Literary Mama, Hazlitt, Publishers Weekly, the Ploughshares Blog, and elsewhere. She teaches Online Advanced Poetry for The Writers Studio.