Book Reviews · 08/14/2017
Not One Day
by Anne Garréta
Translated by Emma Ramadan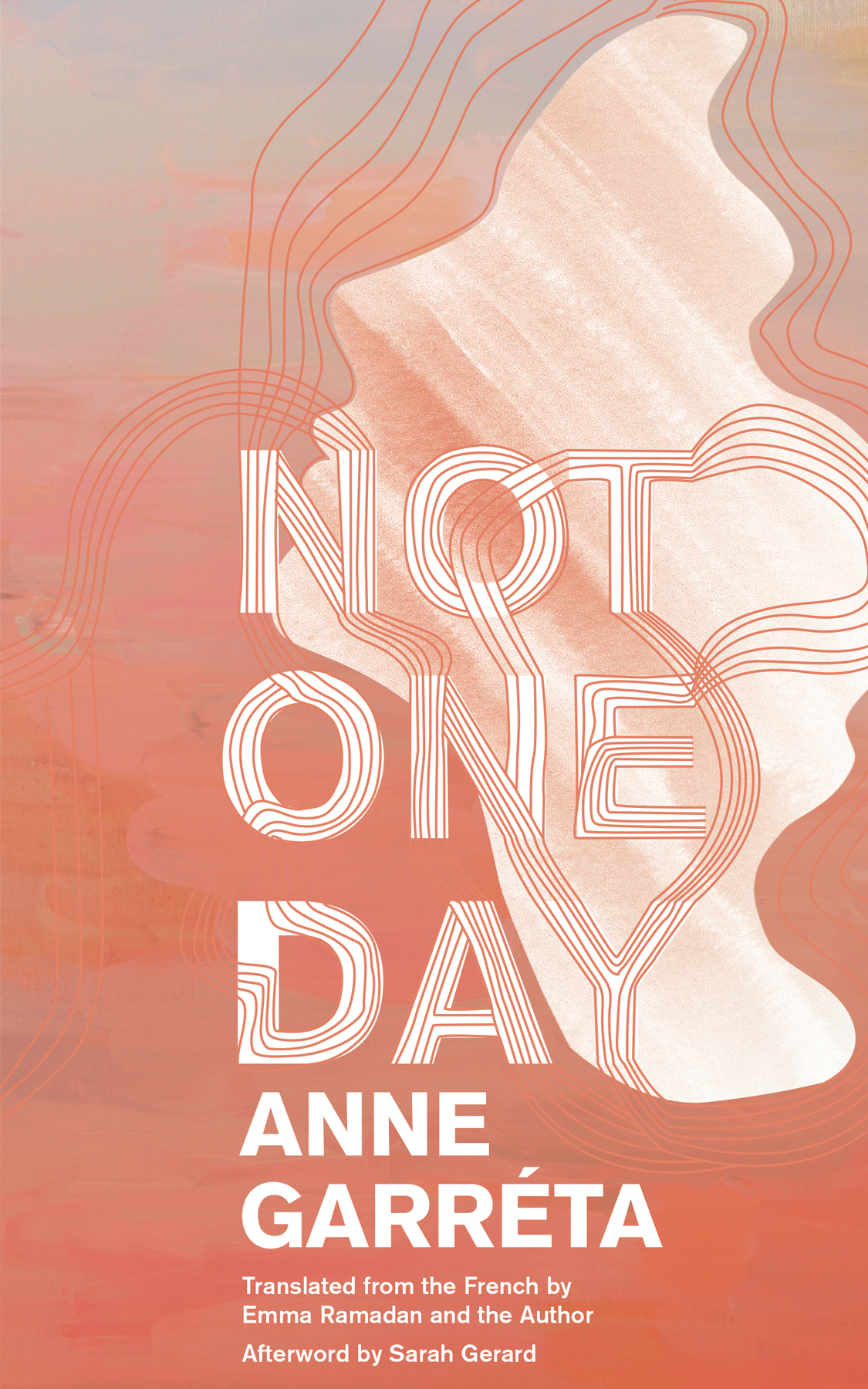 Deep Vellum, 2017
Garréta, a member of Oulipo and author of the award-winning novel, Sphinx, begins with a question—what should she do to keep her readers engaged while they are waiting on her next novel? She creates a challenge for herself, to write something different. She conceives of a series of confessional essays based solely on her memories of women she has desired (or been desired by), each composed during a daily five-hour writing session. The resulting collection, Not One Day, translated from the French by Emma Ramadan, is Garréta's first foray into "confession, or …scrap[ing] the bottom of mirrors."
Therein lies the challenge of reading Not One Day: Garréta's attitude toward her project vacillates between discomfort, embarrassment, and outright disdain, an attitude that grates by the end of the book. Fifteen of ninety-five pages are spent contextualizing and justifying the project. Second-person narration effectively distances the author from her subject, and is at times disorienting for the reader. In the postscript, Garréta reveals the constraints she kept to and the ones she violated during the writing process; she also anticipates and rebuts the responses of lovers she included in the book, lovers she didn't include in the book, her family members, and critics. After giving an early warning that "no subject ever expresses herself in any narration," Garréta characterizes confessional writers as an "orgy of pen pushers devoutly pimping their own asses." The glimpses of Garréta's literary self-image and insecurities seem more genuinely (if unintentionally) portrayed than the woman readers get to know through the romantic encounters that compose the bulk of the book.
Despite the author's discomfort with some aspects of the project, the pleasures of Not One Day are many. Each chapter is a revelation, a new prism through which we may view the protagonist, and desire itself. Through twelve chapters, ordered out of chronology and labeled alphabetically, Garréta surprises the reader again and again with her subjects, human and inanimate, known and anonymous. Our narrator restrains herself, gives into desire, desires to forget, remembers with astonishment, is left alone, recalls a powerful desire for the beyond-human, pushes the boundaries of a friendship, empathizes with a child, stakes her claim to a trophy lover, and is marked by a lover who leaves a scar, desire finally made concrete and visible.
Memory is a central theme, both its unreliability and the perspective it brings to past events. The narrator is stunned remembering a one-night stand, accessing events but unable to recall her feelings at the time. "Vanished from your memory: what you can't have then helped but think of that night whose constrained coldness, whose paradoxical cruelty and vain anxiety today astonish you." There is something to learn from remembering, though it is almost sure to be painful.
At the halfway point, we encounter a non-living, non-human object of desire. The author's surprise and bewilderment at writing this topic is overtaken by her compelling road trips through America, where she spends part of every year teaching college. This chapter's more mysterious wanting, and its ambiguous fulfillment, bears up the reader for the next. The story of K* contains one of the book's two lapses into first person, hinting perhaps that this is where the author's emotions overwhelm her carefully constructed distance from the material. "…you still didn't know when you began writing tonight, but you loved K*, and I suddenly feel with a five-year delay the devastation of having lost a woman that I loved (that you loved?) without ever having known it." Garréta's brief use of first person narration provides a revelatory glimpse into experiences that transcend her ability to analyze.
The book's framework will attract readers drawn to confessional writing, who may in turn be frustrated by the author's disdain for it. Garréta ultimately concludes that the book has something to contribute to our understanding of literature and culture.
While contemplating one of her lovers, a fellow writer, Garréta explains that "…a novel is like a car: any amateur mechanic knows upon inspection the type, its most common pathologies, and the structure of the engine. There are a few common models, a miniscule amount of rare ones that force you to revise your understanding, oblige you to dismantle them completely to understand their workings." Garréta has written such a book: rooted in true-life events, filtered through memory, and driven by her desire to write well, no matter the genre: "…life is too short to resign ourselves to reading poorly written books and sleeping with women we don't love."
+++
Anne F. Garréta is the first member of the Oulipo to be born after the founding of the Oulipo. A normalien (graduate of France's prestigious École normale supérieure) and lecturer at the University of Rennes II since 1995, Anne F. Garréta was co-opted into the Oulipo in April 2000. She teaches at Duke University as a Research Professor of Literature and Romance Studies. Her first novel, Sphinx (Grasset, 1986), hailed by critics, tells a love story between two people without giving any indication of grammatical gender for the narrator or the narrator's love interest, A***. Her second novel, Ciels liquides (Grasset, 1990), tells the fate of a character losing the use of language. In La Décomposition (Grasset, 1999), a serial killer methodically murders characters from Marcel Proust's In Search of Lost Time. Garréta met Oulipian Jacques Roubaud in Vienna in 1993, and was invited to present her work at an Oulipo seminar in March 1994 and again in May 2000, which led to her joining the Oulipo. She won France's prestigious Prix Médicis in 2002, awarded each year to an author whose "fame does not yet match their talent."
+
Rachel Mack
is a writer and a practicing therapist living in Louisville, KY. She is working on a memoir. She collects her writing at
rachel-mack.tumblr.com
.