Book Reviews · 03/27/2017
None Like Her
by Jela Krečič
Translated by Olivia Hellewell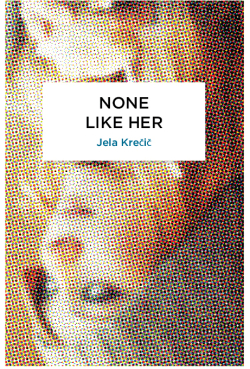 Peter Owen/Istros Books, 2016
Slovene journalist Jela Krečič, known for her contributions to Slovenia's national paper Delo, where she published her 2013 interview with Wikileaks founder Julian Assange, has arrived with her first literary endeavor. None Like Her, a novel translated from the Slovenian by Olivia Hellewell, and one of the first titles in the Peter Owen World Series in association with Istros Books, follows the post-breakup life of a male millennial photographer named Matjaž, living in the Slovenian capital of Ljubljana. The novel presents itself as a kind of quest, with Matjaž looking to prove to his friends that he is over his ex-girlfriend by going on a series of dates, chapter by chapter, with various women. None Like Her takes a hard look at the challenges of romance for Generation Y in a setting that is unique and uncharted.
None Like Her follows the occasionally insufferable, reflexively misogynistic Matjaž as he looks to prove to his friends that he can move on from his previous relationship with a girl named Sara. The book is broken down into chapters based on Matjaž's various dates with the women he meets while socializing and drinking at Ljubljana's most popular twenty-something haunts. This overtly linear form can become tiresome after the third or fourth encounter, but the "new chapter, new girl" constraint proves to be entertaining enough. Each girl Matjaž comes across brings something new to the table; from the intellectual to the curiously inane. These dates end up leading nowhere for the most part, never fully materializing into anything serious enough. Each rendezvous is often accented by Matjaž's snide, cynical comments, and oversized, thick-headed masculinity: "The more she spoke, the less attractive she seemed to Matjaž."
There are also moments within None Like Her that reveal Matjaž to be self-deprecating and fully capable of providing uncharacteristic witticisms and critiques of masculinity: "Don't ever be taken in by male superiority—there are usually small, frightened souls hiding behind that arrogance."
Moments like this make it much harder to pin down the many different aspects of Matjaž's personality presented within Krečič's debut novel. There's the crypto misogynist, the sports obsessed lad—"What was one girl in comparison with El Clásico between Barcelona and Real?"—the sensitive photographer, the snarky cynic, the relationship sage, among others. During a chapter titled "Stela," Matjaž unknowingly meets a transgender woman at a bar in Metelkova and takes her home. After finding out that Stela is transgender, Matjaž reveals a certain tenderness and sympathy towards her, that previously hadn't been shown in the novel: "Matjaž was overcome with a feeling he was not entirely used to. He felt sorry for Stela."
It's possible Matjaž represents the prototypical Slovene man of Generation Y, a man that may possess vaguely misogynistic tendencies, but is also a man struggling to find an identity. In another light, Matjaž could be seen as a simple literary provocation, a reflexive misogynist par excellence for the reader to judge.
Matjaž's main group of friends are a cross-section of millennial Ljubljana, a broad sample of lawyers and hipsters, who seem to virtually live at the bars scattered across the artsy and bohemian Metelkova neighborhood. Matjaž's best friend Aleksander gives fairly chauvinistic commentary to Matjaž about his dates. Apart from Aleksander, Matjaž comes across as routinely unbearable to many of his friends, and his cynical attitudes are only amplified when he comes across old acquaintances who have various high paying careers and children. Matjaž hardly ever ruminates on the possibility of children and marriage, which makes his romantic pursuits in the novel feel flat, empty, and inconsequential.
From a style perspective, None Like Her is fairly un stylized. The prose here is direct and the third person point of view does give a journalistic feel to the proceedings. The bareness and somewhat sterile nature of the language lends itself more to utility than any kind of aesthetic, and serves its purpose to move the linear plot forward. None Like Her is also heavily dialogue driven, which at times, proves to be one of the novel's main liabilities. The dialogue can come across as clunky, and is often riddled with the kind of adverb abuse that becomes tiresome after a while. This could all be partially due to the translation which is capable—if unexceptional at times.
Eventually, Matjaž meets up with his ex-girlfriend Sara, and discovers that their previous romance has dissipated. After their meetup, Matjaž admits to Aleksander that his spark for Sara has faded and that he's going to break with his method of meeting women:
…I'm going to stop looking! None of this has got me anywhere, clearly. I'm just going to stop looking,' he said cockily.
The novel could have easily ended at this juncture, but it carries on for some eighty pages, with Matjaž spending some time at a wedding with a previous date, Brigita. The novel concludes with an epiphany for Matjaž on the nature of love and relationships:
I have gone through a year with all sorts of encounters with all kinds of women, and I have had to become the most humble slave to the fact that there are no rules for a good relationship. Every love has its own rules, which establish themselves through the fantasies or the various transgressions of every lover – both male and female.
This suggests that by the novel's conclusion Matjaž has gleaned, if not love, some kind of new knowledge of love.
If the intent of None Like Her was to reflect the codes and daily minutiae of relationships for twenty-somethings in Slovenia, then it is a vague success. Despite None Like Her teetering towards stylistic and thematic stagnation, it is charming enough throughout, and presents an interesting glimpse of Generation Y trying to find themselves in Slovenia's capital city, in a country that is very much trying to do the same.
+++
Jela Krečič Žižek is a Slovene journalist, columnist and philosopher. Her philosophical research focuses on films, TV series, and aesthetics, and she has conducted several studies on these topics. She has also co-edited a number of anthologies on contemporary TV series and on the German American film director, Ernst Lubitsch. Her essay was published in the English anthology Lubitsch Can't Wait (Columbia University Press, 2014). Ni Druge (None Like Her), her literary debut, was well received critically when published in Slovenia in 2015 and now appears in English for the first time.
+
Olivia Hellewell is a literary translator from Slovenia and a doctoral researcher at the University of Nottingham. She was awarded the Rado L. Lenček prize in 2013 by the Society for Slovene Studies for her essay on translating the poetry of Dane Zajc. Her current Ph.D. research explores the sociocultural functions of translated literature in Slovenia since 1991. She has previously translated a selection of short stories, poems, and literary extracts including the prize-winning "Dry Season" by Gabriela Babnik for the European Commission's European Union Prize for Literature. None Like Her marks her full-length literary translation debut.
+
Michael Browne
is a writer and publicist based in Los Angeles. His work has recently appeared in
Westwind
and
Entropy
, and he is currently working on a debut chapbook. Michael also writes reviews for
Angel City Review
and can be found on Twitter here:
@BrowneLaurence
.