Book Reviews · 04/11/2011
Nahoonkara
by Peter Grandbois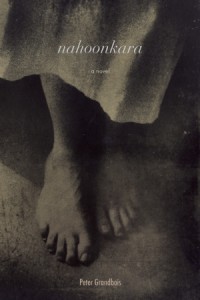 Etruscan Press, Feb 2011
Unlike many writers who write the same story over and over, Grandbois' first two books have been radically different. His third book, Nahoonkara, follows the pattern. It's a pensive cacophony of personalities and perception. It's part western and part magical realism—think Gabriel Garcia L'Amour—and part Native American Spirit Journey framed by the ramblings of a schizophrenic spirit-entity amnesiac. Sound twisted? It is, but the story flows so fluidly from alpha to omega, even while moving back and forth through time and space, that it all seems natural in the end.
The reader is introduced to most of the book's cast by a second-person narrator, the aforementioned schizophrenic spirit-entity amnesiac, as it recalls bits and pieces of its own or of other beings' lives. This voice frames the book, and within that frame the reader is presented with first-person vignettes that constitute the story's meat and potatoes. The vignettes are sometimes in chronological order, sometimes not, but all take place in Wisconsin and Colorado between 1854 and the 1890s. They relate important events and turning points in the lives of the main characters, culminating in a final familial disenfranchisement and, ultimately, a sense of wonder.
If the book's title intrigues you, it should. Within the book, the word Nahoonkara is never explained except through context and implication. It seems to be a raised standard, a rallying point for the idea that "it doesn't matter if our memories are real or imagined. Our best hope is to dream, even if imperfectly, who and what we are. To dream and tell the tale." In other words, Nahoonkara speaks to the nature of memory and its relationship with imagination. Early on the spirit entity asks, speaking of the character Killian, "He'll make up his own ending, and who is to say it didn't actually happen that way?" One might argue that such looseness with what we consider "reality" is a mistake—we have to get the facts straight, right? But who hasn't misremembered events from their past, or things parents or employers told them to do? Much of the book is carried by the different ways each of the other first-person narrators perceive and remember many of their shared experiences. This is all the more relevant when we think about how easy it is to fabricate or enhance our own memories without even realizing it. We've all played the phone game at some point, in some form.
Another pervasive idea in Nahoonkara is the sense of communion between life and death, the present and the past, a kind of anchorless spirituality channeled through Killian. In the only vignette told from his mother Meg's perspective, she talks about how hard it is to deal with the failing health of her only daughter. One of the story's most haunting moments comes during this narrative, while Meg is lying on her daughter's deathbed:
I don't know how long I sat there before Killian opened the door, staring at the both of us in bed, a look of wonder upon his face.
"What is it?" I asked him.
"A great bird," he said. "A hawk, I think. But it's shimmering." He held a hand out as if to touch it. "It's whispering something to you," he said. Then, he dropped his hand to his side and turned and ran through the door, out into the yard and down the line of elms.
We learn more about Killian's reaction in one of his later vignettes, but are left to puzzle it out until then.
And Killian is just one of three brothers whose relationship and contrasting worldviews constitute the hub around which most aspects of the story revolve. Relationships with their parents, loved ones, animals, and friends display a tapestry of interconnectedness so strange it feels real. As in real life, the characters have both virtues and faults. More importantly, each character is forced to change, and those changes drive the narrative. The tight prose and precise language are reminiscent of the rhythmic cadence of Cormac McCarthy in The Road and of Jeff Talarigo in The Ginseng Hunter. Some locations are real, some fictional, but the world they create is vital and familiar. Nahoonkara and Peter Grandbois deserve as much attention as possible, and his name is one we should look out for in years to come.
+++
Peter Grandbois
is also the author of
The Gravedigger
(Chronicle Books, 2006) and
The Arsenic Lobster: A Hybrid Memoir
(Spuyten Duyvil 2009). His essays and short fiction have appeared in magazines such as
Boulevard, The Mississippi Review, Post Road, Gargoyle, The Denver Quarterly,
and
New Orleans Review.
In October 2010, he was the Writer-in-Residence here at
Necessary Fiction,
with a serial novella
School Bus.
In addition, his translation of
San Juan: Memoir of a City
was nominated for a
PEN
Translation award. He is a professor of creative writing and contemporary literature at Denison University in Ohio.
+
Ben Forsberg is a recent graduate with an M.F.A. in Creative Writing from Wilkes University. He lives in Illinois with his wife and three (soon to be four) children. He is currently working on a novel about reverse slavery in Africa in the future.