Book Reviews · 06/11/2018
Monster Portraits
by Del Samatar and Sofia Samatar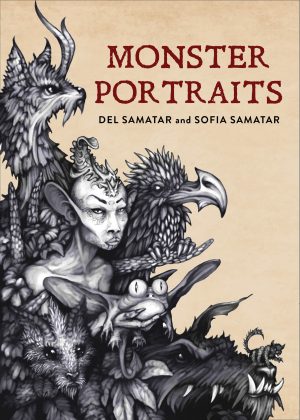 Rose Metal Press, 2018
The new book Monster Portraits, published in a beautiful, slim volume by Rose Metal Press, consists of a collection of written vignettes by Sofia Samatar, which are based on series of drawings, the monster portraits of the title, by her brother Del Samatar. Readers might expect the pieces included in such a book to be sheer fantasy, similar to Jorge Luis Borges and Margarita Guerrero's Book of Imaginary Beings, an anthology of fantastical creatures from mythology and literature, like sphinxes, gryphons and centaurs. Instead, they may be surprised to find what the author calls an "uncanny memoir," that is to say a memoir in monsters.
In February of this year, Electric Literature ran a conversation between Sofia Samatar, Carmen Maria Machado, Matthew Cheney, and Rosalind Palermo Stevenson about the new genre of "speculative memoir" and how adding monsters to your memoir can make it even more real. In it, Samatar, who is primarily a fantasy and science fiction author, and has previously written the novels A Stranger in Olondria and The Winged Histories, proclaims her work is slowly becoming more and more autobiographical. She also says that each monster she inhabited to write the book revealed another facet of her thinking and/or experience about the world.
This autobiographical element of the book is what lends the story its narrative thread. Rather than taking the form of an encyclopedia of monsters, like the Borges book, which could be read by dipping in and out of it out sporadically over a period of time, Monster Portraits takes the form of more narrative non/fiction and is best read from beginning to end in one or two sittings for maximum enjoyment. This book is an adventure the reader and authors agree to take together. It begins:
We went into the field to study monsters in their environment. We thought it would be like a holiday or a game. Instead it became a journey that lasted an indeterminate length of time…
On this voyage, the authors lead the reader through a landscape of many different kinds of monsters. Although, rather than true creatures, the monsters we meet are a metaphor for both society and what society fears. What some might call the monsters of today are the outcasts and the others, those who are treated as less thans by the straight, white, male embodiment of America. Women, people of color, immigrants, the disabled, the LGBT community. In the vignette "The Clan of the Claw," the narrator meets a Miuliu, whom she tells, as a woman and being of mixed-race, "she would be considered, in my country, a monster twice over."
In addition to the text, the beautiful black and white drawings by Del Samatar highlight this sense of otherness and oddity. In the vignette "The Knight of the Bark," the narrator speaks about how she and her brother find out about their otherness for the first time as children in school. "We inhabit a speaking world until we go to school, where they ask, 'Are you black or white?'" and the narrator and her brother have nothing to say. What is there to say when confronted with a story you yourself have never imagined? The book uses this way in which the lines between black and white, text and drawings, and fiction and nonfiction are crossed to illuminate the dichotomy of otherness and belonging.
Yet Monster Portraits isn't just a speculative memoir of Sofia Samatar herself, but also of her family. In the book, the narrator recounts a story about how her father, a Somalian man, meets an Englishman in the London Underground. The London Underground is a seemingly fitting place for fairies and goblins, but the monsters you'll find there aren't necessarily the kind you would expect. The Englishman goes on to ask her father, "Are you Abyssinian? What a magnificent species!" as if to say being from a different country doesn't even qualify you to be a human being. Who is the real monster in this scenario?
These themes of immigration and the ties of nationality are ones that recur throughout the collection. In the vignette "The Early Ones," Sofia Samatar writes,
Like all monsters, we don't belong, but our problem is time and not space. We got here too early. We always had this sense of a wrongful, unseemly arrival. We arrived before the community, before there was language to describe us, before the "Other" box on the census, before the war.
In this America, despite it being the great experiment, if you are seen as other by certain people, you are labeled as an immigrant, whether you are one or not. Samatar writes, "An elderly white woman approaches me in the park. 'Your hair, it must be naturally curly. What's your nationality?' She reaches to touch my hair. I flinch." Though their father is Somalian, Sofia and Del Samatar were both born and raised in Indiana, as their mother is a Mennonite from North Dakota.
In her "Notebook (III)," Samatar quotes a line from Clarice Lispector's novella The Hour of the Star, "Who hasn't ever wondered: am I a monster, or is this what it means to be a person?" Samatar has said that this is one of her favorite quotes in literature. Throughout Monster Portraits, the narrator and author interrogate what it means to be monstrous vs. what it means to be a human being. Can one be both at the same time? How do the two overlap with each other? It is often the people who call the others and outcasts monsters that can themselves be perceived as the real monsters. Samatar writes,"What people say: 'You call us monsters, but you are the real monsters.'"
Instead of being akin to Borges's Book of Imaginary Beings, Monster Portraits is more akin to Claudia Rankine's unclassifiable book Citizen. Both books are a collage of text and images that interrogate the culture of race, among other things such as gender, class and immigration, in America. They're books that teach you how to read them as you go. Samatar, who's a poet as well as a fiction writer, imbues the text of her vignettes with the lyricism of prose poetry, much like Rankine's work. Early in the book, Samatar says in order to create a monster, you first must have an imagination. As such, the writings and drawings in the book are as incandescent as the dreams of the Samatars' childhoods.
+++
Sofia Samatar is the author of the novels A Stranger in Olondria (Small Beer Press, 2013) and The Winged Histories (Small Beer Press, 2016), and the short story collection Tender (Small Beer Press, 2017). Her work has received the William L. Crawford Award, the John W. Campbell Award, the British Fantasy Award, and the World Fantasy Award. She teaches at James Madison University in Virginia.
+
Del Samatar holds a BA in Fine Arts from Rutgers University. He lives in New Jersey, where he is pursuing a career as a tattoo artist.
+
Eric Andrew Newman lives in Los Angeles and is from the Chicago area. He works as an archivist for a nonprofit foundation by day and as a writer of flash fiction by night. He has previously been named as a finalist for the Robert J. DeMott Short Prose Contest and Howard Frank Mosher Short Fiction Prize. His work has appeared in Cleaver, Ellipsis Zine, Exposition Review, Gargoyle, Heavy Feather Review, New Madrid, and Quarter After Eight, among others.