Book Reviews · 04/13/2015
McGlue
by Ottessa Moshfegh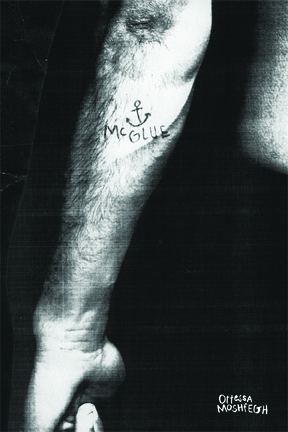 Fence Books, 2014
It's a bold authorial choice to write a novella to begin with, let alone a novella about a pair of drunken 19th century sailors and their not-so-latent homoerotic friendship. Gay shipmen on the open seas? When does McGlue the Musical come out?
But there's much, much more going on below deck with Moshfegh's lyrical gutter prose than cheap jokes about gay sailors. McGlue makes Nicolas Cage in Leaving Las Vegas look like a teetotaler. Following his best friend Johnson on an epic bender between nautical sojourns, only McGlue makes it to morning alive. Everyone seems to think that he killed Johnson. McGlue can't remember whether he did or not because he's a blackout drunk nursing a gruesome head injury along with the mother of all hangovers.
Kept in the hold for months while he detoxes and heals, McGlue slowly remembers what happened that night, diving back into the darkest memories of his childhood, giving his character a humanity that, like the walls of his cell, has a grimy, overripe texture and a vulnerability as soft as McGlue's mysterious head wound.
I wake with a fever. I know fever because there's a wet rag folded on my brow. The fag attends me bedside with a book in his lap, one leg swinging from a crabapple-shaped knee. My arms are tied to my thighs, ears shut up, face bandaged around and there's water dripping through the cracks in the deck ceiling and when I breathe I taste a harsh kick of lye and shit. On the dropped-down table slat there's an opened bottle of pickled cabbage and a cake of bread. I look up. The drops of deckwater fall in my eyes and burn. Fag wields a pale wooden tenon in his hand, arm hovering above my head motherly almost.
I open my mouth to curse.
But Fag sticks the tenon lengthwise between my teeth.
Every word is like a tenon here, its fit perfect, the join tight. There is a full integration of the historical period with the use of the crabapple and the lye. McGlue's deepest psychology is present in the pejorative naming of his agitator and his "motherly" manner. When McGlue's mother appears in flashbacks, the reader quickly discovers that it's not a stretch at all that McGlue would associate imprisonment with her treatment of him.
Moshfegh's New York City of 1851 is alive and dangerous with its seedy taverns, bleeding steaks, and perk-free card tables, a place where violence, murder, and general lawlessness lurk in the wee hours. Johnson and McGlue embark on a stumbling journey to see family while they're docked. At first, Johnson's relationship with McGlue seems brotherly, with McGlue in the role of the younger. McGlue is just a dumb drunk follower while Johnson is self-directed and violent. "Nobody knows how cruel I'd like to be," Johnson says.
A little over halfway into the book, the reader's suspicions about the true nature of the relationship between these two bare-knuckled men are confirmed. In the whorehouses that he and Johnson frequent, McGlue makes it clear that he loves women "most when they are suffering awful and full of wrath." While jailed, he can't fathom how he could have killed Johnson because he "loved" him and Johnson was one of his only friends. When he remembers the good times when he and Johnson were docked in Tahiti, McGlue's remembrance bears more than a subtle resemblance to two lovers on vacation.
I am feeling good, supping on roast meats and dark rum enough for me to sing in good spirits – which I've rarely done – and be among men without loathing. There's much to enjoy here now—the short natives' drunken dancing, the sun, the beach, the tall grasses. Johnson and I go walking in the sugar fields, find a little bridge to rest under and take a nap. When I wake up Johnson lays beside me like a drowned man. His eyes are open wide. He raises himself to look down on me. I remember this day from what he's told me.
"When we get back home," Johnson says, "I'm not living in Salem. I'll go south, where there are fields like this, but no ocean. I am not right like I'm going now. I could die on this ship, McGlue. Nothing doing but dark hearts. I would prefer to die."
If there is a flaw to Moshfegh's brilliantly observed character study, it's that even in its tightly coiled 118 pages, McGlue repeats the same set of revelations a few times before the powerful climax. When the final pages arrive and pay off in ways that are brilliant, stormy, and dark with romance, McGlue is like a friend you've known all your life finally coming out. You knew long before he'd admit his true feelings to himself.
+++
Ottessa Moshfegh is a fiction writer from Boston. She was awarded the Plimpton Discovery Prize for her stories in The Paris Review, and granted a creative writing fellowship from the National Endowment for the Arts. Rivka Galchen chose McGlue for the first annual Fence Modern Prize in Prose. Moshfegh is currently a Wallace Stegner fellow at Stanford University.
+
Leland Cheuk
's novel
The Misadventures of Sulliver Pong
is forthcoming in 2015 (CCLaP Publishing). He is a MacDowell Colony fellow, and his short fiction has appeared in publications such as
Valparaiso Fiction Review, Tahoma Literary Review
, and
Lunch Ticket
. He has an
MFA
in Creative Writing from Lesley University and lives in Brooklyn.