Book Reviews · 06/25/2018
Maybe Esther
by Katja Petrowskaja
Translated by Shelley Frisch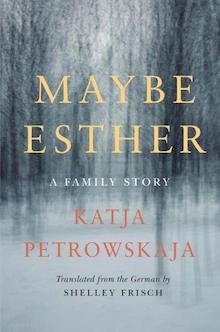 HarperCollins, 2018
Most books are like planets. However beautiful and intricate and admirable, they still feel finite and self-contained. Knowable when enjoyed with a reader's careful interest. Some books, though, are more like galaxies. They contain a vast expanse of moving parts that, while often associated, are not directly connected. And like the planets and stars held together by a galaxy's invisible gravitational force, the elements of this rarer kind of book are also often circling a center of mysterious dark matter.
Reading this second type of book is exciting but can take a little more work. By work I mean a concentration and a willingness to study, but also the patience to wait for the quiet dark and the right lens when the book's many elements might come more clearly into view.
Katja Petrowskaja's Maybe Esther is a galaxy book, by its structure and the way it orbits a central enigma. In the simplest sense it is a book about Petrowskaja's family and their relationship to several of 20th-century Europe's most devastating tragedies. In another sense, it is a book that queries how identity, geography, and language function within the context of those tragedies, but also, more generally, in terms of ordinary generational shifts of time and place. It is also, in a looser way, a research and travel narrative, recording Petrowskaja's work to unearth and archive and perhaps learn from her family's past.
When writing about a book like this, the easiest way to begin would be to describe the family's origins, the author's point of entry, and the directions, both temporal and geographic, that she would need to go to collect her details. But Maybe Esther resists this. Petrowskaja doesn't give us her family tree, even if she talks about wanting to create one:
One day, the relatives from deep in my past were suddenly standing in front of me, murmuring their merry messages in familiar-sounding languages. Well then, I thought, I'll have them make the family tree blossom, fill in the gaps, and mend the feeling of loss, but they crowded together in front of me without faces or histories, like fireflies of the past that shed light on small spaces around them, maybe a couple of streets or incidents, but not on themselves.
Instead the book references clusters of family members while it shuttles us between Poland, the Ukraine, Austria, Germany, Russia, the United States, and Israel, while also shifting backward and forward in time. There are so many people in the book, and so many places they have come to, or have left. The effect can be dizzying although Petrowskaja's nimble, specific prose (and Shelley Frisch's careful and inspired rendition of it into English)—notable also because the book was written in German, Petrowskaja's second language—anchors us in each moment as we read it, effectively shedding "light on the small spaces." This is one of the book's many delights. It's only when we step back to reflect on the whole that we begin to feel marvelously adrift.
Maybe Esther takes on so much emotional and political territory that it can feel disorienting. I mean this is a compliment, because I believe the book's offering of a slightly overwhelming reading experience is entirely intentional, and much to its point. Petrowskaja relates entire constellations of stories: the schools for deaf-mute children run by her maternal grandfather's family; the political assassin, Judas Stern, who was tried and shot in Moscow in 1932; the great-great-grandmother and great-aunt who faithfully made their way through the streets to what would become the infamous Babi Yar massacre in Kiev; the long-lost American relative who made it through a ghetto, five concentration camps and a death march, and so many more family stories, as well as Petrowskaja's own journeys around Europe. But it never feels as though Petrowskaja is sharing these stories and her questions about them in order to resolve their specific and personal mysteries. Instead, her persistent questioning and gentle paralleling to Greek tragedy and the Bible seems to suggest that the real mystery under investigation here is how did these events come to take place—historically, politically, humanly. How was all of this tragedy allowed to happen?
Maybe nature has long rooted every sort of violence in its circulatory system, the heavy steps of the armies marching through, the rich villages dying of hunger, the shell holes, the burials, and the unburied, and in the very place we seek serenity, this transformation has already taken place; with every breath and every bite of an apple we become part of it, a part of the pollution and the sin that we didn't commit, even ignorance of the laws of nature cannot free us from this sin. If Cain killed Abel and Abel didn't have any children, who, then, are we?
Variations of this question appear again and again. If Petrowskaja gives an answer it is a sly one, threaded and embedded throughout the work in the form of the book's very silences. Language is a key human connector (and Petrowskaja writes eloquently about her connection to language—to Russian, German, and Polish) but ultimately language fails. History remains mute. People stop speaking or are silenced. The book can be seen as much as an archive of silence as it is an archive of family legend and long-sought detail. The 20th century is spread out for us here in its vast dark territory.
And so finally her choice to write the book in a second language seems particularly fitting, not just because she wields the "enemy's" words to write the story—
My German, truth and illusion, the language of the enemy, was an outlet, a second life, a love that does not leave if it does not get, a gift and a goad, as if I had set a bird loose.
—but also because the occasional but inescapable gaps and silences that occur when writing outside her native language suit her project perfectly. To put it another way, after reading Maybe Esther it occurs to me that writing in a mastered language, the one that will never fail you, about a subject that will always fail you could be considered esthetically immoral.
+++
Katja Petrowskaja was born in 1970 in Kiev. She studied at the University of Tartu, Estonia, and was also awarded research fellowships to study at Columbia University in New York, and Stanford in California. Katja Petrowskaja received her PhD in Moscow. Since 1999, she has lived and worked in Berlin. Maybe Esther is her first book, and is translated into 20 languages.
+
Shelley Frisch
(Ph.D. in German literature from Princeton University) taught at Columbia University and Haverford College, where she served as Chair of the German Department before turning to translation full-time in the 1990s. Her many translations from the German include Reiner Stach's monumental three-volume Kafka biography, for which she was awarded the Modern Language Association's Aldo and Jeanne Scaglione Translation Prize and the Helen and Kurt Wolff Translator's Prize; it was also longlisted for the
PEN
Translation Prize and the National Translation Award. She has translated biographies of Nietzsche, Einstein, and Leonardo da Vinci, and her translation of Karin Wieland's
Dietrich and Riefenstahl: Hollywood, Berlin, and a Century in Two Lives,
a finalist for the National Book Critics Circle Award, has now been optioned for a film. Frisch co-directs international translation workshops, and is currently serving on several translation juries while translating a set of correspondence for
NYRB
and a book about divided Berlin for Simon & Schuster. A podcast describing her views on "Voice in Translation" can be found here: https://paw.princeton.edu/podcast/january-2017-shelley-frisch-81-voice-translation.
+
Michelle Bailat-Jones
is a translator and writer. Her novel,
Fog Island Mountains,
won the 2013 Christopher Doheny Award from The Center for Fiction. Her second novel,
Unfurled,
is forthcoming in October 2018 (Ig Publishing). She has translated two novels from celebrated Swiss author Charles Ferdinand Ramuz,
Beauty on Earth
(Skomlin, 2013) and
What if the Sun…
(Skomlin, 2016) as well as work from Claude Cahun, Julia Allard Daudet, Laure Mi-Hyun Croset and Céline Cerny. Her fiction, translations, poetry, and criticism have appeared in
The Kenyon Review, Hayden's Ferry Review, The Rumpus, Necessary Fiction, The Quarterly Conversation, Cerise Press, Two Serious Ladies
and
PANK
.