Book Reviews · 09/01/2014
Long Hidden: Speculative Fiction from the Margins of History
Edited by Rose Fox and Daniel José Older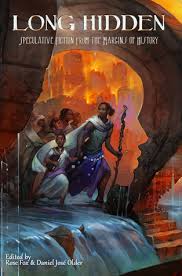 Long Hidden, 2014
The stories in Long Hidden summon the fabulist landscape of remote lands and rare creatures of myth, give or take a zombie and a couple of werewolves. For all its rollicking and twisting plots, most of the stories are embedded in critique: confronting and overturning the notion that magical agency belongs only to those who are male, straight, gender conforming, able-bodied, and white.
The theme of transformation is prevalent throughout the anthology. The use of magic as an agent for personal change or awareness isn't homogenized. Instead, magic is applied as a spring of enlightenment not a fix-it tool for plot holes. The resulting stories are fresh rather than flat.
Characters in the collection are marked outsiders, and as such, the bulk of the stories play upon the dichotomies between the exterior world/embodiment and the interior self. Nghi Vo's "Neither Witch Nor Fairy" turns a transgender woman from an outward love for her brother toward an inward recognition of her own identity. A panoply of magical love stories is crowned by Ken Liu's "Knotting Grass, Holding Ring," an engrossing romance set in China that sweeps the reader well beyond its conventions of beauty, lesbianism, foot binding, and sex work. Kima Jones's haunting and imaginative "Nine" enmeshes and confines queers, ghosts, and past debts that have come due in one eerie motel space.
Several stories bear witness to the ravages of genocide, war, and civil violence upon those who have the least power in society. Michael Janairo's "Angela and the Scar" is an enchanting intervention of a white colonial and ecological takeover by a young girl and her kapfre friend set in the Philippines. Sarah Pinsker's "There Will Be One Vacant Chair" follows two Jewish brothers in Ohio during the Civil War, one crippled and in a chair and the other on the battlefield, the brothers surreally merging into one body.
The sweeping flight of Arro-yo in Nnedi Okorafor's "It's War" is momentous and memorable. Arro-yo is an outcast, whose grief for a friend inspires her reluctant participation and subsequent exposure as an Amuosu during the 1929 "Woman's War" in Nigeria. Okorafor's story is a tribute to the Igbo leaders, full of rich visuals:
From above, she saw burning buildings, bodies lying in the street, women fighting with colonialists, screams, sticks, cooking spoons, cudgels, palm switches, terror, and blood…
Arro-yo swooped down like an attacking owl, her blue dress billowing around her as she landed.
Locating itself within the realm of historical fiction, Long Hidden claims a lineage of speculative fiction that re-imagines identity and questions existing power structures. Full disclosure, as a writer from Voices of Our Nation, I'm a fan and proponent of diverse, power-shifting speculative fiction. I know some of the authors and one editor and kicked in ten clams when it was only a concept, before it garnered an astounding 1,181 funders. The editors' challenge to support an anthology that "reflects all people and makes room for everyone to be a hero" resonated with like-minded readers.
Unlike many speculative fictions in today's market, the unreal in Long Hidden is used to shine a light on difference and oppression rather than to elide these histories. The writing in the collection was uneven at times, with some writers falling prey to familiar tropes of bad boys and good girls or to loose storytelling. By far, the better stories in the collection explored intersectional identities. Among these is a literary masterpiece, "Collected Likenesses" by Jamey Hatley whose hypnotic second-person prose is sure to pop out an eyeball or two. Here's a snippet:
You, too, love sharp things. Long, slender hatpins tipped with opal or quince feathers. Buttery leather shoes with pointed toes. Fish that can only be consumed by an eager tongue searching for pin bones. Needles that can free an ingrown hair, mend flesh, or stab. Prick, blister, choke. A threat sidled up next to such delicious beauty.
Particularly compelling were stories writ on the canvas of family responsibility and tradition, the vital passage of dangerous and sometimes shameful knowledge through generations. Victor LaValle's "Lone Women," arguably one of the most digestible stories of the lot—as it's among the works that recalls the popular marriage of spec lit and Westerns—recasts sister as monster and imparts new meaning to the phrase "my sister's keeper."
In Tananarive Due's "Free Jim's Mine," the fate of Lottie, a pregnant woman escaping slavery, is entrusted to her mysterious Uncle Jim, a free man. The story twines a metaphor for loss suffered on the Underground Railroad tighter and tighter around a watery, subterranean cavern until it submerges the reader in horror. Due delivers thrills and delves into themes of interracial relationships in the antebellum South, navigating Uncle Jim's suspicion of Lottie's Cherokee boyfriend and the sinister nature of her uncle's freedom.
Lisa Bolekaja's "Medu" hits the notes of Black empowerment. Throughout, the editors have given more than a nod to the anthology's beginnings in a Twitter conversation that referenced representations of the African diaspora in historical speculative fiction. Lil Bit, Bolekaja's hero, seeks not only to free her snakelets of hair, but to reach Nicodemus where her mother says:
"Everything owned by Negroes. Hundreds of colored people living on they own land for the first time. And they free. That's what it's like."
Lil Bit's yearning for belonging is as much a race parable as it is an empowerment response to scrutiny of Black women's hair.
"The Dance of the White Demons" by Sabrina Vourvoulias is the anchor leg of the collection and unfolds in Guatemala during the Spanish Conquest. The fierceness of Vourvoulias's writing is matched by her distinct lack of sentimentality:
As I step over their bleeding, dying bodies, I put it together in my head. The foreigners know nothing of the white demons, so they do not fear me for my semblance. They fear me because I look like one of their young, turned against them and repudiating the savagery of this invasion.
A fitting end to the journey, "Dance of the White Demons" bows its head to the Conquistadores' colonization/genocide of indigenous peoples, then lifts up and stares right back, raising a song that refuses to abdicate the power of a peoples' culture and memory to empire.
At its best, Long Hidden couples good old-fashioned storytelling with the political power of speculative fiction. The roots of the project, as acknowledged by the editors, are crowd-funded. The existence of this aesthetically pleasing volume—a visual treat from the go with 2014 Hugo Award Winner for Best Professional Artist Julie Dillon's cover art—is a testament to the hunger of readers who want fantastical fare that doesn't whitewash the past. It's a collection that yanks its audience from the status quo and transports them squarely into the magic of histories they didn't even know existed.
+++
The writers included in Long Hidden are: Sofia Samatar, Thoraiya Dyer, Tananarive Due, S. Lynn, Sunny Moraine, Rion Amilcar Scott, Meg Jayanth, Claire Humphrey, L.S. Johnson, Robert William Iveniuk, Jamey Hatley, Michael Janairo, Benjamin Parzybok, Kima Jones, Christina Lynch, Troy L. Wiggins, Nghi Vo, David Fuller, Ken Liu, Kemba Banton, Sarah Pinsker, Nnedi Okorafor, Shanaé Brown, Nicolette Barischoff, Lisa Bolekaja, Victor LaValle, and Sabrina Vourvoulias.
+
Serena W. Lin
cuts her teeth on monsters and queers. She obtained her
MFA
as a Truman Capote Fellow in fiction from Rutgers-Newark and is a member of the
VONA
and Grind writing communities. Her fiction is published in the
cream city review
and
Hyphen
online. Read her at drunkenwhispers.wordpress.com.