Book Reviews · 11/02/2020
Living Color: Angie Rubio Stories
by Donna Miscolta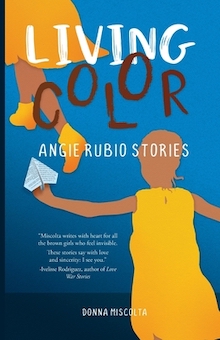 Jaded Ibis, 2020
Donna Miscolta's new book Living Color: Angie Rubio Stories, a novel in stories, portrays the coming-of-age journey of Angie Rubio in witty prose that pays particular attention to smaller moments of discrimination, their impact, and the different ways Angie and her family members respond. It is a book that meets the national moment in which discrimination and microaggressions are deservedly much in the news. With the same deft prose of her award-winning Hola and Good-bye, which recounts stories of middle-aged, working class women, Miscolta this time paints a portrait of the working class, Mexican-American Rubio family in 1960's and 70's Hawaii and California.
The collection's first story, "Kindergarten," sets the tone as Miscolta uses the innocence of Angie's question "where are all the Hawaiians'' to point to the American tradition of obscuring its history of colonialism. In this story and the others that open the book, it is the white children who — in the unfiltered way of children — explicitly state the often more subtle or at least more hidden racist attitudes of their parents. In "Brownie," Angie and her sister Eva are greeted at the door of a new school by two white children saying, "How Now Brown Cow." More telling than the white children's reaction, though, are the responses of Angie, Eva, and Letty to that provocation:
Angie, taken aback by the unexpected welcome, twisted a strand of her hair until her scalp hurt. Then Eva straightened her shoulders, lifted her chin and mooed at the boy, practically in his face. He recoiled with pretend fear, and Eva sallied past him and the polished tooth girl, pulling along a rubbernecking Letty. Angie slunk behind skirting the stucco wall like a shadow.
As Angie moves into adolescence, the narrative continues to chart her ever-evolving response to the everyday challenges of growing up (the changing body, the search for identity, finding appropriate friends) that, for a working class brown girl, are also intimately connected with race, class, and gender, with an emphasis on race, as the title of the book indicates.
Early on, the microaggressions she experiences sometimes anger Angie, as in "Social Studies," when fourth grader Angie first reckons with how the world demoralizes a young, ambitious brown girl. Other times they baffle her. In "Current Events," a white fifth-grade classmate declares tragic-comically that she would never kiss her crush, a Mexican-American boy:
No one questioned this policy as there seemed to be a universal understanding of its logic, though it completely escaped Angie. 'I just need to walk on the wild side of a bit,' Judy said, and the other girls nodded their agreement.
"School Spirit," a poignant story about cheerleader tryouts in which the best cheerleader in the eighth-grade class only gains runner-up status because of her race, is heart-breaking. Yet this story becomes a turning point for Angie as she moves to a more energetic response to the racism she faces:
Wanda's shoulders heaved. It was Angie's turn to say something. She cleared her throat and raised her fist at half-mast, 'Brown power,' she ventured . . . . .Wanda grinned through her tears. 'I'm down with that.' She raised her fist too. The others did the same.
By her senior year in high school, Angie has become a force to be reckoned with, a force that the readers know has been forged through hardship.
Despite Angie's empowered ending, Miscolta's not pollyannaish in her approach and not only reveals what her transformation costs Angie, but also makes clear that the everyday slights don't energize everyone to fight. We watch as Angie's sister Eva moves from bold child to resigned adult, constrained by messages about her race, class, and gender. Here is a well-rendered moment that puts a spotlight on the class and gender constraints in the middle of her journey:
Angie watched her take off her shoes and stockings and lipstick, watched her unmask herself, hoping to see the old Eva appear, the one who showed her how to shuffle a deck of cards, ride a bike with no hands, track the arc of a fly ball so it landed smack in her glove.
Angie's mother, too, is at first stifled by her traditional housewife role and her lack of opportunity in the wider world, as she repeatedly warns Angie "not to make a scene." No doubt, the warning is a coping mechanism she's adopted as a response to white oppression. Angie's mother also grows as she gains a job and new friends and becomes more independent from her husband as the stories move on, though she is never as bold as Angie becomes.
In addition to its exploration of race, class, and gender, Miscolta's collection is often quite funny in its portrayal of many moments of universal adolescent angst, as when Angie tries out an identity in the story "Help," where "Angie had recently learned to gush by listening to Judy Weikamp." In "Extracurricular Activities," Angie deals with her reactions to Sex Ed class: "Angie drew and labeled an isoceles triangle on her homework sheet. It looked slightly sexual. Everything looked sexual to her now."
While Miscolta centers her stories around small moments, she doesn't ignore the national stage. Rather, she shows how pop culture (the Miss America Pageant, the Beatles) and national news (of segregation in the South or of JFK's death) impact a family in a small community. For example, the stand-out story, "Disappearing Acts," demonstrates how Angie's parents' complicated reaction to the sensationalized news of the Watts Riots serves to pass down attitudes about race. The exchange between Angie's sister and her parents after hearing of "looting and arson" during the riots exemplifies the subtlety of Miscolta's vision:
"Can it happen here?" Letty asked. "Of course not. This is Kimball Park," her mother said, though she did look out the window toward the end of their block, where beyond the aptly named Division Street was a mostly black community.
The story goes on to depict the complex relationship between Angie and Calvin, a black boy from the predominantly black neighborhood, including Angie's attempts to untangle her confused and often racist attitudes about her friend. The story also highlights Angie's awareness of the broader racial dynamics at work in the school:
The brown kids outnumbered the white kids, and though the white kids ruled, both groups were more or less at ease with one another, with their insults, their sideways looks, the occasional accidental nudge against the locker — playful with a side of intimidation. No one knew exactly how to talk or shoot the breeze or dish with the black kids, so they smiled without making eye contact, talked in all purpose inclusive terms when in their vicinity and grooved on Motown.
In short, in this age where there's a national reckoning with large-scale discrimination and attendant microagressions along race, class, and gender lines, Miscolta illuminates those forces in her fierce, funny, humane rendering of Angie and her family to chart the protagonist's journey from hurt and baffled girl to commanding woman.
+++
Living Color: Angie Rubio Stories
is
Donna Miscolta's
third book of fiction. Her story collection
Hola and Goodbye
, winner of the Doris Bakwin Award for Writing by a Woman and published by Blair in 2016, won an International Latino Book Award for Best Latino Focused Fiction. She's also the author of the novel
When the de la Cruz Family Danced
from Signal 8 Press, 2011, which poet Rick Barot called "intricate, tender, and elegantly written — a necessary novel for our times." Recent essays appear in
pif, Los Angeles Review,
and the anthology
Alone Together: Love, Grief, and Comfort in the Time of

COVID

-19.
+
A 2020 Queens Council on the Arts new work grant recipient, Mary Lannon's stories have been published at Story and New World Writing, and her story "A Key to Catastrophe Management" was a finalist in the 2019 Iron Horse Literary Review Trifecta Contest. At work on a second novel, she is looking for a publishing home for her first novel. She runs a reading series at her neighborhood bookstore in Queens and teaches at Nassau Community College in Long Island, NY.