Book Reviews · 03/06/2017
Letters from Dinosaurs
by Leland Cheuk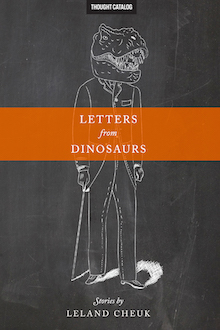 Thought Catalog Books, 2016
Oh, Millennials. Gen X's little buddies, who took our legacy of dissipation and doubt and made poetry of it. Our two generations: lives without world war, full of media, parents who are obliged to work a lot to stay afloat, economic lives debt-ridden at age eighteen. Gen X witnessed the flame (though not the warmth) of Boomer prosperity, and Millennials see only a wisp of smoke. Letters from Dinosaurs is a post-apocalyptic work from that vantage point.
The apocalypse is not a singular event but decades of greed eroding a formerly solid middle class, and the resulting general sense of anxiety. Student loan repayments are larger than monthly rent; meanwhile on every screen, we see youthful billionaires espousing enlightened ideas of how you can attain the dream, too. Living through this is the main job of Millennial characters in Letters.
The collection begins with "A Letter from Your Dinosaur," in which a father writes a letter to a son that is riddled with contempt—contempt for dot-com social utopia that at first has the reader's head bobbing in agreement:
It is not without reservation that I plan to visit. I've never liked San Francisco and its love affair with its own mythologies. Even when it actually was the harbinger of a paradise that never materialized, it was only so for a segment of whites. As for today's San Francisco, the new and emerging utopia is a coin-operated one. Progressiveness is a luxury, energy-efficient car, a boutique, a green-built hotel, a solution for world hunger that pools the resources of the rich and exists only for those who drink the Internet like water.
But like every parental presence in this collection, this one is distressing, verging on malevolent. Fine lines of truth segue into self-excusing abusive levels of neglect, contempt, and insult.
"Blacklight" is a story about a Chinese-American couple and the husband's Japanese-American best friend variously confronting The White Other in the form of the best friend's garish, blonde, pothead girlfriend. The girlfriend, as outspoken as she is cringingly pro-Asian, makes them all lash out unexpectedly as she strains the quiet compromises they have forged among themselves.
Told in a rushing and numb voice, "First-Person Shooter" is about Marcus, a Filipino-American boy, and his family as they struggle in the aftermath of Marcus's closest friend becoming a random shooter. PTSD flashbacks mix with the banalities of TV, the safety of suburbs, and one of the most important recurring characters: the Asian parent. The parents in these stories are totems of identities and expectations the narrators are trying to survive. "First-Person Shooter" and "Funeral by the Arcade" provide needed complexity and balance by offering hope, while "Pyramid Schemes" ends with the parental crisis finding darker resolution.
Two stories in this collection, "League of Losers" and "The Bullet Points of Valley Pete," are scream-out-loud-good parodies of email and PowerPoint. They aren't spoofs—the voices have real heart and sorrow. From "League of Losers":
J—We're sincerely sorry for the loss of your brother. We've decided as a group to donate $20 to Brian's family through the link you sent. The League of Losers' prayers are with you at this time.
On a personal note, I got a chance to meet your brother that weekend in Vegas at your bachelor's party. Even though I didn't get any of the cultural references he kept making, I found him to be an incredibly nice guy. I still remember the lap dance he got for both you and me at Cheetah's. Wow, remember Nikki Day? I still see that girl in my dreams (and sometimes on the Internet). Anyway, hard to believe that Brian's gone. Very eerie when someone so clear in your memories doesn't actually exist anymore.
Separately, I've donated another $5 in my name.
Good fucking luck this season. We're all dedicating this year to Brian. I've changed the name of the league on ESPN to League of Losers: Brian's Song.
Best, Commish
Arnold Tell
Managing Director, Derivatives Trading
UBS
————
HOLY FUCK, Arn, JW's brother is named BARRY, not Brian. I thought you were going to run a draft of the message by us!
Bob
Schmitt Schlitt's Mitts
————
Omg I'm an idiot
Commish
Sent from my iPhone
————
I'm glad we were able to send Barry's future generations to school with our $20 donation.
Theodore
Many times, when modern fiction descends into texting and email communication, it reads like a dutiful add-on to the action. When Cheuk does it, it feels essential and makes for absolutely delicious reading.
The couples in this collection are tasked with exploring another of the book's themes, which would be: Are we Asian…or American…where is the line? In "Ringleaders," it is a question that ends the connection between Chinese-American husband and wife:
Tina sighs. "Why do you think your parents moved back to Asia?"
"Because they like it there better than the U.S."
"But why?"
I have no clue why. We've never been close. At some point, during my teenaged years, we began to look alien to each other, our cores impregnable, our motives mysterious.
"I'll tell you why," Tina says. "Because shopping makes them happy, and in Asia, they don't have to feel bad about being lucky and enjoying life."
"That's a simplification."
"That's what your grandma said just last week," Tina says.
"But if you asked my parents—"
"I did!" she says. "They called me yesterday and said the same thing. Some things in life are just that simple. I became a doctor for the money. I don't want to struggle when I'm older. If you want to make me feel bad about that, go ahead. But I never feel bad about what I have and what I want. The world doesn't care where your heart is. It only cares that you have one and it works. So decide and get on with it."
Who are we in this country, really? We are all from somewhere else, but how well that plays out depends. In Letters from Dinosaurs, there is profound pressure to either heed the voices of the Old World as the true and eternal self or ignore them as suffocating and irrelevant to America, where one should explore one's individuality. This is not philosophical struggle: relationships falter and die in the reckoning.
Special reverence is owed to "1776," which could be its own short film or TV series. It is a world distilled down to the skyscraper headquarters of the company Globe, in which America has lost its ascendance to Russia, China, and India. A janitor toils as rehabilitation for a crime he can't remember, to self-improve and advance at the company. Set in 2076, this story features fine world-building, and readers will not want to miss the janitor's visit to the ne plus-ultra floor, where supreme power is conducted to an extent that defies that laws of physics.
The everyman anti-hero who wanders through these stories becomes a compelling portrait of maleness, Asian-ness, and American-ness. While "Matador Meltdowns," told from a woman's point of view, and "Caroline's Notes," set in Denmark, are good stories, they steer the collection away from the collection's tight thesis.
This book comes from an important voice of our time. Where some pre-election fiction is aging quickly and badly, these stories stand attuned to our country and its dimming prospects and isolation amidst a hive. Where are you in this mess? How is it possible to be a have and a have-not at the same time? Letters from Dinosaurs proposes some answers.
+++
Leland Cheuk
is also the author of the novel
The Misadventures of Sulliver Pong
(CCLaP Publishing, 2015), an Amazon National Bestseller in Asian-American Literature, a finalist for the James Jones First Novel Fellowship, and a semi-finalist for the Big Moose Prize from Black Lawrence Press. Cheuk has been awarded fellowships and artist residencies at the MacDowell Colony, Djerassi Resident Artists Program, I-Park Foundation, and Brush Creek Foundation for the Arts. His work has appeared or is forthcoming in publications such as
Salon, Electric Literature, The Rumpus, Kenyon Review, Prairie Schooner, [PANK] Magazine, Vol. 1 Brooklyn
, and
Necessary Fiction
. His
MFA
in Creative Writing is from Lesley University. He lives in Brooklyn.
+
Kirsten Major
was born in Milwaukee, Wisconsin. She was educated at Emma Willard School in Troy, NY; Carleton College in Northfield, MN; and holds an
MFA
from the writing program at Cornell University. She currently lives in New York City. She has had previous work appear in
Crannog, Litbreak, No Tokens, Chelsea
, and other places. She listens to you on Twitter at
@kirstenamajor
.