Book Reviews · 06/30/2013
Last Call in the City of Bridges
by Salvatore Pane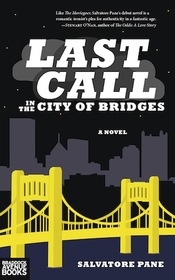 Braddock Avenue Books, 2012
American literature has a tradition of generation novels which stamp what it is like to live in a specific moment in the long continuum of human history. F. Scott Fitzgerald attempted to capture the jazz age with novels such as The Great Gatsby, and Hemingway wrote about the post-World War I 'Lost Generation' much as Kerouac wrote to explore the heart and longings of the post World War II 'Beat Generation.' In Salvatore Pane's novel Last Call in the City of Bridges, the lives and concerns of the recent Millennial Generation are given a voice, and it's one filtered through and filled with pop culture references, multiple texts from emails to comics, technology, and a longing to connect with others in an honest way. The novel is both an exploration of the complexity of modern love, and a treatise on what it means to come of age in the digital era of the new millennium.
One of the early markers the novel addresses is the extended adolescence of millennials. While in the past adulthood followed quickly after the teen years with service and work, modern young adults find themselves with more time to drift toward meaning. The character Oz, a perpetual grad student, states as much when he says,
…there's just more time now for people to screw around between getting a degree and starting a family. There's this ten year period that didn't really exist before. The Odyssey Period some people are calling this.
The ten-year grace period is presented not as a blessing so much as a nervous decade filled with indecision, and search for direction. This is the period that the novel's protagonist, Michael Bishop, and its other characters find themselves trying to navigate. All their bright tomorrows seem years away, and their present is consumed with worry that they might make the wrong decision.
In the novel, Michael Bishop is the poster child for this "Age of Anxiety, Fear, and Indecision." He has graduated college and taken a job editing subtitles for shallow movies and television series. While his days are spent ensuring the accuracy of subtitles for television shows and Tyler Perry films, his nights are spent drinking and attempting to maintain friendships forged in college dorms. The trouble is that the friends he struggles to hold close, and himself, are growing older and more disillusioned with each disappointment and passing day.
The struggle for closeness is best represented in the novel through the use of technology. Michael writes an online web comic "The X1s," Oz argues philosophical points over Twitter, Noah posts basketball instructional videos on Youtube, and Sloan posts videos of herself counting online. Each member of this circle of friends uses technology to in part justify themselves, and counts the number of views, followers, retweets, etc. as proof that they have a community that cares for them. Michael accepts the inherent narcissism in these pursuits, but like his friends, seeks genuine connections through the immaterial and disposable world of the internet.
The most powerful statement of technology's role in defining the experience of millennials is found in the chapter "One Defining Moment of Our Generation," which states,
…-9/11 will never be able to compete with the true dawn of the 21st Century narcissism. Facebook.
Facebook is the venue Michael uses to reimagine a lost friend, advertise his false power, and investigate the private thoughts of his love interest. It is the best symbol for his generation.
If technology provides the landscape for millennial life in the novel, popular culture provides the language. Throughout the novel the characters discuss Batman's parents, the legitimacy of time travel in Back to the Future, preserve their childhood with Nintendo, and watch GhostBusters. Michael, more than any of the other characters, turns to pop culture to find heros, and Kanye West becomes both his messiah and stand in. Like Kanye West, Michael compensates for his insecurity with a constant flow of bravado and hyperbolic machismo.
There is an inherent dissatisfaction that comes from having the world on a cell phone, and nothing tangible to show for it is what haunts the characters in the novel. Sloan sums this up best when she asks,
"It ever bother you, Michael, that our generation has yet to produce a great work of art? That all we've managed to do is regurgitate pop culture on YouTube and Facebook and Twitter?"
This question, like so many big questions in the book, is one which Michael can't bear to answer truthfully.
Last Call in the City of Bridges is not at its core solely a story about what it is like for twenty-somethings in today's America. Instead it's a story about the struggle to form relationships in a world that is increasingly impersonal. Over the course of the novel, Michael's love affair with Ivy Chase provides a throughline in which Michael, a character who is consumed with the new era, attempts to find love with someone who in part holds on to the traditions of the past.
Ivy Chase is the daughter of a pastor, and feels her life is inseparable from her religious views. When Michael confronts Ivy about her religion after a sermon at her father's church, she states,
"Do you really think you're the first person who thinks it's weird that I'm a believer? I've straddled the line between super cool hipster girl and deeply religious pastor's daughter for years.
Like most characters in the book, who came of age in a time of talk show psychology, Ivy is reflective and self-aware. This religious divide is a monumental obstacle which threatens to end any chance Michael and Ivy might have to truly find love as Michael blames his own religious past for the death of his friend Keith Tedesco. Keith's death, and Michael's inability to save him, haunts Michael throughout the book. In fact, throughout the novel, Michael often finds himself trying to rescue others who are too far gone to help by the time he realizes they're lost.
Ultimately, Last Call in the City of Bridges succeeds in representing the millennial generation's desire for concrete connections, love, and direction. Through loves complicated by ego, television dramas mined for meaning, and characters who are so aware of their own faults that they can't help but work daily to appear more honest and great than they are, readers are given a blueprint for America as it is now for post college digital-era kids who yearn for something genuine and momentous in their lives.
+++
Salvatore Pane
was born and raised in Scranton, Pennsylvania. Winner of the 2010 Turow-Kinder Award, his work has appeared in
American Short Fiction, The Rumpus,

BOMB

Magazine, Hobart,
and many other venues. He is an Assistant Professor of English at the University of Indianapolis and can be reached at www.salvatore-pane.com.
+
Michael Wayne Hampton's work has appeared in publications such as The Southeast Review, decomP, and Atticus Review among numerous others. Last year he was nominated for Best American Short Stories, and in 2013 his short story collection will be released by Foxhead Books. Winged City Press published his micro-novel-in-stories Bad Kids from Good Schools earlier this year. He can be reached through his website at michaelwaynehampton.com.