Book Reviews · 01/20/2020
Labyrinth
by Burhan Sönmez
Translated by Umit Hussein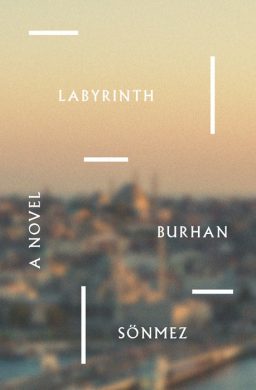 Other Press, 2019
The main character and sometime narrator of Labyrinth, the fourth novel by Turkish writer Burhan Sönmez, is a handsome, twenty-eight-year-old blues singer named Boratin, who jumped off the Bosphorus Bridge and survived his suicide attempt with a rib broken and all of his personal memories lost. The account of his effort to relocate himself within what has become a defamiliarized world is dreamlike, poetic, and as pleasurable to read as it is unsettling.
The loss of his memory has disrupted Boratin's relationship with time, place, and self. He doesn't recognize his own home; the objects in it "remind him of a hotel room where he is staying for the first time." Nor did he initially recognize even his own face; "Hello stranger," he says to his reflection in a mirror. And although he remembers facts about things other than himself, in his mind all of history has collapsed into a confusion in which long-ago events might as well have just happened. For example, he recognizes Mary and Jesus as portrayed in a figurine that his landlady left on his mantelpiece, but he does not know that they lived two thousand years ago; similarly, he sees a poster of Turkish President Erdoğan and thinks that it pictures the last sultan of the Ottoman Empire, which ended nearly a century ago.
"I can't place myself anywhere in the world I have seen once, the remainder of which I attempt to piece together with what little the information I have in my head," Boratin says. "If someone told me I was in a dream I'd believe them." Nevertheless, he makes no methodical effort to recover his memory or learn about his past. In a way, his suicide attempt was successful, as even a doctor at the hospital where he initially recovered tells him:
Whatever your past story may be, perhaps what you wanted was to get away from some aspect of this world. You were bold enough to attempt it, and you even succeeded. You fulfilled your objective in a way you could never have imagined.
Indeed, although a person survived his leap off the Bosphorus Bridge, that person is not the Boratin from before. At times, Boratin seems to view his lost memory as a liberation from the past. As his friend Effendi says, "There was a knot in your mind that none of us could feel. Instead of by dying, you freed yourself of it by forgetting." But Boratin does not feel liberated; questions about his unknown past haunt him. "Who did I hurt in the past, and how?" he wonders. He worries, too, that if his memories are restored, his desire to kill himself will be restored with them.
Instead of seeking to restore his memories, then, Boratin wanders the streets of Istanbul, sometimes accompanied by a friend, but more often on his own. His wanderings take him into a used bookstore, a watchsellers's shop, a shopping center, parks, and cafes. Each encounter with a person or place elicits meditations on time ("Thanks to the clock, we understood the meaning of the present moment instead of just birth and death"), memory ("Everyone goes out of their way to live without a past anyway"), and identity ("When I stand in front of a mirror for a long time I get confused about which side I'm on"), none of them conclusive. Even details such as whether or not he used to smoke or take sugar in his coffee are lost to him, so his decisions on these matters (yes to smoking, no to sugar) are improvised, provisional.
Istanbul, of course, is the physical manifestation of the labyrinth of the title; like Boratin's mind, it is "stuck in a never-ending moment." "Mosques built from stone and steel skyscrapers look as though they're the same age," he observes. Both of the novel's two epigraphs refer to Jorge Luis Borges, for whom the labyrinth was a favored metaphor for the "mental habitat" (as scholar Donald L. Shaw put it) that a person constructs for him or herself in order to make sense of the world. A labyrinth, Shaw wrote,
can be perceived to combine order and chaos. Tidily symmetrical in appearance, its walks appear to lead progressively to the centre and allow a return to the outside. But once inside, direction is rapidly lost; the turnings, though regular, bear no relation to the objective. . . At its centre is death; or, in a few privileged cases, an epiphany, or perhaps the discovery of who we really are.
To go along with Boratin in his turnings within the labyrinths of Istanbul and his mind is to be in good company; unlike the academic-sounding narrators of Borges's stories, Boratin is sensitive, melancholic, and full of longing. He is (or was), after all, a singer of the blues.
It is Boratin's decision at last to go visit his sister, who still lives in Nehirce, the village where he grew up, and whom he has not told that his memory is gone, that leads him to the center of the labyrinth and an unexpected conclusion. "If you want to be happy," says a character that Boratin overhears early in the novel, "you need to find something to commit to, a belief, or a lover. But if you want to find truth, then follow death." It appears in the end that Boratin finds a way, possibly, to do both.
+++
Burhan Sönmez is the author of four novels, which have been published in more than thirty languages. He was born in Turkey and grew up speaking Turkish and Kurdish. He worked as a lawyer in Istanbul before moving to Britain as a political exile. Sönmez's writing has appeared in various newspapers, such as The Guardian, Der Spiegel, Die Zeit, and La Repubblica. He now divides his time between Istanbul and Cambridge.
+
Ümit Hussein, of Turkish Cypriot origin, was born and raised in London, where she grew up speaking both Turkish and English. She holds an MA in Literary Translation from the University of East Anglia and has translated such authors as Ahmet Altan, Yavuz Ekinci, Sine Ergün and Nermin Yıldırım, among others. She lived and worked in Japan, Portugal, and France before settling in Seville, Spain, where she is now based.
+
Rachael Nevins is a Brooklyn-based freelance writer whose poetry, essays, and book reviews have appeared in Rattle, Brooklyn Poets Anthology, Literary Mama, Hazlitt, Publishers Weekly, the Ploughshares Blog, and elsewhere. She teaches Online Advanced Poetry for The Writers Studio.